View all news
Reef researcher giving wild coral spawn the best chance of survival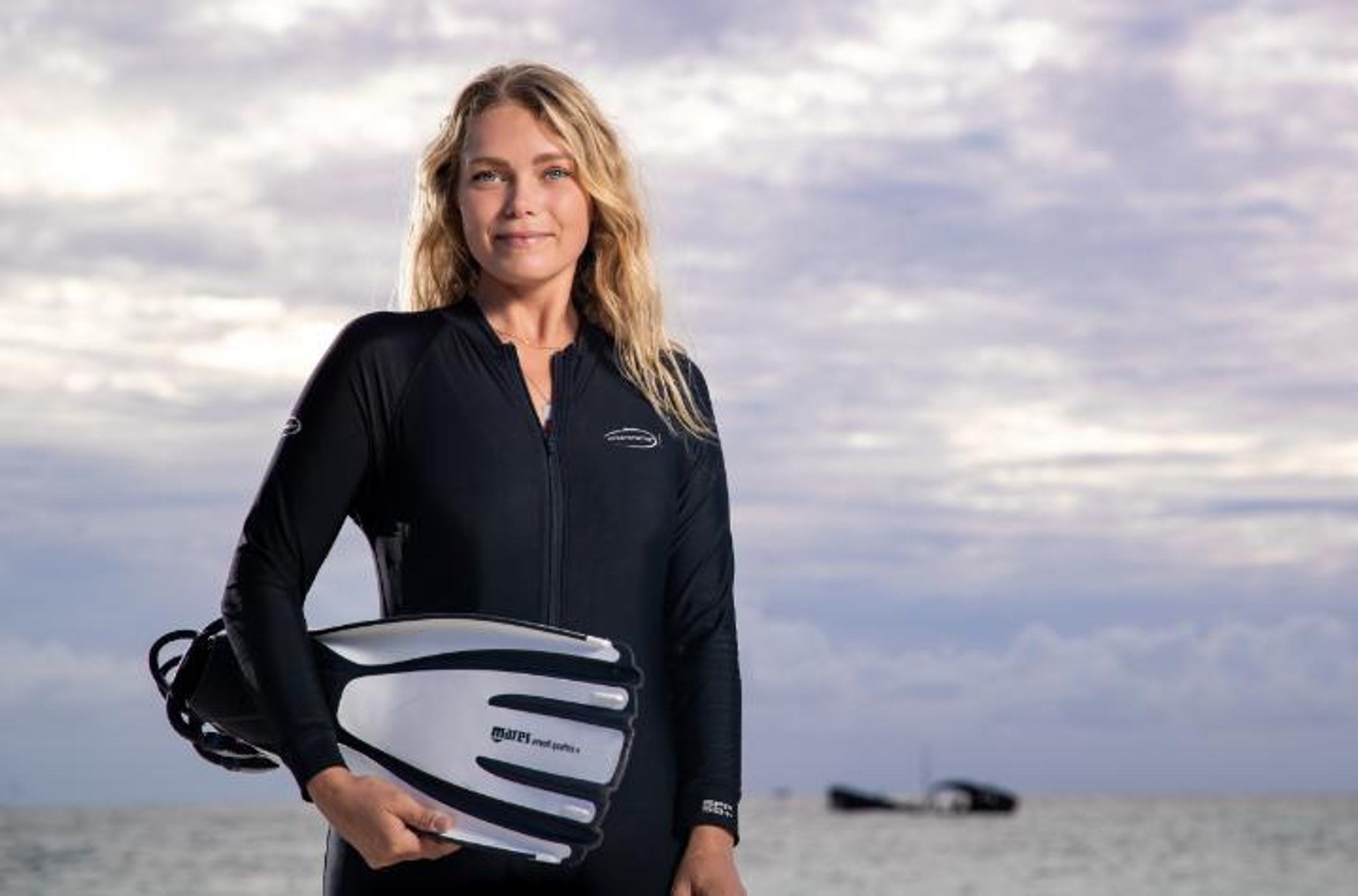 As Southern Cross University researchers set their sights on restoring larger-sized sections of the Great Barrier Reef, one of the challenges is ensuring baby corals are at their optimum.
It's a bit like the IVF process for humans, where embryos are cultured under the right conditions to ensure the best start in life.
PhD candidate Christina Langley is working with the University's Coral IVF project leader Distinguished Professor Peter Harrison to increase the yield and quality of the coral larvae derived from wild coral spawn slicks which form during annual spawning events on the reef.
As part of the Coral IVF process, these slicks are captured and reared in floating reef pools until the coral larvae are ready to settle on the reef.
"My project is focused on increasing the survival and growth of coral larvae cultures derived from wild coral spawn slick reared in floating reef pools on the sea. Here I'm interested in optimising rearing conditions and finding ways to apply treatments to mass coral larval cultures," said Christina.
"This PhD allows me to combine all my previous experience in coral reproduction, aquaculture, water quality and diving."
When coral larvae are grown in the lab, it's a controlled setting. On the open ocean, trillions of larvae needed for large-scale reef restoration can be collected and grown in an almost natural setting in Professor Harrison's specially-designed floating larval nursery pool.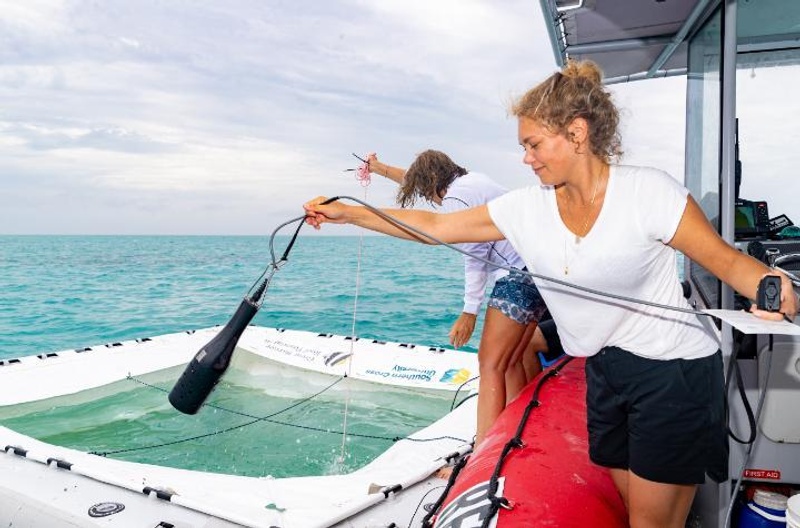 Christina monitoring the coral larvae held in the floating nursery pools off Heron Island in 2020.
The Coral IVF team has been in the Whitsundays, on the central Great Barrier Reef, for the mass spawning that occurs annually along the inner reef in early spring (October-November).
"I'm trialling a shading experiment in the Whitsundays to protect the larvae from direct sun. Next, we head north to Lizard Island for additional experiments for the mass spawning event on the outer reef," Christina said.
"I'm very excited about this year's field work and will be working around the clock to make the most of these annual mass coral spawning events."
Professor Harrison has been trialling the Coral IVF technique on the Great Barrier Reef since 2016, starting with Heron Island where the now five-year old Coral IVF babies are thriving.
Coral IVF is an intervention designed to buy time for coral reefs and help them adapt to the warmer temperatures already caused by climate change.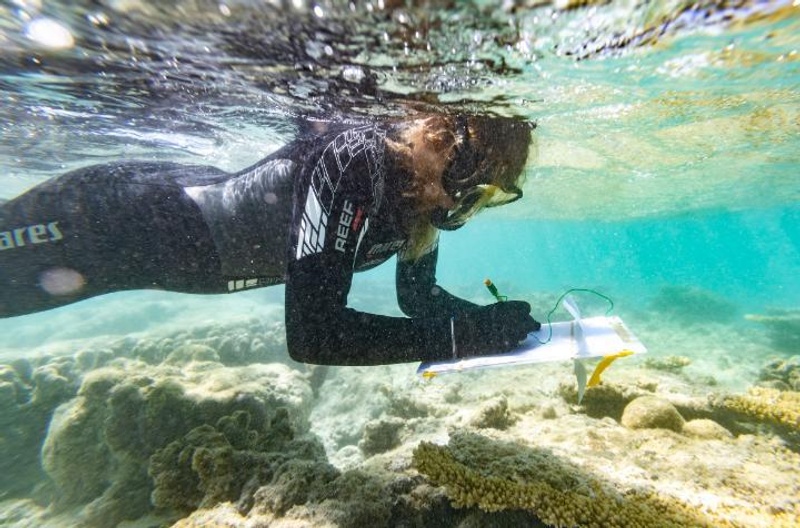 Christina inspecting a degraded section of coral reef.
Christina will conduct multiple experiments over the next few years looking at different ways to improve the floating reef pools to ensure optimal rearing conditions, as well as developing a rearing protocol for mass culturing of wild coral larvae.
"It's important to raise happy and healthy coral babies before releasing them back on to the reef to ensure that they have enough energy to attach and grow, giving them the best start to their life on the reef," she said.
Furthermore, Christina will be looking into applications of heat enhancement through co-culturing to strengthen the larvae's capacity to withstand abnormally-high water temperatures and adapt to predicted rising sea surface temperatures.
"I'm very honoured and grateful to be part of the largest reef restoration project in the world working alongside Professor Peter Harrison from Southern Cross University and Dr Christopher Doropoulos from CSIRO and having such a great team around me," said Christina whose PhD is funded through the Reef Restoration & Adaptation Program.
"I first came to Australia back in 2016 from Denmark to study corals on the Great Barrier Reef. I already knew back then that our coral reefs were in trouble and so I focused on learning as much as I could about coral reefs, approaching it from every angle and expanding my skillset."
Christina starting working with Professor Harrison as a research assistant last year, joining Coral IVF projects at Townsville – at AIMS (Australian Institute of Marine Science) and nearby Magnetic Island – and at Heron Island off Gladstone.
"I feel incredibly fortunate to be doing the work I love and to have seen so much of the Great Barrier Reef. I hope my work can contribute to the preservation of coral reefs in the future," she said.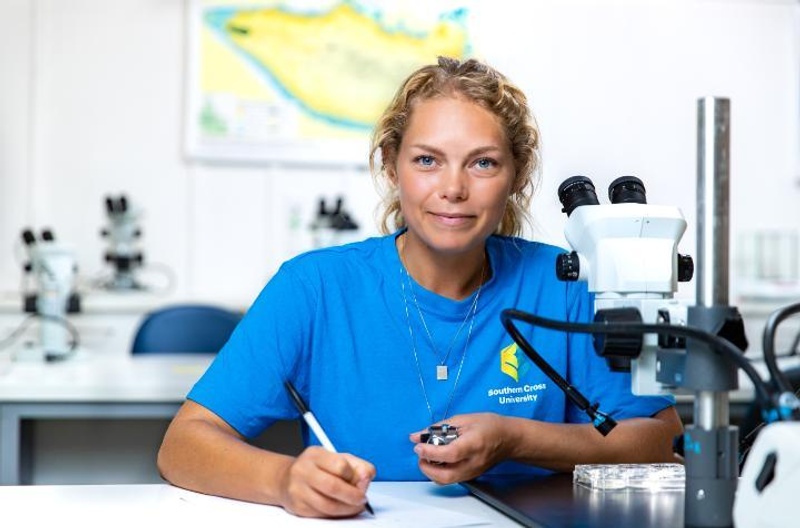 Counting larvae under the microscope.
Christina Langley's PhD thesis
Title: Larval treatments during early development to enhance survival and growth of mass larval cultures from wild-coral spawn
Supervisors: Distinguished Professor Peter Harrison, Southern Cross University; and Dr Christopher Doropoulos, CSIRO.
Follow Christina's research journey on Instagram @coralmomlife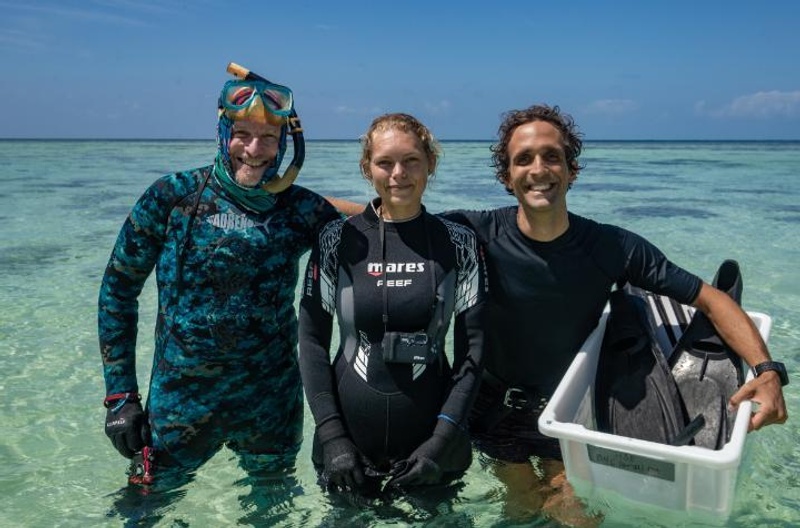 Christina with her supervisors Distinguished Professor Peter Harrison (left) of Southern Cross University and Dr Christopher Doropoulos of CSIRO.
Reef Restoration & Adaptation Program
The Reef Restoration & Adaptation Program is funded by the partnership between the Great Barrier Reef Foundation and the Australian Government's Reef Trust and is delivered by a collaboration between Australian Institute of Marine Science, the Great Barrier Reef Foundation, CSIRO, The University of Queensland, QUT, Southern Cross University and James Cook University.
Media contact: Sharlene King, media office at Southern Cross University, 0429 661 349 or scumedia@scu.edu.au
---