View all news
Southern Cross blue carbon research contributes to global climate change debate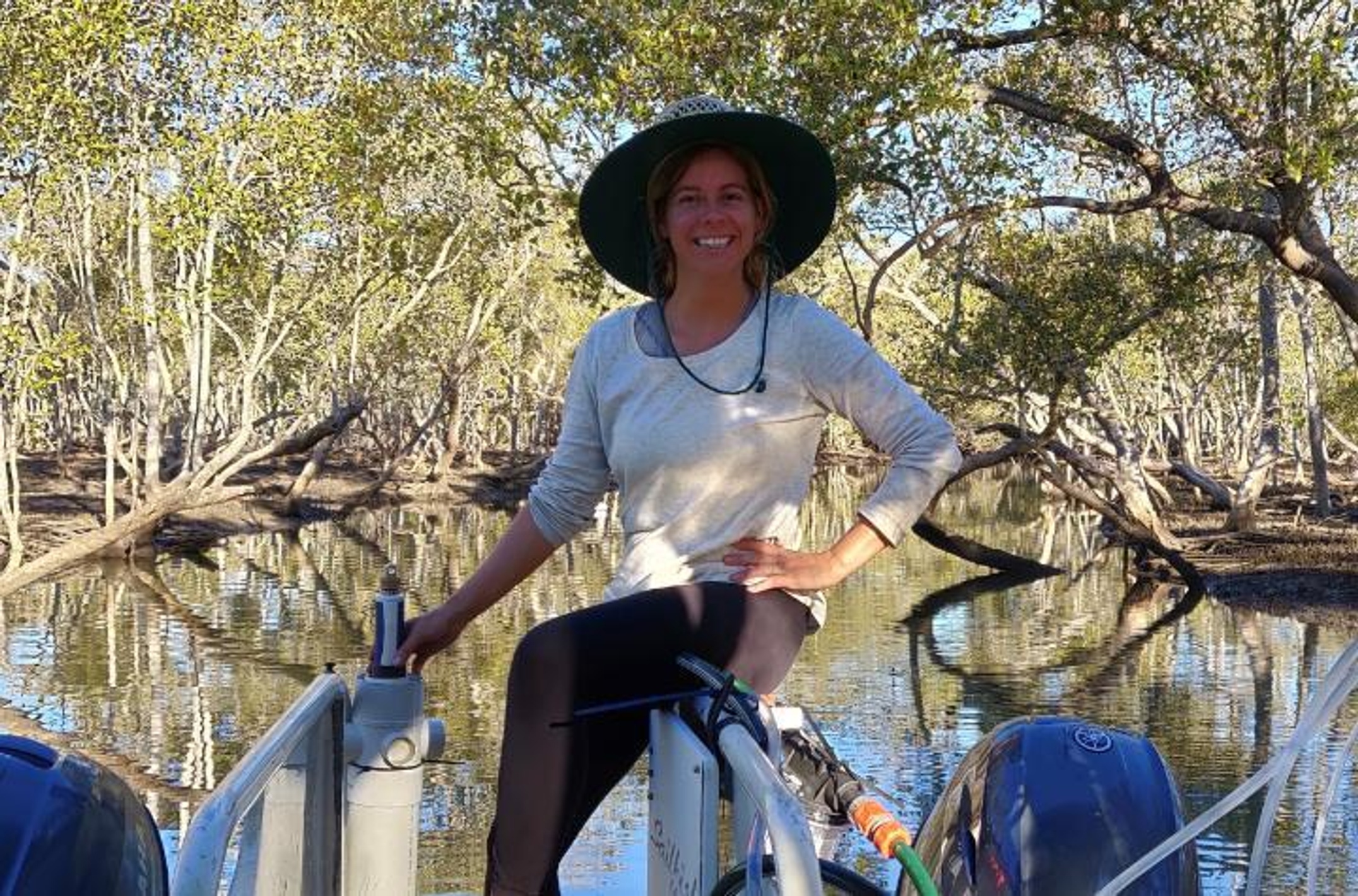 Research from Southern Cross University's coastal biogeochemistry experts is contributing to scientific debate around the climate benefits of blue carbon and the development of carbon and methane budgets.
Five lead and co-authored publications from the University's coastal biogeochemistry researchers were used to support the Intergovernmental Panel (IPCC) on Climate Change Assessment Report 6 (AR6), commissioned by the United Nations to provide policymakers with the most up-to-date scientific knowledge on climate change.
Amongst the citations was Professor Bradley Eyre's co-authored 'The future of Blue Carbon science' which considers carbon provenance when evaluating the climate benefits of blue carbon. 'A comprehensive quantification of global nitrous oxide sources and sinks' co-authored by Professor Eyre was also referenced to develop the global nitrous oxide budget.
PhD alumna and postdoctoral research fellow Dr Judith Rosentreter's research on methane emissions from 'blue carbon' mangrove ecosystems highlighted the importance of considering methane emissions when evaluating the climate benefits of blue carbon.
"The paper discusses the blue carbon burial offset by methane emissions in mangrove ecosystems and the importance of methane fluxes in coastal carbon budgets. I wrote this paper during my PhD at Southern Cross University," Dr Rosentreter said.
'Methane emissions partially offset "blue carbon" burial in mangroves' published in Science Advances, was co-authored by Southern Cross researchers Professors Damien Maher, Dirk Erler, Bradley Eyre and PhD graduate Dr Rachel Murray.
Judith' postdoctoral work was used to develop The Global Methane Budget in the IPCC report.
"Blue carbon is carbon burial in coastal ocean ecosystems, hence the term 'blue'. There's a lot of interest in blue carbon at the moment for offsetting greenhouse gas emissions and locking up carbon. Ecosystems such as mangroves, seagrass and salt marshes bury large amounts of carbon, up to ten times as much as a rainforest. Judith's work showed that when they bury this carbon they were also producing greenhouse gas emissions, particularly methane, and you also have to account for those offsets," co-author Professor Bradley Eyre said.
Since completing her PhD thesis on carbon dioxide and methane emissions from mangrove-dominated estuaries and tidal creeks in Australia under the supervision of Professors Eyre and Maher, and her first postdoctoral fellowship with Professor Eyre, Judith now works as a Postdoctoral Research Fellow at the Yale Institute for Biospheric Studies at Yale University in Connecticut, USA.
"I applied for the Yale Hutchinson Fellowship in February 2020 and was one of five research fellows selected to work on Theme II: Climate and Greenhouse Gases," Dr Rosentreter said.
Dr Rosentreter is also involved in the RECCAP2 Australasia group which focuses on regional carbon budgets for Australia and New Zealand, as well as several other projects related to greenhouse gas emissions from aquatic ecosystems.
Fellow biogeochemist and Southern Cross University PhD graduate Dr Rachel Murray is also contributing to scientific knowledge around climate change.
Her PhD research was cited to demonstrate that the coastal nitrous oxide budget was better constrained than in the previous report.
"Coastal nitrous oxide emissions are generally estimated based on the nitrogen concentrations in the water using 'emissions factors' – this means a certain percentage of the nitrogen in estuaries was assumed to be converted to nitrous oxide and emitted into the atmosphere. My review paper looked at the relationship between nitrous oxide and nitrate and ammonium concentrations in different coastal environments, such as mangroves, salt marsh, and estuary main channel environments," Dr Murray explains.
After completing her Bachelor in Geology at Macalester College and Master's degree in climate science at University of Arizona, Rachel moved to Australia to complete her PhD at Southern Cross University. She spent three years studying the mangrove and estuary systems of north Queensland, investigating the factors that drive nitrous oxide emissions in estuaries.
"The major human causes of nitrous oxide emission are fertiliser use and sewage, which are sources of excess nitrogen that can be converted to nitrous oxide in the natural environment," she said.
Her PhD thesis earned her the Chancellor's Medal at the 2018 Lismore graduation ceremony.

Dr Rachel Murray, recipient of the Chancellor's Medal with PhD supervisor Professor Bradley Eyre
"I was interested in research at Southern Cross University because there was a project starting looking at estuaries and greenhouse gas emissions, using cutting-edge techniques to measure greenhouse gases at high resolution in the field," she said.
"I was very impressed with the level of support for environmental research at Southern Cross. The major highlights were the field work experience in the estuaries – we had a big boat loaded up with equipment, and we were able to collect data in real time as the tide went in and came out. "
Dr Murray now lives in New Zealand working as an Analytical Chemist for Scion, a research organisation specialising in forestry. Her role involves quantifying nutrients and trace metals in leaves, soils, and other natural materials.
Media contact: Southern Cross University Media and content team, content@scu.edu.au
---