View all news
Southern Cross ready to crack Cybercrime Think Tank contest
A high performing group of IT, law and accounting students from Southern Cross University is combining their smarts to crack cybercrime challenges for the police.
Drawn from the University's Lismore and Gold Coast campuses and online, the team has been shortlisted for the inaugural Cybercrime Think Tank on Thursday May 6, an innovation challenge run by the NSW Police Force to unearth smart solutions that shape the future of policing.
The NSW Police Force invited 'creative, disruptive thinkers and problem solvers' from universities to submit their solutions to two challenges: tracking down the ultimate beneficiaries of proceeds of crime received as cryptocurrency, and how individuals can recognise and become more resilient to cyber attacks.
"Cyber security requires curiosity and a creative mind. How you think is as important as what you're actually studying. That's what they're looking for in Cyber Command when they assess the ideas," said Ben Scott, Associate Lecturer in Cyber Security at Southern Cross University.
"So obtaining high distinctions and doing well in studies is, of course, an admirable pursuit, but it's also how you solve the problem. It's a multi-faceted complex problem that requires innovation, which is why we decided to bring together a multidisciplinary team of students to tackle the challenges from different perspectives."
With the guidance of Associate Lecturer Scott, SCU Team Hopper-Turing (their competition name) was successful in submissions to not just one but both of the challenges presented.
These high-level concept submissions were reviewed by a panel of people from the NSW Police Force Cyber Squad, and high-profile representatives from Facebook Australia New Zealand and Microsoft.
But the contents of their submissions remain top secret.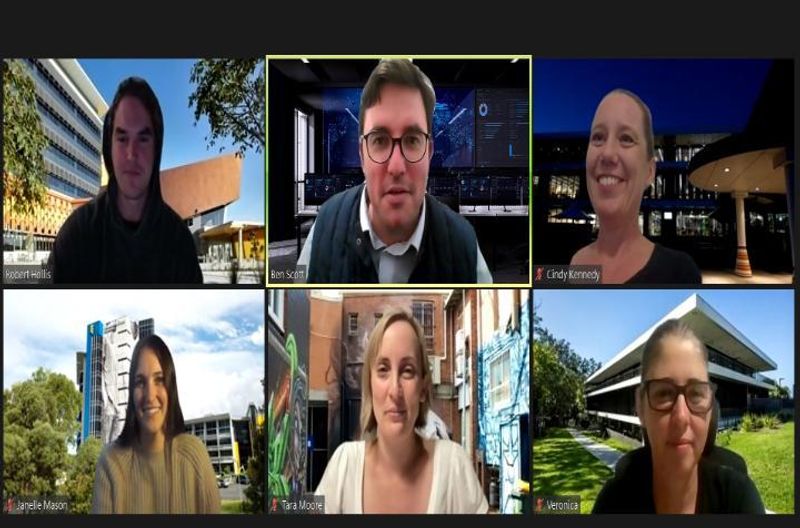 Meeting in cyberspace: Associate Lecturer Ben Scott (top centre) with SCU Team Hopper-Turing (clockwise top right) Cindy Kennedy, Veronica Stephens, Tara Moore, Janelle Mason and Robert Hollis.
"Given the nature of this event and the challenges that we're asked to look at, we can't disclose the ideas and solutions that we have come up with as it could actually end up being applied to real life cyber investigations," IT student Robert Hollis explained.
The team will travel to the NSW Police Headquarters in Parramatta to deliver their two submissions in a Shark Tank-style pitch to a review panel of senior people within NSW Police Force from various areas, including Cybercrime Squad, DigitalTechnology and Innovation, and the Office of the Commissioner.
Students will also hear from Stephen Scheeler, founder of The Digital CEO global advisory, senior advisor to McKinsey & Company, Executive-in-Residence at the Australian Graduate School of Management, and former CEO of Facebook ANZ.
"It's so exciting to be shortlisted for both of these challenges. It's the inaugural event so none of us knew what to expect. Just to be accepted is a huge deal, and the network opportunities will be great," Bachelor of Accounting student Janelle Mason said.
Not only are prizes from the event sponsor up for grabs for the competition winners, but the competition also opens up exciting recruitment opportunities for students with the NSW Police Force.
"Cybercrime investigation is an area that's particularly difficult to recruit for, so this event gives the NSW Cyber Command the opportunity to seek out new talent and can create opportunities for students such as paid internships," Associate Lecturer Scott said.
The SCU Team Hopper-Turing is Information Technology students Robert Hollis and Cindy Kennedy, Accounting student Janelle Mason, and Law students Tara Moore and Veronica Stephens, supported by Associate Lecturer Ben Scott.
Media contact: Sharlene King, media office at Southern Cross University, 0429 661 349 or scumedia@scu.edu.au
---