View all news
Not a moment to waste for marine science graduate Zoe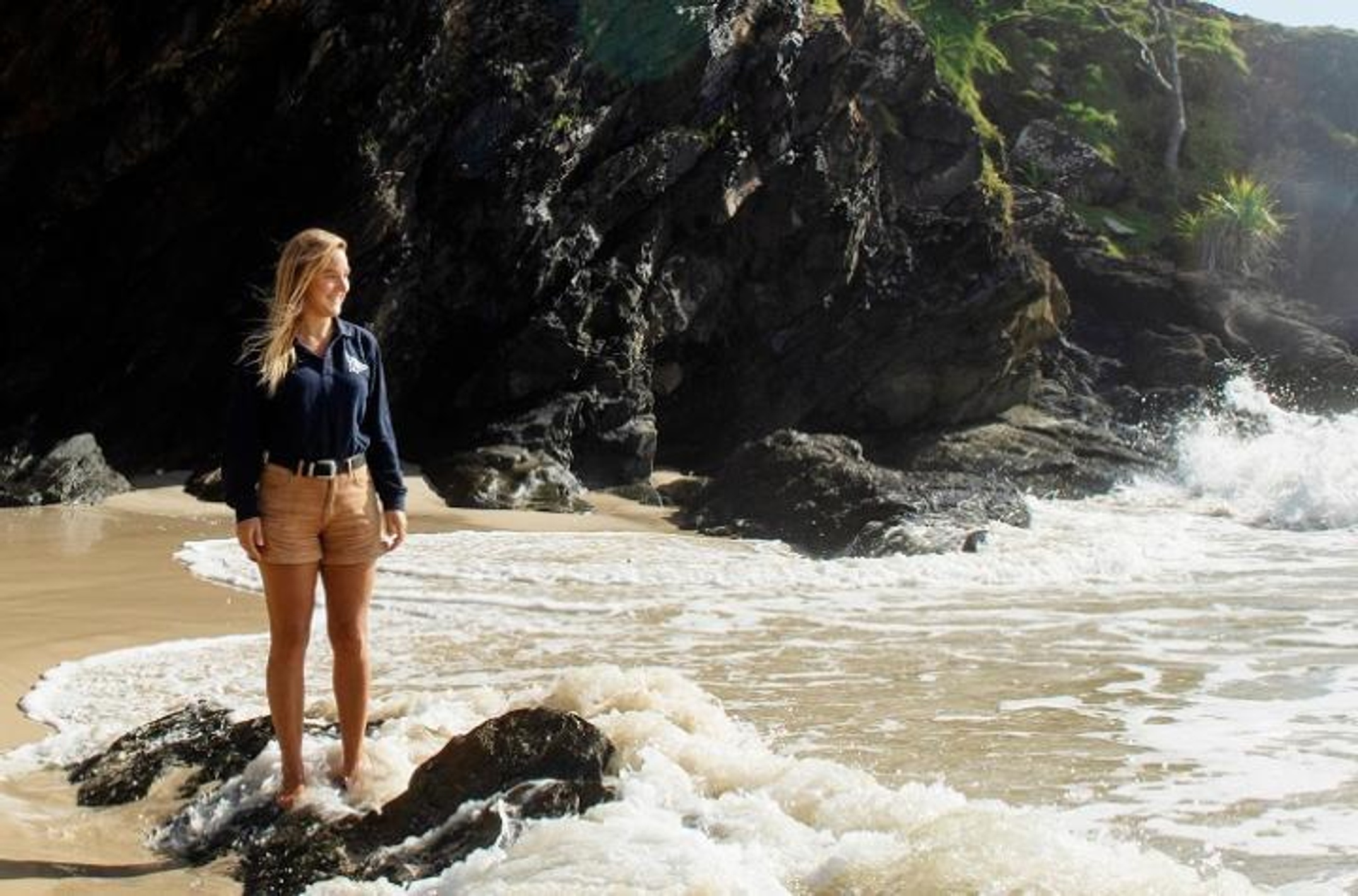 For many, Byron Bay is a magical place of incredible natural beauty. But Byron's marine habitats face increasing threats and need scientists and managers ready to tackle them head-on with solutions. One of these is Southern Cross graduate Zoe White. She worked as a scuba diving instructor for several years in the Byron Shire, developing a strong connection to the land and sea.
"I love the ocean. It's such an exhilarating place. There's a constant adventure, be it diving, free diving, surfing," Zoe said.
"I was starting to see a lot of the impacts that our marine environment is facing. I wanted to learn a lot more about that, understand it and get into a position where I could hopefully change and reduce those impacts."
This led her to study Marine Science at Southern Cross University. The skills and knowledge she acquired through the degree formed a perfect foundation for her work at the Byron Shire Council, where she oversees waste and litter reduction programs.
Since graduating, Zoe has worked for the council as a Waste Education and Compliance Officer. Her role is focused on the prevention of littering and illegal dumping within the shire, as well as community education around best practice waste management.
"I get to design prevention campaigns and projects based on the issues that I've identified. I base a lot of that around the impacts that litter and waste can have, particularly on the marine environment," she says.
Zoe attributes a lot of her job-specific skills to her degree with Southern Cross. "The degree gave me a lot of skills in communicating and working with different people, writing reports and liaising with all types of stakeholders, having the ability to understand the science, but then relay it."
One campaign that she's running seeks to educate tourists around the devastating effects that litter can have on our marine environment, focusing on cigarette butts, small plastic items, bottle caps and even plastic bags. The campaign includes a video, showing how waste ends up in waterways, is consumed by marine life and causes adverse effects to their health, as well as facts about how microplastics can turn up in our drinking water. The video targets tourists holidaying in the area, appearing on online accommodation websites and in local information centre hubs.
Zoe's passion for the ocean fuels a desire to make a difference: "I feel pretty disgusted when I see plastic in the ocean. We need to be cutting things right back off at the source, so that it's not getting anywhere near the marine environment, where it's having so many detrimental effects."
"I wanted to focus on something where I could actually see a change happening in the future so that I wouldn't feel like my actions were wasted. It's nice to be working in a field where you can see things shifting, and Southern Cross helped me to achieve this goal," she said.
A feature of her experience at Southern Cross was the application of theory in real world projects and the opportunity to be taught by globally recognised marine scientists.
"A highlight from the degree was when we went up to Heron Island and did research out there with Peter Harrison," Zoe said.
"We were in a research facility out in the field doing practical activities the whole time. We also finished off and had this discussion on the beach with Peter, which was about, where do you think your future is heading?
"Everyone got to reflect on what made them study in the first place, looking back at the last few years, to realise where their passions and interests were leading them in the future."
Learn more about studying Marine Systems at Southern Cross University
---