View all news
Research delivers the good oil for tea tree industry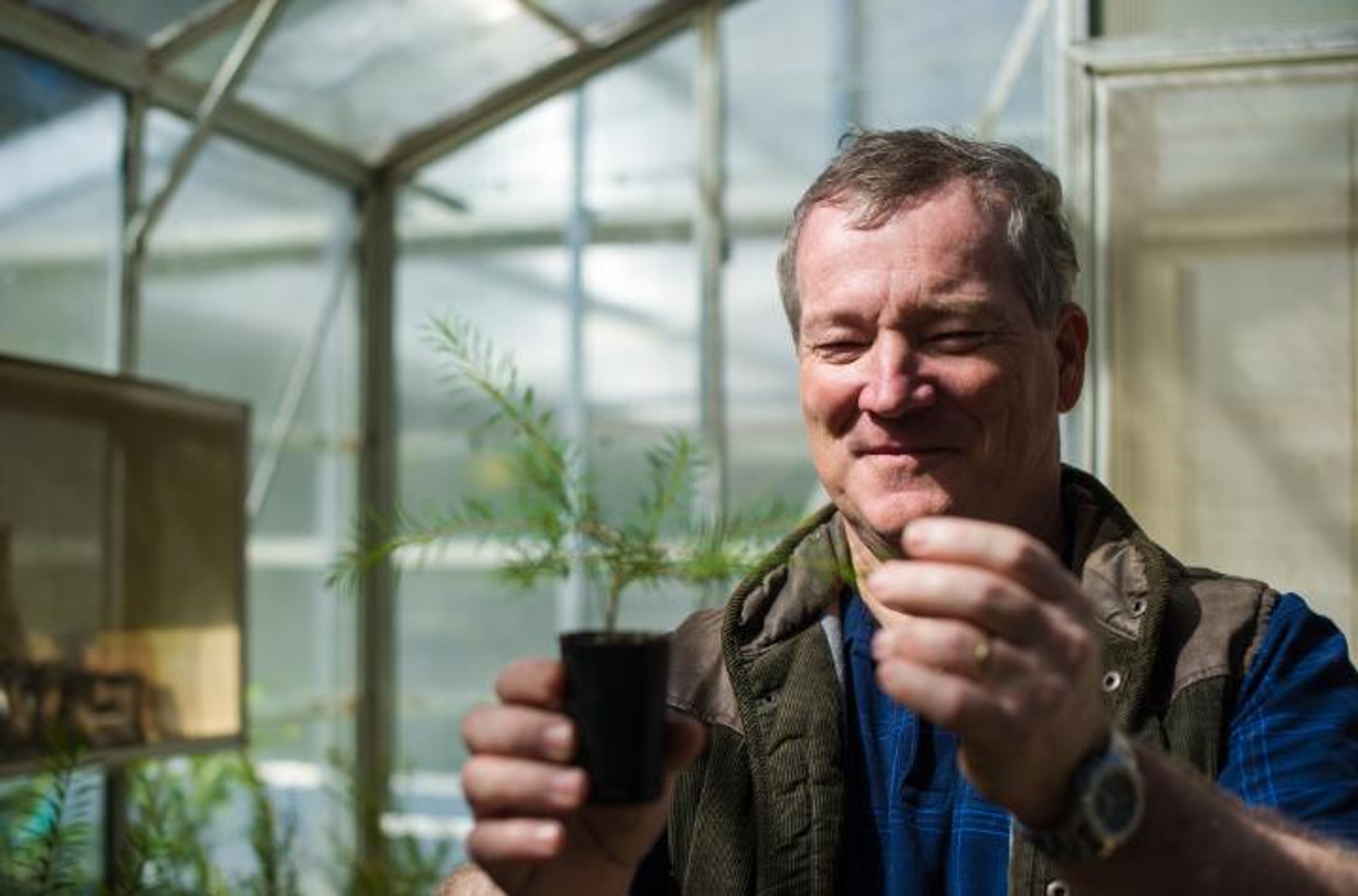 There is a young tea tree orchard growing on a hill in Northern NSW that is Dr Mervyn Shepherd's pride and joy. Currently producing research innovation that augurs well for Australia's tea tree oil industry, in time it will provide seed to establish high yielding tea tree plantations.
Tea tree (Melaleuca alternifolia) is grown for its essential oil, distilled from the leaf and sold around the world for use in the cosmetic and healthcare industries. The Australian industry had its origins in the late 1980s on the Northern Rivers of NSW – still the epicentre of production and supply.
Dr Shepherd and colleagues from Southern Cross University's Faculty of Science and Engineering have been nurturing a plantation as part of the $1.6 million Tea Tree Breeding Program 2019-23, in collaboration with the Australian Tea Tree Industry Association and the AgriFutures Tea Tree Oil Program.
Innovation so far is supporting improved tea tree breeding management, oil quality and yield.
"We have adopted a system that serves as a database, but with a built-in analytical pipeline to generate breeding values," said Dr Shepherd. "It's like a crystal ball to identify the best trees to use as parents in future breeding cycles, so that we maximise features like oil quality and yield. It also allows us to better manage our data and turn over breeding cycles more frequently so that industry more often receives seed to establish new and improved plantations.
"It also complements the use of controlled pollination where we transfer pollen by hand from one tree to another, rather than letting bees or other insect pollinators determine who the father will be. This way we can plan the best combinations of parents to maximise genetic gain in the breeding population."
Such news is reassuring at a time when the Australian tea tree oil industry is facing increasing international competition. While countries such as South Africa, China, Zimbabwe and Kenya produce oil of a lesser quality than Australia, they counter that with lower costs. Dr Shepherd said Australia must press home the advantages of the adopted breeding methods and the case for the higher quality and purity of our tea tree plants and oil.
Initially trained in wilderness reserves and wildlife management at the former Queensland Agricultural College in Gatton, Dr Shepherd later received his Bachelor of Science (Botany) and PhD from the University of Queensland. He joined Southern Cross University in 1996 and started working on the molecular genetics of wheat and barley, before moving to work with forest trees.
Since 2010, he has focused on tea tree, studying the diversity in the native populations in Northern NSW and as leader of tea tree breeding program. He also teaches genetics to the next generation of plant scientists.
Dr Shepherd's "pride and joy" orchard began life as a mixed bag of seed – some with the potential to grow into top quality trees; others less promising. To identify the trees with the "good oil", Gas Chromatography analysis was carried out at the University's Analytical Research Laboratory to guide a selection process that whittled the plants down from more than 1900 to a set of the best 300.
"The bag of seed we collect from the orchard in a few years will be a measure of success for the breeding program, but it is a long process," said Dr Shepherd. "It takes around seven years to develop a new orchard, and there is a lot that can go wrong. You can lose the seed and plants in so many ways – rain, fire, disease, wind."
He added that the advantage of having an accessible orchard is in being able to provide industry with high-quality scientific research and access to academic knowledge and strategies. It is also a great resource for training and is used for developing faster, cheaper ways to assess a tree's value as a parent – for example, by using remote sensing.
"Fortunately, the commitment from industry to breeding has been there from day one," said Dr Shepherd. "The real dividends in terms of the improvement in quality and quantity of the oil returned from breeding over the past 30 years have helped provide the industry with the confidence to expand and develop into a key sustainable regional industry in Northern NSW. The new young orchard means we are well placed for the future."
---