View all news
Southern Cross crowned surfing's best at university championships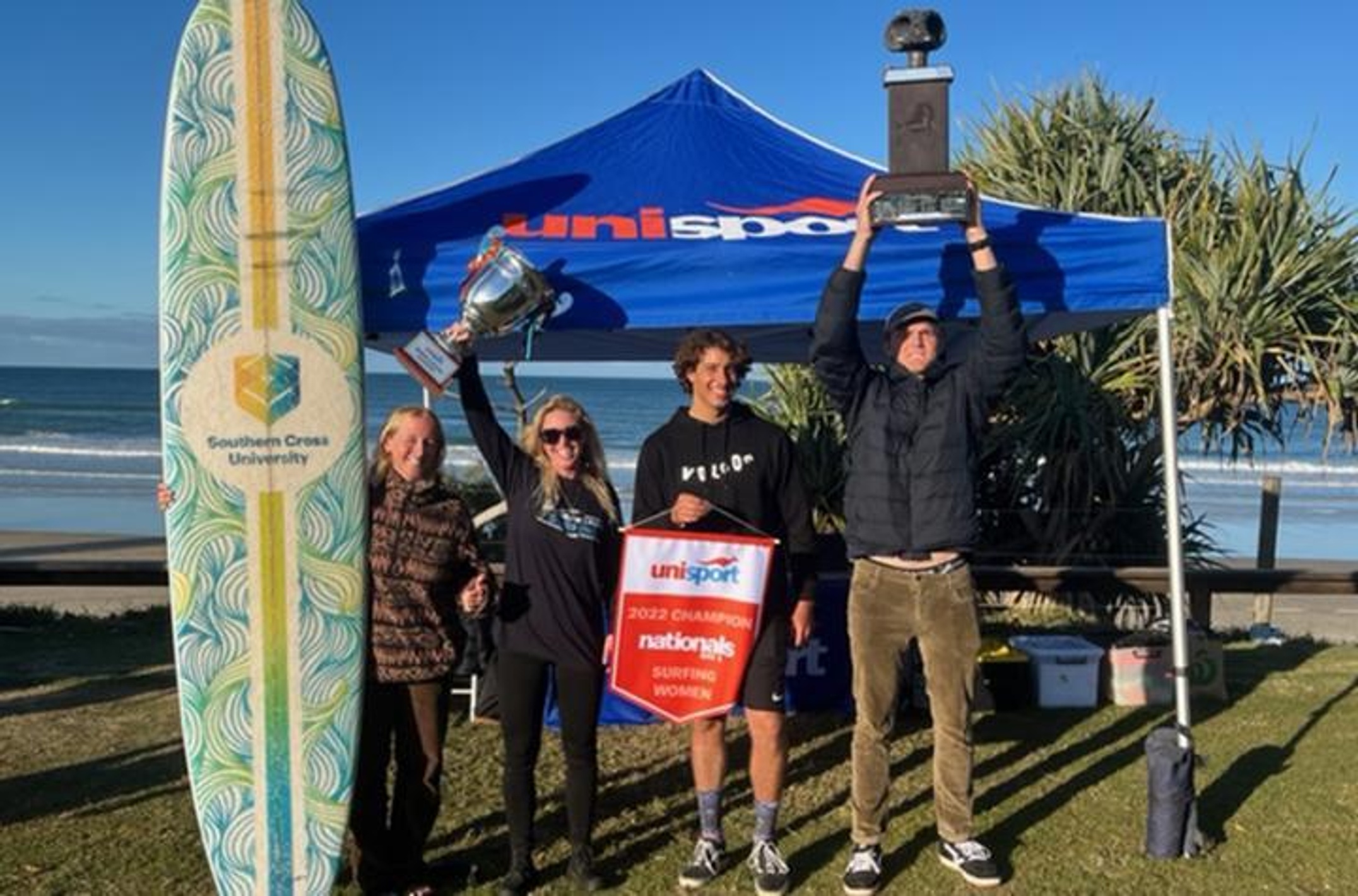 Southern Cross University is the country's greatest competitive surfing university after claiming its ninth title at the UniSport Nationals Surfing Championships on Queensland's Sunshine Coast.
The result at Coolum Beach puts Southern Cross ahead of closest rival the University of Wollongong with eight titles.
Southern Cross University was also crowned Overall Women's Champions after the two-day competition.
Leading from the front was Team SCU captain Brittani Nicholl, who took out the Women's Longboard National title and finished fourth in the Shortboard division. The Digital Media and Communications student is a former World Surf League Qualifying Series (WSL QS) pro surfer who has also represented and captained Team Australia in the International Surfing Association (ISA) World Championships.
"Surfing is a strength of Southern Cross University," said Brittani, who belongs to the University's Elite Athlete Program.
"It is one of those sports we do well in, so for us to bring home that title it felt special, not only individually but as a team. It felt good to know we are the best university when it comes to surfing."
Brittani said it was exciting to be back competing in a team event.
"We're feeling pretty satisfied. We only had a small team of five this year, off the back of COVID. To be able to compete against other unis with much bigger teams and still walk away with the win, we're pretty happy with that one."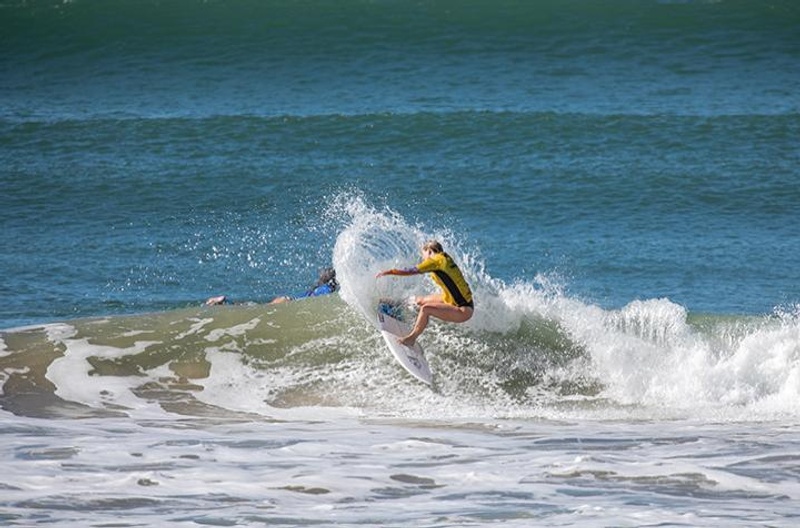 Brittani Nicholl competing in the shortboard division (credit UniSport).
Team SCU overcame small, challenging surf conditions to take home a swag of solid results.
Brittani Nicholl (Digital Media & Communications) Elite Athlete Program

1st Women's Longboard
4th Women's Shortboard

Maddie Parker (Education) Elite Athlete Program

3rd Women's Shortboard
3rd Women's Longboard
4th Women's Bodyboard

Ruben Brinsmead (Sport & Exercise Science graduate; now studying Master of Teaching)

3rd Men's Bodyboard
4th Men's Shortboard
Semi-finalist, Men's Longboard

Mitch Barraclough (Clinical Sciences (Osteopathy))

Semi-finalist Men's Shortboard

Jesse Carrasco (Nursing)

Quarter-finalist, Men's Longboard
Southern Cross also placed third in the Team Challenge, a fun event where four surfers compete in three disciplines (men's and women's shortboard, longboard, bodyboard). Each team has 60 minutes for each surfer to catch two waves. The winner is the team with the highest accumulate wave scores.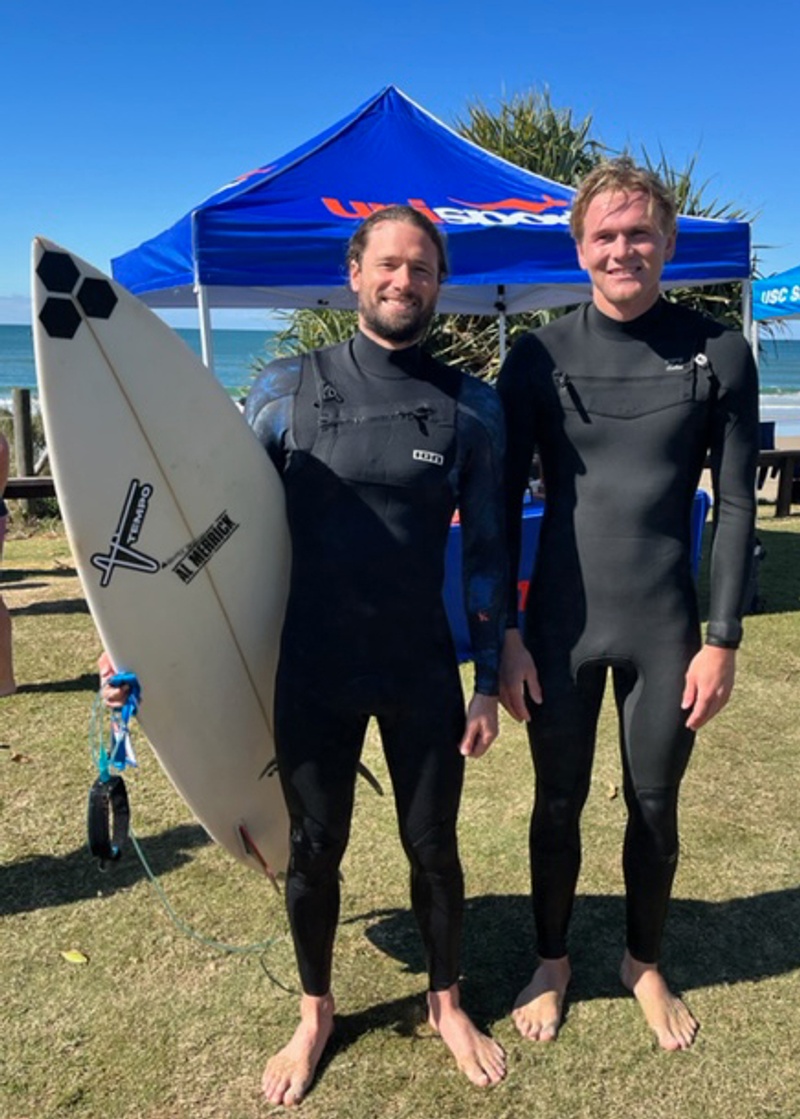 Mitch Barraclough (left) and Ruben Brinsmead.
Dave Graham, the University's Sport & Recreation Officer and Elite Athlete Program coordinator, was chuffed to see Southern Cross showcase its surfing prowess and once again take home the overall champion's trophy.
"This is the sixth time in the past 10 years that SCU has won the overall surfing championship and the ninth time we have taken it out since the annual university student surfing competition 1994," said Dave.
"In my eyes, it gives us the right to claim that SCU is the #1 Surfing Uni in Australia!"
Brittani said the University's campus locations at some of the best surf spots along Australia's east coast was the ideal playground.
"I think our location does play a factor in the strength of surfing at Southern Cross. Beaches at the Coffs Coast, on the NSW Far North Coast and on the Gold Coast are all surfing hubs. With people surfing and studying, it's great to have that study/life balance."
As well as completing her Digital Media & Communications studies through the University's Elite Athlete Program, Brittani runs her own business Britt Nicholl Services as a surf coach, works with Surfing NSW across multiple roles including event commentary, and also works with Surfing Australia.
"It's great to have a uni like SCU behind you as an athlete, to know you have that support. Dave Graham is pretty amazing, always open for discussion in terms of support," said Brittani.
"As an athlete you're travelling around the country or the world while trying to balance competing, training and study. Just to be at a uni that has that program and the flexibility to be able to understand those commitments and help you make it work is refreshing."
Elite Athlete Program at Southern Cross University
Southern Cross University's Elite Athlete and Performer Program has been designed to support and encourage students to achieve academic excellence while pursuing a sporting career.
Commonwealth Games boxing gold medallist Shelley Watts, surfers Bec Woods and Ellie Brooks, middle distance runner Simon Rogers, swimmer Moesha Johnson and golfer Eleka Moore are some who have benefited from the University's Elite Athlete Program.
---