International Day of the Midwife on 5 May celebrates the critical work of midwives around the world, but stress in the profession is an ongoing challenge, says Southern Cross Midwifery graduate Georgina Haver. Thanks to a scholarship, Georgina is now researching stress and burnout in the profession as part of an Honours degree. She believes that formal support networks could help retain skilled and resilient midwives.
Georgina was awarded the Northern NSW Local Health District GradStart Nursing and Midwifery Honours Scholarship, a $20,000 program offered by Southern Cross University and the Northern NSW Local Health District.
The program enables Georgina to work as a midwife at Lismore Base Hospital through the GradStart initiative while studying the Bachelor of Health and Human Sciences (Honours) at Southern Cross University.
Through the Honours program, Georgina is investigating the effectiveness of support and mentoring programs for midwives at differing stages of their careers.
"My research is going to look at how these programs have contributed to the sense of safety, confidence and empowerment of midwives," Georgina said. "I think it's important for health services to be looking at strategies to try to retain strong and resilient midwives.
"I'm hoping the results might encourage or justify continued resources being directed into that area."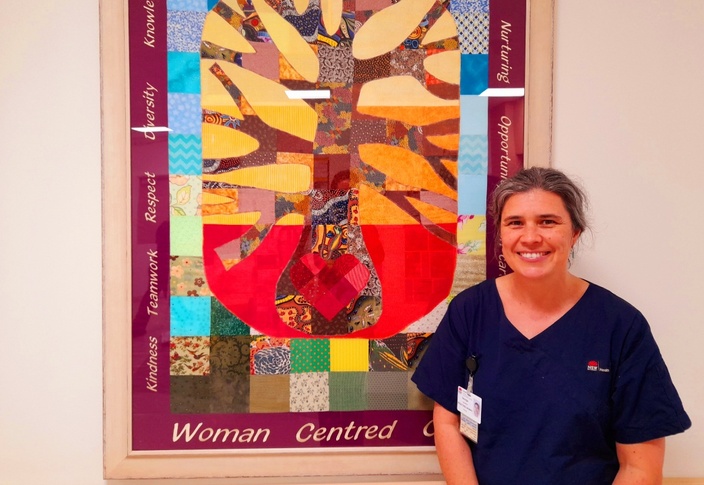 Georgina studied the Bachelor of Midwifery at Southern Cross University and said the course made her fall in love with the profession.
"My lecturers and tutors were not only really knowledgeable and inspiring, but they also work in clinical practice. So, I received a real wealth of knowledge," she said.
Georgina was also inspired by the midwives involved in her own birthing experiences, which led her to choose to study midwifery. "I thought they had a really important job. Midwives can be so impactful in how a woman experiences that vulnerable time in her life."
Now working as a registered midwife, Georgina said the most rewarding aspect of the job is empowering women throughout the stages of pregnancy, birth and early parenting.
"It's the moment when you feel like you've been able to support a woman in gaining knowledge, understanding or reassurance, and you can see she's gained more clarity or strength. That's when I feel like I'm making a difference."
Course Coordinator for the Bachelor of Midwifery Lisa Charmer congratulated Georgina on receiving the scholarship.
"Georgie was an exceptional midwifery student who early in her studies showed a woman-centred reflective approach and interest in ensuring best evidence care by using research," she said.
"This scholarship enables Georgie to consolidate her learning from the Bachelor of Midwifery course, including her work-integrated learning, whilst expanding her skills in research. The study will add to her Local Health District's knowledge about supporting and retaining their midwifery workforce."
The Northern NSW Local Health District GradStart Nursing and Midwifery Honours Scholarship Program aims to support recent Bachelor of Nursing and Bachelor of Midwifery graduates to broaden their research skills and experience. Tweed Heads, Lismore Base, or Grafton hospitals provide scholarship recipients with part-time employment while undertaking a Bachelor of Health and Human Science (Honours) at Southern Cross University.
Learn more about studying midwifery.
---