Research Integrity and Governance
Southern Cross University is committed to encouraging our researchers and research students to conduct their research with integrity and comply with relevant legislation and standards across the sector.
Responsible Conduct of Research
All staff, students and affiliates of Southern Cross University who are involved in research should be familiar with and must comply with:
For further information please see our listing of relevant policies and statements. In addition, all research policies are maintained in the Southern Cross University policies and can be viewed online.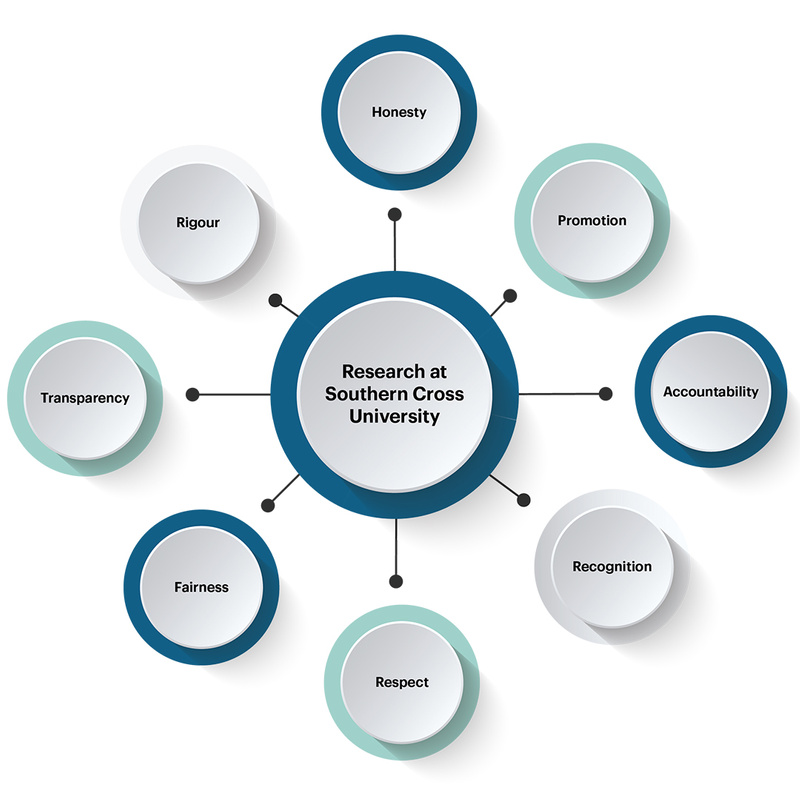 Research Integrity
The Office of the Deputy Vice-Chancellor (Research) supports Research Integrity, as the foundation of research at Southern Cross University. Our high-quality and reliable research is based upon the principles of honesty, rigour, transparency, fairness, respect, recognition, accountability and promotion as enshrined in the Australian Code for the Responsible Conduct of Research 2018 (the Code).
We all have a responsibility to ensure that our research is undertaken, managed and promoted in a responsible and ethical way, underpinned by these qualities at all times. The Office of the Deputy Vice Chancellor (Research) is here to support you in navigating the research integrity landscape.
Research Integrity Advisors
The University has appointed Research Integrity Advisors, who are the Associate Deans Research and Directors of Higher-Degree Research in your Faculty or College. They can provide you with guidance and support in navigating matters of research integrity, including any concerns or complaints about potential breaches of the following:
Research Integrity Training
The Research Integrity Training is a mandatory online training module for research active Academic Staff and HDR Students, and Professional staff supporting research. The Training provides an informative overview of the key principles and responsibilities of researchers enshrined in the Australian Code for the Responsible Conduct of Research 2018 (the Code), and supporting materials.
The Research Integrity Training Guidelines and Research Integrity Training Guidelines for HDR Candidates and Supervisors outline the requirements of completion for the training, including identification of the staff and students required to complete it, and refresher training requirements. Please refer to the guidelines in the Southern Cross University Policy Library to determine your training completion requirements prior to accessing the training.
Please use Google Chrome to access the training. The training module will open in a pop-up window, so you may need to disable your pop-up blocker. Do not close the main browser window as this will close the pop-up window as well.
To access the training, please log in to Blackboard first. Select Research @ Southern Cross University under the menu on the right-hand side underneath My Information and Workgroup Sites. Then select Research Integrity on the menu on the left-hand side to navigate to the training.
For students and staff who have the option to complete the training but do not yet have access, please follow the Access to Research Integrity Training Instructions.
Research Governance
At Southern Cross University research governance is facilitated through the following committees:
Committee Key Contacts
Research Committee
Secretary: Louise Gordon
t: +61 7 5589 3083
e: louise.gordon@scu.edu.au
Higher Degrees Research Committee
Secretary: Amanda Simmons
t: +61 2 6626 9186
e: hdrc@scu.edu.au
Human Research Ethics
Chair: Emeritus Professor Colleen Cartwright
t: +61 7 5589 3210
e: colleen.cartwright@scu.edu.au
Secretary: Ethics Manager
t: +61 2 6620 3611
e: ethics.lismore@scu.edu.au
Animal Care and Ethics
Chair: Associate Professor Brendan Kelaher
t: +61 2 6648 3920
e: brendan.kelaher@scu.edu.au
Secretary: Ethics Manager
t: +61 2 6620 3611
e: animalethics.lismore@scu.edu.au
spacer