Blueberries and water quality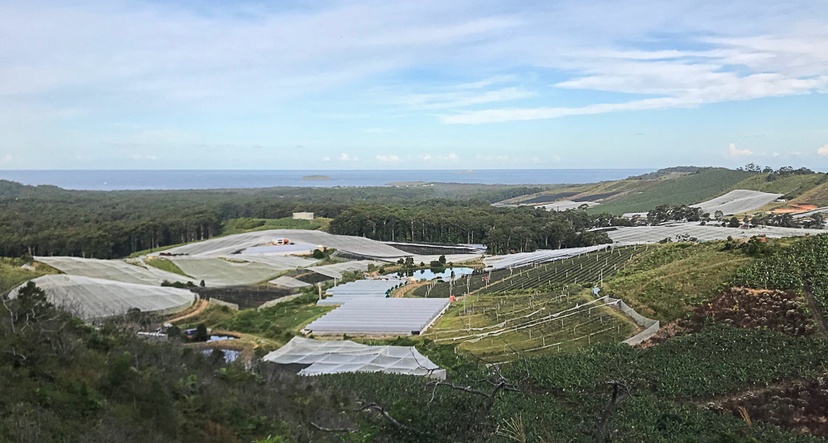 Background
Between 2001 and 2016 blueberry farming has grown intensively, >400% in NSW with 90% of this growth around the Coffs Harbour region, where there are now many large operational blueberry farms. The industry expansion generated concerns amongst the local community about water quality downstream of this intensive horticulture activity. Management agencies such as Coffs Harbour Council, Environment Protection Authority and Office of Environment and Heritage have fielded numerous complaints from the community. This research project emerged as a response to these community concerns and sought to provide evidence-based advice to relevant management authorities.

"As a community member I am concerned about the rapid growth of an intensive horticultural industry on land adjacent to the waters of the Marine Park, and about the effect of nutrient runoff into creeks and waterways entering this environment"
Ian Shaw, Community Member, Coastal Estuary Management Advisory Committee, Coffs Harbour City Council.
Regional councils such as Coffs Harbour City Council, Clarence Valley Council and Bellingen Shire Council
Berries Australia, the Australian Blueberry Growers Association, Ozgroup cooperative and independent blueberry growers
NSW Department of Primary Industries, North Coast Local Land Services, NSW Environmental Protection Authority and Landcare groups
The local community and visitors to the Mid North Coast through the protection of waterways
This research identified significantly decreased water quality where more than 15% of land use in a given water catchment was under intensive horticulture (i.e. blueberry farms). The identification of this threshold (15%) enables evidence-based advice for land planners.
"This research has helped both industry and the NSW Department of Primary Industries to better understand the environmental concerns of horticulture practices and identified where work can be done to improve these so as to benefit the environment." Melinda Simpson, Development Officer - Blueberry, NSW Department of Primary Industries
The research team found that farmers did not have up-to-date information on the amount of fertiliser to apply to blueberries grown in Australian conditions. Some of the farming community reported that following the release of the initial report; they have significantly reduced the amount of fertiliser they apply, saving both money and potentially reducing runoff to the environment.
The work of the research group has encouraged the development of the Blueberry Code of Conduct by the industry's peak bodies, Berries Australia and Australian Blueberry Growers Association, emphasising a reduction of environmental impacts.
In 2017, Coffs Harbour City Council provided funds to SCU to investigate water quality at Bucca Bucca Creek (a tributary of the Orara River). Under the Council's Biodiversity Action Strategy, they are responsible for understanding if change in land use is affecting waterways. Key findings from this work were that after rain events, some of the samples taken downstream from blueberry farms had levels of nitrogen 50 to 800 times higher than the recommended creek guidelines. The project recommended management of nitrogen runoff and assessment of potential impacts to downstream waterways (including the Solitary Islands Marine Park).
At this time, there were no guidelines for farmers on the nutrient requirements of the new blueberry varieties in the Australian landscape. Farmers may, therefore, have been unknowingly applying more fertiliser than the plants require. This research found that the excess nitrogen from fertilisers was being washed downstream into the waterways after heavy rain. The excess nitrogen load being lost to creeks was estimated to be approximately 20% of the applied fertiliser, which with better management options, could bring both environmental and economic benefits, offering clear incentives for farmers.
NSW Local Land Services and Coffs Harbour City Council have provided further funds to the group to identify options related to a reduction in the amount of nutrient runoff downstream from farms. The research team recommended deployment of wood chip bioreactors, retention basins and constructed wetlands. On three farms in the Coffs Harbour area, the team is monitoring the effectiveness of woodchip bioreactor designs, with some promising early results suggesting a significant reduction in nitrate runoff concentrations.
Coffs Harbour City Council also provided support to the SCU team to conduct further analyses on sediment and water quality along a coastal catchment. This body of work focused on an area downstream of intensive farming, Double Crossing Creek and Hearnes Lake. The work identified a clear link between an increase in phosphorous deposition within the Hearnes Lake estuarine sediments and land-use change from bananas to blueberries over time. Results from water chemistry concurred with previous results, in that fertiliser nitrogen loss here was also estimated to be ~20% of applied fertiliser. The team recommended management of fertiliser usage to prevent an impact on downstream waterways and identified rainfall as a primary transport mechanism of fertiliser.
Testing of farm soils revealed arsenic, mercury, as well as select herbicides and fungicides at elevated levels. With further support from Coffs Harbour City Council, the group is conducting new research on the transport of nutrients and heavy metals, as well as the release of greenhouse gases in a coastal horticultural catchment. Results from these investigations are being used to inform regulatory agencies, such as local councils and the NSW Environmental Protection Authority, of the contaminants of concern, possible sources, and the ecological implications of horticultural runoff. This new research is furthering the understanding of the influence of intensive horticulture on stream health. In a new partnership with the water and irrigation team from NSW Department of Primary Industries, SCU researchers are conducting experiments on blueberry, macadamia and cucumber farms to better understand the fate of applied fertilisers. Farmers in these industries have opened their gates to the research team, allowing an installation of long term monitoring equipment and rainfall simulation experiments.
This continued research will assist managers at all levels, from farmer to government, to identify areas for improvement both economically and environmentally.
Acknowledgements / Collaborators
The team of Southern Cross University researchers who contributed to this research project included Professor Isaac Santos (Project Leader), PhD candidate Shane White, PhD candidate Stephen Conrad and Associate Professor Christian Sanders.
The team would like to acknowledge the input to the project from the local community especially the blueberry farmers who allowed the research group access to their farms.
---