Thrive wellness program
SCU is committed to supporting and enhancing your wellbeing. The Thrive program provides opportunities for you to improve your wellbeing to achieve a healthy mind, healthy body and healthy you.
Develop knowledge and skills to enhance your physical and psychological health, improve lifestyle factors and increase your sense of wellbeing by participating in wellness events and activities throughout the year.
Take some time for yourself – The MindRazr program is FREE for all staff to take the step to improve their mental and physical wellbeing! You are sure to find something with the wide range of music playlists, meditation and workouts. Find out how to register HERE.
Fitness Passport – Register for the Southern Cross University Fitness Passport program and gain access to 100+ gyms, pools, health clubs facilities and more from across the coast! To sign up and learn more about our program, membership prices, facilities, FAQs and T&Cs, contact the WHS or visit fitnesspassport.com.au/scu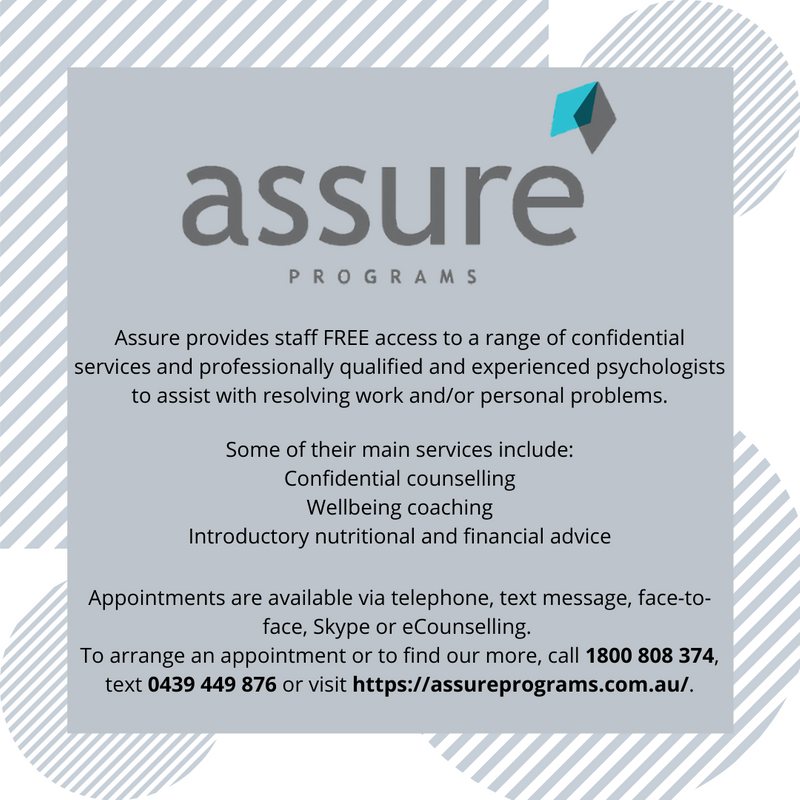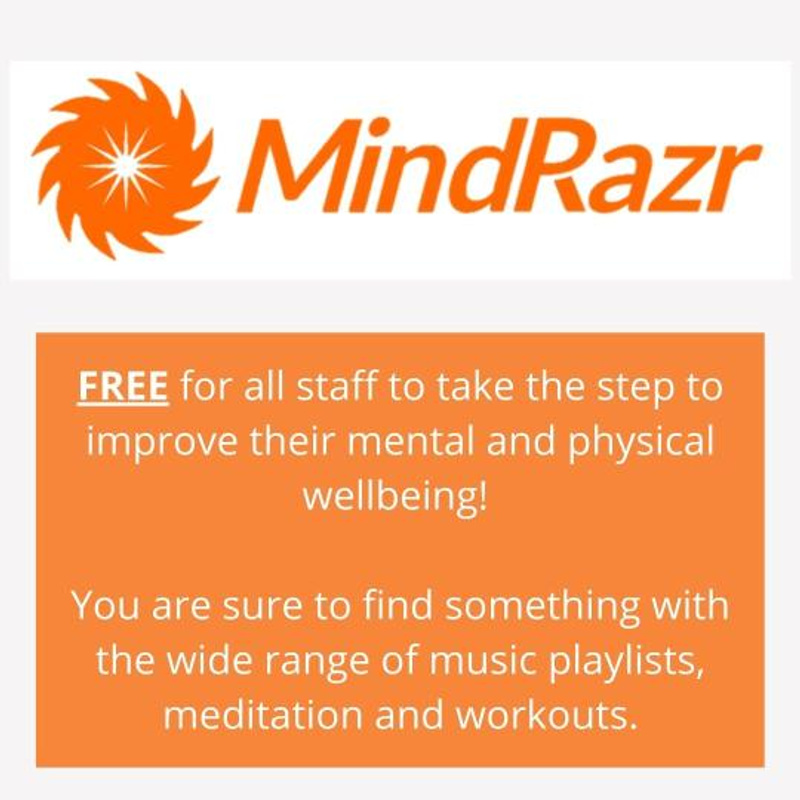 Join our Thrive Community to share your wellness ideas and achievements, healthy recipes and give us your suggestions for Thrive.
For assistance and further information please email whs@scu.edu.au or contact the Workplace Health and Safety Team on 02 6620 3651.
---
Resources and Support
SCU provides a number of programs and initiatives for the health and wellbeing of staff.
SCU Fitness Passport - allows SCU staff and their families to use a wide variety of fitness facilities for one low price.
Mental Health Support - a range of support options are available both personally and online.
---
Steptember @SCU
Steptember launch presentation. Presented by Dale, Cerebral Palsy Alliance's Steptember team member. Steptember is Australia's leading health and wellbeing fundraising event and through September the Cerebral Palsy Alliance raise money to support people living with cerebral palsy.
Hi everyone. Thanks for taking the time to watch this Steptember launch presentation. I'm Dale, I work in Cerebral Palsy Alliance's Steptember team and today I'll be taking you through some information around cerebral palsy, Cerebral Palsy Alliance, Steptember itself and giving you some context around what it is that you're actually fundraising for, let's jump in.
So we'll start with Steptember. Steptember is Australia's leading health and wellbeing fundraising event and through September we raise money to support people living with cerebral palsy. Participants take 10 000 steps a day, every day for the whole month and during that time we'll raise money for cerebral palsy treatment and research. It's a really good team challenge, so over 3000 organizations and universities include it as a part of the annual wellbeing program. Aside from the good that we can do by raising the money and the obvious health benefits that you get from taking your ten thousand steps every day, probably the best thing about it is just the fun sort of healthy competition that can promote between you and your colleagues and your study mates.
Cerebral Palsy itself is the most common physical disability in childhood with one in every 700 babies being born in Australia diagnosed with cerebral palsy, so it's extremely prevalent. It's caused by damage to the developing brain either during pregnancy, during childbirth or shortly after childbirth, and the cause of that damage could be any number of things, often it's if oxygen to the brain is lost at any point in late stage pregnancy or during childbirth or shortly afterwards some inflammation to the brain can result in damage as well. Lots of other factors can contribute, but if any one of these causes damaged to the developing brain that can go on to cause cerebral palsy so a lot of the work we do in finding ways to prevent cerebral palsy from happening actually comes down to finding ways to prevent this brain damage from occurring in the first place.
It's a permanent lifelong condition that can cause intellectual and vision impairments, pain. So about 50 percent of people with cerebral palsy suffer from chronic pain, epilepsy, and an inability to walk or talk. The severity of cases of cerebral palsy ranges a lot, at the light end of the spectrum it might be minor impairments to motor control or dexterity. And then at the more severe ends someone with cerebral palsy might be you know completely immobile in an electric wheelchair for life, non-verbal vision impaired, the support required by someone with cerebral palsy is going to differ a lot depending on how it presents as well.
So we need to make sure that we're providing treatment to support the individual but also that the research isn't just focused on, you know the most severe cases that we're actually looking for interventions and treatments for you know, for everyone who has cerebral palsy .
Cerebral Palsy Alliance, so we're a charity we were founded 75 years ago. It's actually a pretty cool story. So, it was founded by a couple of parents whose daughter had cerebral palsy. At the time there was zero support out there and they just wanted to really just to give their daughter some quality of life. What they ended up doing was taking an ad out in the local paper and saying our daughter has these symptoms, is there anyone else out there who's going through similar. A couple of other parents wrote back, and you know together they got together and they created the then the Spastic Centre which is now Cerebral Palsy Alliance and our head office is actually still at that same location in Allambie Heights up in New South Wales central coast, but a hell of a lot bigger now. We've grown to have almost two and a half thousand staff as well as a thousand volunteers who help us out every year. Most of those staff work in your front-line disability services and now we work directly with over six thousand people who have cerebral palsy and our clients every single year and the goal is to help them live their most comfortable independent and inclusive lives.
We are a leading organization for research into treatment, prevention and cure of cerebral palsy through our cerebral palsy alliance research foundation which I'll tell you about in a bit more detail shortly. One thing that we've been able to do through the research that we've funded so far is actually reduce the rates of cerebral palsy in Australia by 30 percent, which is really, really exciting. So I'd like to dive down into a bit more detail about that because right now we are you know really fundraising to invest in this research so that we can offer more grants and have some more great outcomes. So I'd like to share a bit around what it is that we're fundraising for.
So Cerebral Palsy Alliance research foundation was founded 15 years ago and since then has become the largest funder of cerebral palsy research in the world. A couple of achievements so far, so going back 15 years in Australia one in every 400 babies would be diagnosed with cerebral palsy. As I mentioned earlier that's now down to one in 700 which is a staggering drop in such a short amount of time and that's a direct result of the research that we've been able to fund through programs like Steptember.
We've got a pretty bold ambition, we want to triple our investment in cerebral palsy research over the next five years and that will allow us to significantly accelerate the search for cerebral palsy prevention and cure and Steptember is helping us to do that.
So our research program can be broken up into five key pillars.
One of these are identifying the cause through our cerebral palsy registers.
We run the largest registry in the world for cerebral palsy and that allows us to better understand you know different factors that might influence severity of cerebral palsy and also might be different causes for cerebral palsy including better understanding the genetic causes. You know going back 15 years it was thought maybe one or two percent of cases had some sort of genetic link, we now know the actual number is closer to 30 percent and with this knowledge we're better able to target future research and put you know preventative interventions in place. With prevention being our second pillar.
So that comes down to preventing cerebral palsy from happening in the first place through a range of different strategies. You know one example we've got here on the slide is cmv cytomegalovirus. So this is an extremely common virus, pretty much everyone will have it at some point in their life. But we've learned that if a pregnant woman has an active case of cmv late stage in their pregnancy that can actually lead to some complications which can cause cerebral palsy. There are some really really simple things that you can do to prevent that from happening. And a lot of it comes down to basic you know, hand hygiene, making sure that you're not exchanging saliva with a newborn child, stuff like that you know kissing them on the forehead for example instead of on the lips is a really easy intervention and that's having a real impact on rise of cerebral palsy. The other example we have there is magnesium sulphate. If a pregnant woman is going into labour prematurely, if she takes magnesium sulphate. I don't pretend to understand all the signs of it but basically can form a barrier around the baby's brain which can prevent damage from taking place. Stuff like that is reducing the rates of cerebral palsy. It's easily you know, scalable, it can be rolled out all around the world at a relatively low cost and it's these are some of the things that have managed to reduce the rates of cerebral palsy in Australia so dramatically and so quickly.
The next one is treatment. So early diagnosis is a huge one. Go back 15 years to before the research foundation was founded and the earliest you could really diagnose cerebral palsy was when the baby was around you're 18 months old. And if you think about all of the developmental milestones that would have been missed by the time the child's 18 months old things like you know, first steps talking stuff like that. Now we can diagnose cerebral palsy from as early as 12 weeks which opens the door to these life-changing early interventions. Which in short means that even if a child is diagnosed with cerebral palsy today, adulthood looks completely different for them now than what it may have looked just 15 years ago. Because these early interventions which are taking place while you know so many new connections are being made and the brain's still growing can really have a lifelong impact.
Next is cure. Cure is a pretty scary word in research. You know it was thought quite recently that something like cerebral palsy could never be cured, but there's some really compelling evidence that there you know can be a cure out there. World-class ground-breaking research, such as stem cell therapies and other interventions together, having some pretty remarkable outcomes. Now our researchers swear up and down that yep, we will cure this one day, which would be a pretty great way for me to be put out of work I think.
And the last one is policy. So, working with the government to make sure that your funding remains focused on cerebral palsy treatment and research and also working with ways to maximize your NDIS funding for necessary cerebral palsy treatments as well.
So those make up the five pillars of our research foundation. And you know a lot of the money that's raised through Steptember will go directly into funding some of this research and having a real measurable global impact on rates and severity of cerebral palsy cases. To summarize it all, fewer babies now will be diagnosed with cerebral palsy and those that are diagnosed are more likely to be able to walk and talk. That's a direct result of the research that we've been able to fund so far through programs like Steptember. We've come a long way but there's still a lot more to do. The cure is possible, we're committed to finding it and by actively participating, taking your steps and raising money you're making it more and more likely that we'll be able to get there.
These are some of our trainers this year - Mark, Tej and Charlie. You'll be getting a few updates from them throughout the campaign they're all awesome. If these guys can't keep you motivated to hit your steps and raise some money then you know I certainly can't. But keep an eye out for these guys, they are absolutely brilliant.
So how to register? It's actually really really straightforward. So, you can register as an individual or in the team of up to four members. If you do want to register as part of a team then choose the captain, the captain will then register as a part of Southern Cross University and through that registration process they'll be able to invite the other team members to join the team. And regardless of whether you're joining as part of a team or as an individual make sure you put that promo code in. It's SCU (all capitals) 2021, that's going to mean that you don't need to pay the $25 registration fee. It's something that we've been able to organize with Southern Cross University. Hopefully that means that we can get even more people on board and actively participating this year to make registration even easier. I'm going to leave this screen up, as we end the presentation if you scan this QR code that's going to take you straight through to SCU's registration page. There'll be the field to put the promo code in there as well so if you want to go ahead and pull out your phone and scan that and register right now we can have everything ready to go by the time September comes. Then all that's left to do is make sure that you get your 10 000 steps every single day. Perfect time of the year for it, build some good habits before heading into summer. Make sure that you share your fundraising link on your your social media. You know maybe pick the phone up to your family and get them into kicking your ten bucks. It all goes to a really really good cause so thank you very much for your time today. I really appreciate you're taking 15 minutes out of your day to learn a little bit more about cerebral palsy and what it is that we're raising money for through Steptember and I look forward to seeing your results come through towards the end of the month.
Thanks again