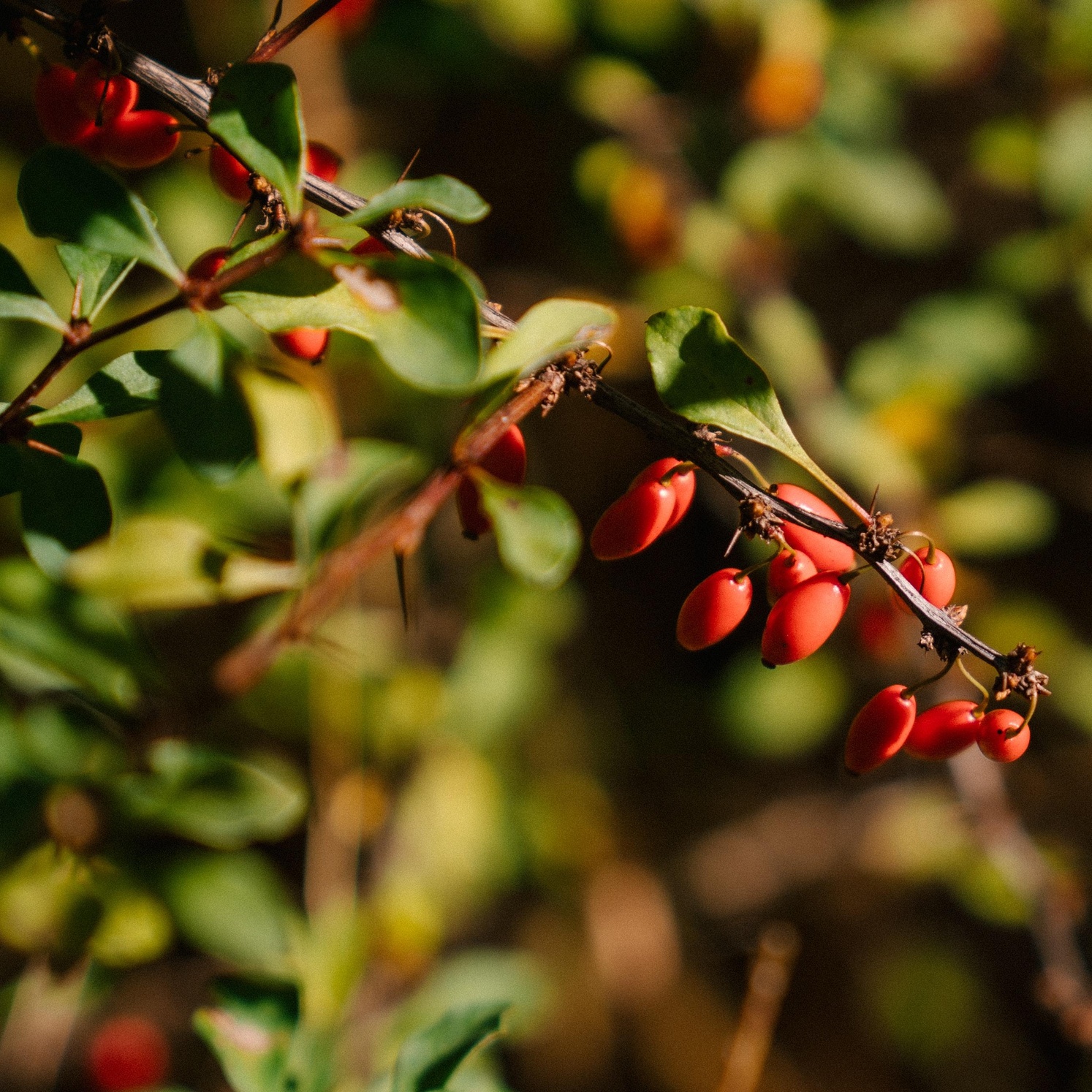 Berberis vulgaris
Family:
Berberidaceae
Common name:
Barberry
Part(s) used:
Root, root bark, stem bark (1, 2), and less commonly fresh or dried fruits (3, 4).
Botany
A popular garden shrub, Barberry is native to Europe and is widely distributed throughout North America and Asia. Barberry grows in a variety of soils, though is primarily cultivated in cooler regions. It is a deciduous plant that grows up to 3 m. The roots are thick and spread easily. The glabrous stem has alternate leaves with dual formation: primary leaves that grow along the main stem and reduce to terete spines (thorns), dividing into sets of three and secondary leaves that are oval matte green, with finely serrate edges and grow on short petioles. The bark of the stem and root has an orange-yellow colour and a smooth inner surface. Small pale yellow flowers grow at the end of branches in loosely hanging racemes. The ripe fruit is scarlet red and about 1cm ovoid in shape. The fruits grow in dropping clusters. Both the fruit and leaves are slightly bitter to taste (5, 6, 7).
History
Barberry has a long history of use in traditional eastern and western herbalism. In ancient Egypt barberry fruit was used with fennel seeds to ward off pestilent fevers (8). Indian ayurvedic physicians used barberry in the treatment of dysentery and traditional Iranian medicine uses the fruit as a sedative (9, 10). In northern Europe barberry was used to treat gall bladder and liver problems, while in Russia and Bulgaria it was used in the treatment of abnormal uterine bleeds and rheumatism (11, 12). In North America, the Eclectics used barberry to treat malaria and as a general tonic (13). The American Indians found it useful in improving appetite and used the dried fruit as a gargle (1, 12)
Major Active Constituents
The key active constituents of barberry root and stem bark are isoquinoline alkaloids. Two classes of alkaloids have been identified - protoberberines (berberine, berbamine, jateorrhizine and palmatine) and bisbenzlisoquinolines (oxycanthine). Berberine is the main active constituent and the most studied alkaloid. It is found through out the plant, however it is more concentrated in the roots, bark and stems. (1, 7, 12, 13)
Actions
Traditional
antimalarial (13), antirheumatic (12), antiseptic (6), astringent (14), bitter tonic (6, 13), depurative (13, 14), diuretic (15), dysmenorrhea (12), purgative (6, 15), sedative (10).
Contemporary
amoebicidal (8), antibacterial (2, 8), antibiotic (3), antiemetic (2, 16, 17), anti-inflammatory (2), antimicrobial (16), antiparasitic (16), antiprotozoic (2), antipyretic (2), bitter tonic (3, 16, 17), cholagogue (2, 3, 16, 17), choleretic (16), hepatic (17), laxative (1, 17), spleen tonic (2).
Pharmacology
The main active alkaloids of Berberis vulgaris, particularly berberine, are located in the root bark (18, 19). The pharmacological studies presented here are limited to the use of Berberis vulgaris root bark extract, unless otherwise stated.
Cardiovascular effects
In an in vivo study, the effects of Berberis vulgaris (BV) extract was tested on the blood pressure of anaesthetized hypertensive rats. Administration of aqueous extracts of BV reduced the arterial blood pressure in a dose-dependent manner. The findings suggest that the antihypertensive effect of BV extract is implemented through the reduction in total peripheral resistance. This effect is not mediated by activation of nitric oxide pathway and prostaglandin control (20).
The fruit of Berberis vulgaris is used often in traditional Iranian medicine. Two studies examine barberry fruit extract in relation to possible antihistaminic, anticholinergic and antiarrhythmic effects. Positive dose dependent results were also found in the response to aqueous extract of barberry fruits on isolated guinea-pig ileum. The outcome supporting the use of barberry fruits as antihistaminic and anticholinergic agents (21). The other in vivo study demonstrated that after taking a crude aqueous extract of Barberry fruit, the measurement of rat arterial blood pressure was significantly reduced, as was heart rate. There is a possible correlation of the extract effects on potassium currents and traditional sedative and neuroprotective effects of Barberry. The study is supportive of the hypothesis that barberry fruit extract is potentially beneficial in the treatment of hypertension, tachycardia, epilepsy and convulsion (10).
Immunological effects
Berberine sulfate was used to determine possible antimicrobial action. The in vitro study found that berberine sulfate interferes with the adhesion of LTA (lipoteidoic acid, a ligand responsible for the adherence of Streptococci to epithelial cells). The effect was the blockage of adherence of Streptococci to the host cell. At ? 30?g/mL berberine sulfate completely inhibited the growth of Streptococci. The complexion of LTA with fibronectin and the dissolution of such complexes if formed were also inhibited by berberine sulfate (22).
Gastrointestinal effects
A combination of berberine and geranium leaf extract, in an oral dose, has been shown to inhibit diarrhoea in vivo (23). Use of berberine in the clinical treatment of cholera has been supported in the outcome of an in vivo trial. Oral administration of berberine was found to be effective in the cessation of diarrhoea resulting in prolonged survival. The study concluded that berberine is an effective antidiarrhoeal drug (24).
Anti-inflammatory
The effects of the alkaloid constituents are primarily responsible for the historical use of Berberidaceae species extracts in inflammatory conditions (25). Berberine and oxycanthine alkaloids from Berberis vulgaris were administered in acute inflammation (paw oedema). Oxycanthine was less effective than berberine in the tests used (11). An in vivo study using Turkish Berberis species demonstrated that all alkaloids (from this species of Berberis) inhibited inflammation with dose dependent activity. Berberine, palmatine and berbamine were the most effective in topical and oral administration (26).
Hepatoprotective effects
Berberine has inhibitory effects on potassium and calcium currents in isolated rat hepatocytes, which may be involved in hepatoprotection. These effects of berberine on ion channels of isolated rat hepatocytes were extrapolated from an in vivo study. The study examined potassium and calcium ion channels. The role of potassium channels has been linked to regulation of metabolic processes in the liver, including gluconeogenesis, amino acid transport and cell functions. This study found that berberine could block potassium channels and decrease the extracellular potassium, resulting in regulation of the metabolic processes in the liver. Hepatocyte damage is linked to increased calcium ion concentration in the cytoplasm. The hepatoprotective action of berberine can therefore be partly linked to its inhibitory effects on potassium and calcium channels (27).
Antioxidant and chemoprotective effects
In the search for cancer chemoprotective agents, ethanol extract of Berberis vulgaris root bark has been studied using a hydroxyl radical scavenging assay. Three phenolic compounds were isolated - N-(p-trans-coumaroyl) tyramine, cannabisin G and lyniresinol. The results of the in vitro study demonstrate that cannabisin G and lyniresinol are in part responsible for the antioxidant activity of Berberis vulgaris root bark (28). In another study using human cell lines, Berberis vulgaris fruit extract was tested for its possible antioxidant and chemoprotective effects. The outcome of the study found that Barberry fruits extract exhibited antioxidant properties, resulting in cytotoxic effects (29, 30).
Antidiabetic effects
The metabolic effects of berberine were investigated in an in vivo study of two animal models of insulin resistance. In the first group, berberine reduced body weight and resulted in improved glucose tolerance. Similarly, in the second group of high fat fed rats, berberine reduced body weight and plasma triglycerides and improved insulin action. The action of berberine on adipocytes was examined, the outcome being strongly inhibited triglyceride accumulation. The mode of action is due to, in part, the activation of Adenosine monophosphate kinase (AMPK) in multiple cell types. The overall results of this study suggest that berberine may have a major application as a new treatment for obesity and/or insulin resistance in humans. Berberine acts by changing the expression of metabolic genes in fat and muscle in vivo (31).
Clinical Outcome Studies
Most clinical trials use isolated alkaloids from the Berberis species, particularly berberine. There are very few clinical trials that use extracts from Berberis vulgaris.
A double blind clinical trial was conducted to evaluate the clinical effects of a dental gel containing barberry extracts (from Berberis vulgaris) on gingivitis and microbial plaque. 45 boys aged 11-12 years from a similar socioeconomic group were divided into 3 groups; the first group using barberry gel, and the second group using placebo gel without active ingredient. The third group used Colgate antiplaque toothpaste, in order to draw comparison to any possible antimicrobial effects of the Barberry extracts. Initial screening for plaque index (PI) and gingival index (GI) was carried out, with re-evaluation after 21 days. The results showed that there was significant difference between barberry and placebo groups and between placebo and Colgate groups. The difference between barberry and Colgate groups was not significant. The conclusion can be drawn that barberry dental gel effectively controls gingivitis and microbial plaque in school-aged children, resulting in a strong recommendation for its use. (32)
Indications
Practitioners may consider using barberry in cases of:
Gastrointestinal disorders such as acute gastrointestinal infection with non-viral diarrhoea (16), chronic diarrhoea and dysentery (amoebic, bacillary) (1, 14), dyspepsia (16), gastritis (1, 16), parasitic infection or giardiasis (1, 17, 33), peptic ulcer (1, 16).
Gall bladder disorders such as cholecystitis (2, 16), gallstones (2, 3, 16, 17).
Liver disorders such as hepatitis (3, 14), jaundice due to congestive liver (1, 2, 3, 14, 17).
Other disorders such as acne (2, 16), arthritis (2, 14), in the treatment of malaria (17) and as adjuvant therapy for non-insulin dependent diabetes mellitus (1).
Practitioners may consider using barberry topically in cases of:
Hypersensitive eyes (4), inflamed lids (4), chronic and allergic conjunctivitis (3, 4, 8, 14),
Mouth ulcers and lip sores (1)
Eczema and psoriasis (8)
Contra-indications and Cautions
Barberry is not recommended for use during pregnancy due to its possible stimulation of the uterus (1, 34, 35). It is not recommended for jaundiced neonates (1) or young children.
Daily doses greater than 0.5g berberine may cause gastrointestinal irritation, diarrhoea, nausea, dizziness, nosebleeds, dyspnea, skin and eye irritations and urinary tract disorders (1).
Posology
tincture:
1 - 2mL t.d.s (1:5 in 60%) (17)
3 - 6mL per day (1:2) (1, 13, 16)
dry herb:
1.5 - 3g per day of dried root or stem bark
3 - 6g per day (2)
decoction:
1 tsp herb (bark) in 1 cup of cold water, bring to boil, simmer for 10-15 mins, t.d.s (17)
topical:
5 - 6 drops of 1:2 extract in recently boiled, then cooled water, for eyebath(1)
References
1. Bone K. 2003. A Clinical Guide to Blending Liquid Herbs: herbal formulations for the individual patient. St Louis, Missouri: Churchill Livingstone.
2. Thomsen M. 2005. Phytotherapy: desk reference. 3rd edition. NSW: Phytomedicine.
3. Van Wyk BE, Wink M. 2004. Medicinal Plants of the World: an illustrated scientific guide to important medicinal plants and their uses. Portland: Timber Press.
4. Weiss RF, Fintelmann V. 2000. Herbal Medicine. 2nd edition. Stuttgart: Thieme.
5. Harden GJ (ed). 2000. Flora of New South Wales. Vol. 1. Kensington: NSW University Press.
6. Grieve M. 1931. A Modern Herbal. London: Tiger Books International (1994).
7. Arayne MS, Sultana N, Bahadur SS. The berberis story: Berberis vulgaris in therapeutics. Pakistan Journal of Pharmacological Science 2007;20(1):83-92.
8. Chevallier A. 2001. The Encyclopedia of Medicinal Plants. St Leonards: Dorling Kindersley.
9. Kunwar RM, Nepal BK, Kshhetri HB, Rai SK, Bussmann RW. Ethnomedicine in Himalaya: a case study from Dolpa, Humla, Jumla and Mustang districts of Nepal. Journal of Ethnobiology and Ethnomedicine 2006; 2(27).
10. Fatehi-Hassanabad Z, Jafarzadeh M, Tarhini A, Fatehi M. The antihypertensive and vasodilator effects of aqueous extract from Berberis vulgaris fruit on hypertensive rats. Phytotherapy Research 2005;19(3):222-225.
11. Ivanovska N, Philipov S. Study on the anti-inflammatory action of Berberis vulgaris root extract, alkaloid fractions and pure alkaloids. International Journal of Immunopharmacology 1996;18(10):553-561.
12. Imanshahidi M, Hosseinzadeh H. Pharmacological and therapeutic effects of Berberis vulgaris and its active constituent, Berberine. Phytotherapy Research 2008. Published online at Wiley InterScience (www.interscience.wiley.com) DOI: 10.1002/ptr.2399.
13. Mills S, Bone K. 2000. Principals and Practice of Phytotherapy. Edinburgh: Churchill Livingstone.
14. Tierra M. 1988. Planetary Herbology: an integration of Western herbs into the traditional Chinese and Ayurvedic systems. Wisconsin: Lotus Press.
15. Zevin IV. 1996. A Russian Herbal: traditional remedies for health and healing. Rochester: Healing Arts Press.
16. Bone K. 2007. The Ultimate Herbal Compendium: a desktop guide for herbal prescribers. Warwick, Qld: Phytotherapy Press.
17. Hoffman D. 2003. Medical Herbalism: the science and practice of herbal medicine. Vermont: Healing Arts Press.
18. Berberis vulgaris monograph. Natural Standards Database. [Accessed: 20 September 2008] www.naturalstandards.com
19. Villinski JR, Dumas ER, Pezzuto JM, Angerhofer CK, Gafner S. 2001. Comparison of antimicrobial activity and alkaloid content of Berberis thunbergii, Berberis vulgaris and Hydrastis canadensis. Paper presented at American Society of Pharmacognosy & Council for Responsible Nutrition Interim Meeting, Asilomar, CA. [Accessed: 20 September 2008] <http://www.tomsofmaine.com/toms/PeerReviewedPubs.asp>
20. Ahmad G, Zahra FH, Mohammad F, Khadijeh F. Study of cardiovascular effects of Berberis vulgaris (b.v.) aqueous extract on hypertensive rats and their probable mechanisms. Hypertension 2005;46:88-916.
21. Shamsa F, Ahmadiani A, Khosrokhavar R. Antihistaminic and anticholinergic activity of barberry fruit (Berberis vulgaris) in the guinea-pig ileum. Journal of Ethnopharmacology 1999;64(2):161-166. [Abstract online]. Available: Science Direct. [19 September 2008].
22. Sun D, Courtney HS, Beachey EH. Berberine sulfate blocks adherence of Streptococcus pyrogenes to epithelial cells, fibronectin and hexadecane. Antimicrobial Agents and Chemotherapy 1988;32(9):1370-1374.
23. Ofuji K, Hara H, Sukamoto T, Yamashita S. Effects of an antidiarrhoeica containing an extract from geranium herb on astringent action and short circuit current across jejunal mucosa [Article in Japanese]. Nippon Yakurigaku Zasshi 1998;111(4):265-75. [Abstract online]. Available: EBSCO/Medline. [21 September 2008]
24. Dutta NK, Marker PH, Rao NR. Berberine in toxin-induced experimental cholera. British Journal of Pharmacology 1972;44:153-159.
25. Darshan S, Doreswamy R. Patented anti-inflammatory plant drug development from traditional medicine. Phytotherapy Research 2004;18:343-357. Published online in Wiley InterScience (www.interscience.wiley.com). DOI: 10.1002/ptr.1475
26. Kupeli E, Koar M, Yeilada E, Husnu K, Baer C. A comparative study on the anti-inflammatory, antinociceptive and antipyretic effects of isoquinoline alkaloids from the roots of Turkish Berberis species. Life Sciences 2002;72(6):645-657. [Abstract online]. Available: EBSCO/Medline. [19 September 2008].
27. Wang F, Zhou HY, Zhao G, Fu LY, Cheng L, Chen JG, Yao WX. Inhibitory effects of Berberine on ion channels of rat hepatocytes. World Journal of Gastroenterology 2004;10(19):2842-2845.
28. Tomosaka H, Chin YW, Salim AA, Keller WJ, Chai H, Kinghorn AD. Antioxidant and cytoprotective compounds from Berberis vulgaris (Barberry). Phytotherapy Research 2008; 22:979-981.
29. Motalleb G, Hanachi P, Kua SH, Fauziah O, Asmah R. Evaluation of phenolic content and total antioxidant activity in Berberis vulgaris fruit extract. Journal of Biological Sciences 2005; 5(5):648-653.
30. Hanachi P, Kua SH, Asmah R, Motalleb G, Fauziah O. Cytotoxic effect of Berberis vulgaris fruit extract on the proliferation of human liver cancer cell line (HepG2) and its antioxidant properties. International Journal of Cancer Research 2006;2(1):1-9.
31. Lee YS, Kim WS, Kim KH, Yoon MJ, Cho HJ et al. Berberine, a natural plant product, activates AMP-activated protein kinase with beneficial metabolic effects in diabetic and insulin-resistant states. Diabetes 2006;55:2256-2264.
32. Makarem A, Khalili N, Asodeh R. Efficacy of barberry aqueous extracts dental gel on control of plaque and gingivitis. Acta Medica Iranica 2007; 44(2):91-94.
33. Hawrelak J. Giardiasis: pathophysiology and management. Alternative Medicine Review 2003; 8(2):129-142,
34. Moore M. 1995. Herbal/Medical Contraindications. Albuquerque, NM: Southwest School of Botanical Medicine.
35. Brinker F. 1997. Herb Contraindications and Drug Interactions. Oregon: Eclectic Institute.
This monograph was authored in 2008 by Anna Du Chesne, a student in Southern Cross University's Bachelor of Naturopathy programme, and edited by Nena Aleschewski BNat. While the author and editor have strived to cite published information accurately, Southern Cross University will not be responsible for any inaccuracies that may have occurred.
This information is provided for educational purposes only and does not constitute medical advice. If you wish to use herbal medicine as part of your health care, seek the advice of an appropriately qualified practitioner.
---