Team SCU sporting and community events
Team SCU participates in a number of community events encouraging healthy and active lifestyles. Participation is open to students, staff, alumni, SCU gym members, and friends who can get involved as participants or part of the volunteer support crew.
These community fitness and active living events provide an ideal opportunity for the University community to get involved in promoting health, fitness and wellbeing. Events cater for a range of abilities and fitness levels from beginner through to elite with category choices to suit individual fitness and experience levels. SCU Fitness Centre & Pool coordinate preparatory programs so that participants can come together for group training sessions aimed at improving fitness levels and having team members get to know one another prior to events. Plus participants can also prepare at home by downloading the SCUMoves App and joining our various challenges and programs.
2022 events calendar
View the calendar of events for information on all the upcoming events coming up within 2020 and to stay up to date with what's happening near you!
To get involved and become part of Team SCU! Contact: unilife@scu.edu.au.
Samson Fitness Challenge — Lismore
When: 4–5 March 2022
Where: Hepburn Park, Lismore NSW
Organiser: Our Kids: Lismore Samson Fitness Challenge
The 2020 Lismore Samson Challenge raised over $20,000 for Our Kids!
The Samson Challenge is a four-person team fitness challenge event with each team put through nine gruelling challenges, which includes a farmers' walk with jerry cans, a prowler push, 130kg truck tyre flip, burpee challenge, 2×2km run, 1km swim, a mystery leg and a crazy obstacle course to complete.
The quickest team to complete all the challenges wins the coveted Samson Title and bragging rights for the next twelve months.
The Samson is a major fundraiser for OUR KIDS, the charity that raises money to purchase paediatric equipment for the Children's Ward and Special Care Nursery at Lismore Base Hospital.
Byron Ocean Swim
When: Sunday 1 May 2022
Where: Byron Bay Surf Life Saving Club, Byron Bay NSW
Website: Byron Ocean Swim
The Byron Bay Property Sales Ocean Swim Classic is approximately 2.2km from Wategos Beach to Main Beach, Byron Bay. The Classic is a buoyed course from the start area, around The Pass and across the Bay to Main Beach.
The Mini Swim (800m), is run prior to the main swim. This shorter distance swim starts from Clarks Beach along Main Beach and is designed as an introductory swim for novice ocean swimmers and for children who are good swimmers down to age 9 years.
Gold Coast Marathon
When: 2–3 July 2022
Where: Gold Coast, QLD
Organiser: Gold Coast Marathon
Southern Cross University is a Major Sponsors of this awesome internationally recognised event with Team SCU offering some great discounts on the entry fee, especially for students registering into the Southern Cross University 10Km event
To be a member of Team SCU you need to be a student, staff member, alumni or SCU Gym member. Other participants can join Team SCU if they are a family member of the above (up to 2 family members) or a running partner (limited to 1) or be a member of the Lismore Runners. A Team SCU chill-out recovery zone, marquee with food and drinks will also available for members of Team SCU so you can chill out and relax both pre and post-race.
All Team SCU participants in this event will also receive a free SCU Runners Singlet
Darrell Chapman Fun Run
When: 28 August 2022
Where: Lismore, NSW
Organisers: Our Kids — Darrel Chapman Fun Run
The Darrel Chapman Fun Run is an event that has been established in Lismore for over 20 years. It includes a 4km walk/run a 10km run and the Lismore regions only half marathon. The event format encourages and champion all to be involved, to to walk or run and just have FUN!
All Team SCU participants in this event will also receive a free SCU Runners Singlet
Coffs Harbour Running Festival
When: Sunday 11 September 2022
Where: Coffs Harbour Showground, Coffs Harbour NSW
Organisers: Coffs Harbour Running Festival

The Coffs Runners festival is an event that raises funds to support local charities and community groups and includes a 3KM Family Fun Run/Walk, 5KM Run/ Walk, 10KM Run and a half Marathon.
All Team SCU participants in this event will also receive a free SCU Runners Singlet
Spartan Sprint Challenge
When: September 2022 (TBC)
Where: Numinbah Valley Adventure Trails, Numinbah Valley QLD
Organiser: Spartan
Spartan Race is a leader in the sport of obstacle racing, offering open heats for all fitness levels, as well as competitive and elite heats for those with something more to prove. The first of its kind to feature timing and global rankings, Spartan Race provides a proving ground for beginner and professional obstacle racers looking to test themselves in new ways across the world.
The Spartan Sprint puts endurance aside and tests your quickness through 5K loaded with 20 Obstacles. A great starter distance for beginners, or a perfect test against time for the more advanced racer.
All Team SCU participants in this event will receive a free SCU Samson Singlet to wear during the event
Byron Bay Lighthouse Run
When: October or November 2022 (TBC)
Where: Clarkes Beach, Byron Bay NSW
Organiser: Byron Bay Lighthouse Run
A fun run for all ages and abilities this charity fun run offers both a 10K run and a 6K walk with all proceeds going to local charities. Join Team SCU and receive the Team discount on the event entry fee.
All Team SCU participants in this event will also receive a free SCU Runners Singlet
Contact us
Please contact the UniLife team by email at unilife@scu.edu.au or call 02 6622 3220.
To keep up to date with what's happening at your campus, find UniLife on Facebook or Instagram.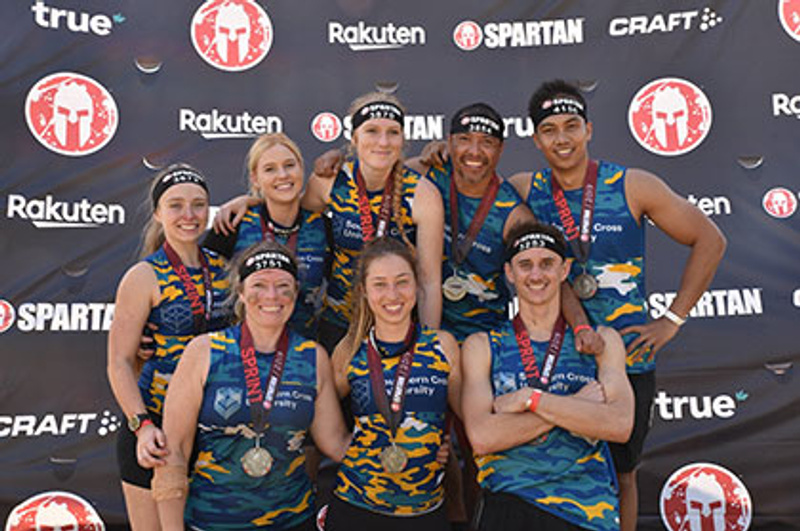 A couple of our SCU Team celebrating crossing the finishing line of the 2019 Spartan Sprint Challenge.
Matt Lamont, the first Team SCU runner to cross the Gold Coast Marathon finish line at the 2019 Gold Coast Marathon Runners Festival.