Regenerative agriculture PhD researcher shortlisted for national award
Published 18 October 2021
Mathew Alexanderson at NSW DPI (Department of Primary Industries) at Wollongbar (credit Soil CRC).
Southern Cross University's Mathew Alexanderson is a finalist in a prestigious national award for early career researchers run by an organisation driving Australian research and innovation.
Mathew is vying with three other finalists in the Cooperative Research Centres Association's Early Career Researcher Competition. Each will present a five-minute thesis at the Cooperative Research Centres Association conference, Collaborate Innovate 2021. The winner of the $5,000 prize will be announced at a virtual dinner on Tuesday night, October 19.
Mathew's PhD research thesis, entitled Regenerative Agriculture: exploring the boundaries on regenerative agriculture, will improve knowledge on farmer behaviours, aspirations and motivations, and their perceptions of existing and proposed research and development initiatives.
His research also links in with the Soil CRC project Surveying farm practices being led by his supervisor and Southern Cross University lecturer and researcher Dr Hanabeth Luke.
Mathew said he was thrilled to be chosen as a finalist.
"It's exciting to be able to share my research with such a broad audience. I believe that collaboration and knowledge sharing is key to solving the environmental issues facing our farming systems.
"Linking in with the Soil CRC is an amazing opportunity and I'm really grateful for that. The work my supervisor Hanabeth Luke is doing is fascinating. It's such a brilliant project with such a huge database of information coming in," he said.
He is currently the acting Project Developer of the Regenerative Agriculture Mentorship Program offered through the Regenerative Agriculture Alliance at Southern Cross University.
Throughout his undergraduate studies at Southern Cross University (a Bachelor of Environmental Science followed by a Bachelor of Science with First Class Honours), Mathew has demonstrated a high level of achievement, practical application and outcomes.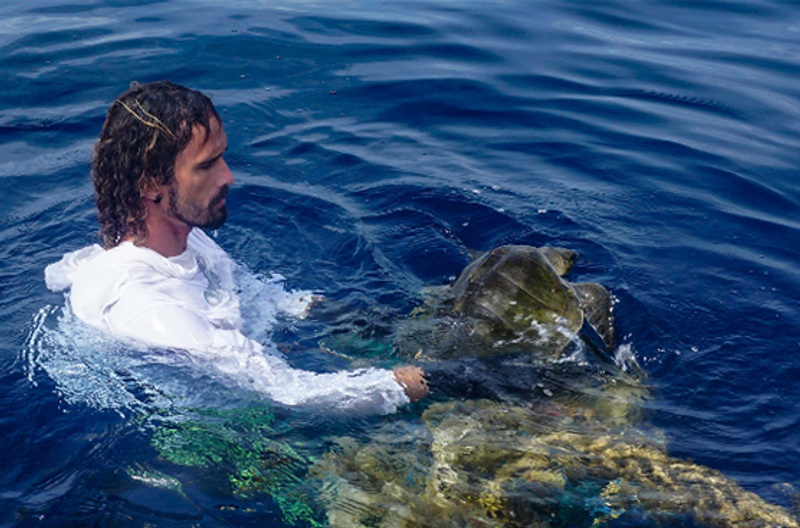 Helping an entangled green sea turtle in Indonesia (credit Mathew Alexanderson).
For an Integrated Project in the third year of his Environmental Science degree, Mathew lived on Simeulue Island off Sumatra in Indonesia for two and a half years, founding and developing a conservation program called VAST, Volunteer for Aceh's Sea Turtles. VAST focused on protecting endangered sea turtle species and their habitats in Indonesia with the support of volunteers and ecotourists. Southern Cross University recognised his efforts with an Environmental Champion Award at the 2018 Student Awards.
For his Honours year, Mathew came back to Australia to complete a triple bottom-line analysis of ecotourism projects in the developing world against the outcomes of the UN sustainable development goals.
Dr Luke congratulated Mathew for his inclusion in the 2021 Cooperative Research Centres Association's Early Career Researcher Competition.
"We're really proud of Mathew's achievement, being shortlisted for this event. His PhD is providing useful information to support improved shared understandings of regenerative agricultural approaches and practices," she said.
"His detailed analysis also adds value to our Soil CRC survey project and will also inform other research and practice developing in this space. I'm really grateful to the Soil CRC for the level of student support they provide for their student cohort."
Early Career Researcher Competition
The Early Career Researchers Competition is an annual competition run by the Cooperative Research Centres Association celebrating research and challenging early career researchers to enhance their communication skills, receive peer review, and gain skills surrounding the presentation of their research to a broad audience. It is open to all PhD students and early career researchers at CRCs and universities across Australia. The four finalists will attend the Cooperative Research Association Gala Dinner and Innovation Awards in Canberra in March.
Cooperative Research Centres Association
The Cooperative Research Centres Association is the national body operating to enhance Australia's industrial, commercial and economic growth through research and innovation.
Soil CRC PhD program
The Soil CRC PhD program builds capacity and invests in the future of soil research for the benefit of Australia. The Soil CRC supports 50 PhD students at its eight partner universities. A PhD through the Soil CRC provides a rewarding opportunity to contribute to the health, sustainability and profitability of soils in Australia, and the communities that depend upon them. The industry exposure that the students get through these arrangements will ensure that they are well placed to make a valuable contribution to soil research for decades to come.
Media contact:
Sharlene King, media office at Southern Cross University +61 429 661 349 or scumedia@scu.edu.au