Meeting therapy goals with the help of furry friends
Published 24 June 2022
Master of Social Work graduate Noémie Rigaud with therapy dog Tango
Accredited mental health social worker Noémie Rigaud and her golden retriever Tango are the dream team.
The Master of Social Work (Professional Qualifying) graduate has founded an animal assisted therapy clinic, where clients work towards their therapy goals with the help of Noémie's furry (and highly qualified) friend, Tango.
"Research has shown that therapy goals can be achieved faster when an animal is present. They can help people to feel comfortable, safe and more motivated to regularly attend their sessions," Noémie said.
So, what does animal assisted therapy look like? It can be anything from a friendly greeting from Tango on arrival to make clients feel more comfortable, pats and cuddles throughout a therapy session led by Noémie, or picking up on client's emotional cues and providing reassurance.
"Tango can sense when a client is feeling agitated. For example, if I am working with a child whose emotions are dysregulated and they are angry all the time then the dog can be quite hyper. I can use that as a cue to say 'Tango is very hyper. What do you think that means? Does it tell us something about how you are feeling too?' which gives the child an opportunity to understand and relate their emotions to me," she said.
"There can also be a stigma around mental health. So, if people are not feeling comfortable about attending therapy then the simple act of engaging with a dog can bring a smile to their face and help them to relax. Tango brings a warmth to the session by engaging with the client and all of the sudden I am less threatening to them as a practitioner."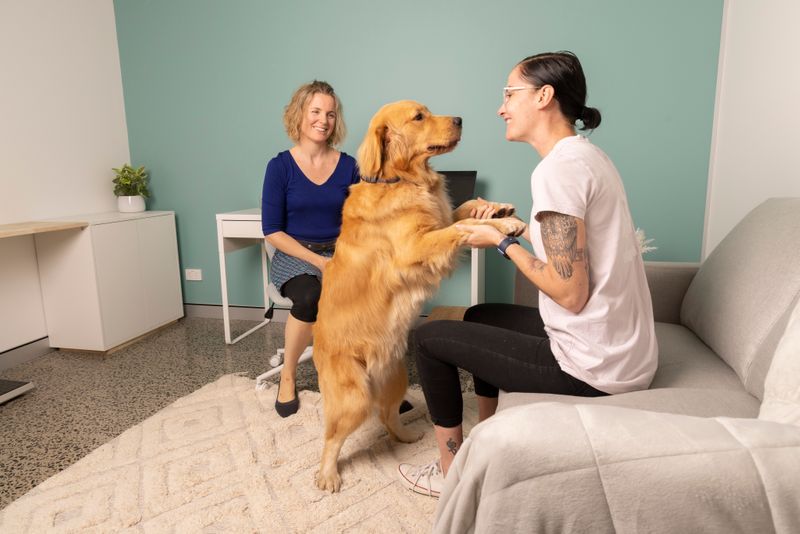 Outside of her animal assisted therapy practice, Noémie is a team leader at the Queensland Program of Assistance to Survivors of Torture and Trauma (QPASTT), providing culturally responsive services to promote the health and wellbeing of people who have sought safety from persecution, torture and war related trauma.
"My job at QPASTT is about providing mental health support to people from refugee backgrounds, people who have experienced torture and trauma," she said.
"Healing looks different for different people. So, it's not always about individual counselling, it can also be about community and family work," Noémie explains.
She began working at QPASTT after completing her final placement there whilst studying at Southern Cross University.
"I had this idea that I wanted to do my final placement somewhere completely different. But the placement officer at Southern Cross said that it can often lead to employment, so I should focus on finding somewhere that I really wanted to work. I already had experience in the refugee sector and knew it was something I was passionate about, so I approached QPASTT and that led me to this job. So, I'm really glad that I took her advice!"
Having completed a Master of Human Rights and Migration Law in France and many years of work experience in the humanitarian and social work sector, Noémie said returning to study as a mature aged student had a lot of advantages.
"As I had ten years of direct practice experience, studying as a mature aged student meant that all of the theory I learned helped me to refine my skills as a professional. It was also much easier to retain knowledge because I could really make sense of what was being taught," she said.
"What I liked about Southern Cross Uni is they were open-minded about the fact that I had a lot of relevant industry and study experience which assisted my application for the Master of Social Work. I liked the location, the flexibility of studying online and meeting face-to-face for residentials. The learning content had a great mix between direct practice and critical reflection which was really valuable."
Find out more about studying Social Work at Southern Cross University.
Media contact:
Media and content team content@scu.edu.au