Health placements
Health placement is an exciting part of your degree, letting you experience what it's like to work as a health care professional in real-life situations.
These compulsory placements give you the opportunity to integrate theory with practice, further develop your skills through supportive professional environments and gain essential working knowledge of current industry practice.
Depending on your discipline, some placements occur throughout your degree while other placements happen in your final year.
Learn more about health placement hours and activities.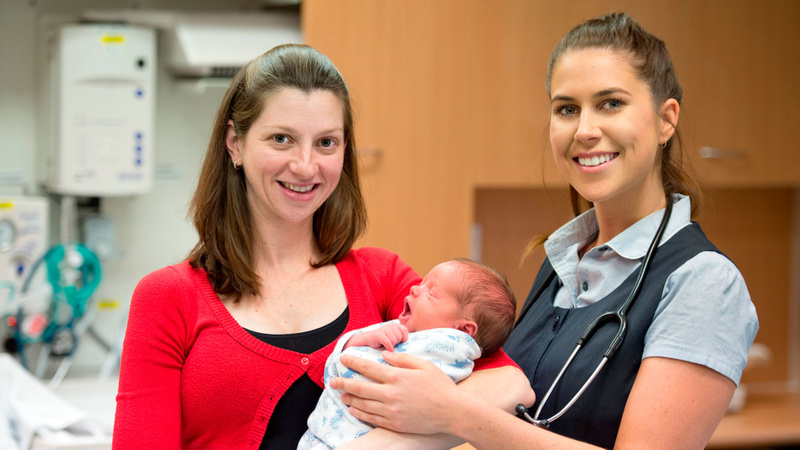 Preparing for placement
As a condition of any type of professional experience - including placement, volunteering, laboratory work, research, or community-engaged learning - you are required to provide evidence of your compliance and health protection before participating in any of these activities.
Student compliance is a mandatory, legislative and regulatory requirement.
To be able to attend placement, you must be compliant.
You must meet the requirements of both Southern Cross University and the external organisation. This will ensure the safety of yourself and others
SONIA, the professional placement database for students, is where you will upload many of your compliance documents. It is also where you can view your placement allocations.
Student-Led Clinics
Students have the opportunity to gain real-world experience and engage in clinical activities like assessment and diagnosis, treatment planning and intervention, and evaluation of patients' needs, at one of our two Health Clinics.
Southern Cross University operates a clinic each on the Gold Coast and Lismore campuses. The clinics are a core component of Southern Cross programs, ensuring students gain the knowledge and experience they need to work in the healthcare industry.
Find out more about the student-led clinics.
Professional Experience Unit
Having a successful placement is an important step in completing your degree. The Professional Experience Unit (PEU) team in the Faculty of Health is here to support you.
If you require further information or need assistance you can email the Professional Experience Unit or call them on +61 7 5589 3439.
Frequently Asked Questions – Pre-Placement
Update 30 August 2021
Please be advised there are two new NSW public health orders now in place which apply mandatory vaccination requirements for certain workers in health care and aged care.
These are: Public Health (COVID-19 Vaccination of Health Care Workers) Order 2021 and Public Health (COVID-19 Aged Care Facilities) Order 202 which can be found at Public Health Orders and restrictions - COVID-19 (Coronavirus) (nsw.gov.au)
Public Health (COVID-19 Vaccination of Health Care Workers) Order 2021
The Order establishes mandatory requirements for health staff and persons working in health settings to be vaccinated with a COVID-19 Vaccine, which means a vaccine approved by the Therapeutic Goods Administration.
The Order requires staff to have received a first dose of a vaccine by 30 September 2021, with a second dose required by 30 November 2021.
The Order applies to
in the public sector, persons who work for the NSW Health Service, for a public health organisation, the Health Administration Corporation and Ambulance Service of NSW, as well as staff of the Ministry of Health
in the private sector a person who does work in a private health facility, being a private hospital or day procedure centre
in the private sector, registered paramedics whose work involves transporting, or assessing whether to transport, persons to and from a public or private health facility.
Work is defined broadly to cover employees, contractors, VMOs, visiting practitioners, volunteers and students undertaking clinical placements.
Students will be required to show evidence of having received a COVID-19 vaccination in accordance with the dosage requirement deadlines outlined above.
>PEU will be receiving advice about the NSW Health compliance processes that will be applied to students coming on placement in public health facilities in due course. If you have any questions please contact PEU in the first instance on healthplacements@scu.edu.au.
Update 10 August 2021
Good afternoon everyone,
I would like to advise you of the following two mandates and eensure clarity as I recognise there has been some confusion this morning:
With the NSW northern rivers LGA's being under a stay at home order until next Tuesday, the VC has advised that students and staff who reside in the affected NSW LGA's cannot attend either the Gold Coast or Coffs campus for the stay at home period.
No students will be asked to travel in or out of a NSW LGA under a 'stay at home' order to attend a clinical placement.
PEU will be working to reallocate affected students to new placements where possible, however please note some placements may be cancelled or postponed. Students who have placements within their own LGA can still attend placement under the current NSW stay at home orders.
The PEU team is working as fast and as responsively as it can under the current circumstances. We understand that this is a very stressful time for everyone involved but please bear with us. We are working in a constantly shifting environment as we work to ensure affected placements are adjusted.
I thank you all for your understanding in these challenging times.
Best wishes,
Julie Jomeen
Dean of Health
Update 9 August 2021
Clinical placements restrictions commencing 8 August 2021
For the local government areas of Brisbane City Council, Gold Coast City Council, Ipswich City Council, Lockyer Valley Regional Council, Logan City Council, Moreton Bay Regional Council, Noosa Shire Council, Redland City Council, Scenic Rim Regional Council, Somerset Regional Council, and Sunshine Coast Regional Council:
Only students fully vaccinated against COVID-19 can enter hospitals, residential aged care facilities, and disability accommodation services to undertake a clinical placement
For the Cairns Regional Council and Yarrabah Aboriginal Shire Council areas:
Clinical placements are temporarily suspended for all students (regardless of COVID-19 vaccination status)
For all other areas of Queensland:
Full vaccination against COVID-19 is not currently required.
Students affected by these restrictions should contact their education provider in the first instance.
COVID-19 and clinical placements | Queensland Health
Please refer to the Queensland Government website for the most updated versions of the CHO public health directions.
What vaccinations do I need?
Diphtheria, Tetanus, Pertussis (Whooping Cough)
Hepatitis B
Measles, Mumps and Rubella
Varicella (Chicken pox)
Influenza
What vaccination documentation do I need to submit?
Print out the Vaccination Requirements - Evidence Checklist. This document will advise what you are required to submit as evidence. Upload evidence for each vaccination to its respective check in SONIA. The Professional Experience Unit will review all documents and if anything is missing you will be contacted. Once documents look complete, these will be sent to NSW Health for a Clinical Assessment and Verification.
What is SONIA?
SONIA is the professional placement database for students. This is where you will upload your compliance documents. It's also where you can view your placement allocations.
The Professional Experience Unit website provides instructions and links to get onto Sonia. There is also a mobile app which you can use.
How long does it take to become vaccination compliant for placement?
Once you have uploaded your vaccinations evidence to SONIA the Professional Experience Unit will forward the documentation to NSW Health for a Clinical Assessment and verification. This can take 6 – 8 weeks to be assessed and verified by NSW Health.
I know I've had them but I can't find evidence of my Hep B immunisation, do I have to do it all again?
If you have a positive antiHBs serology results and you have been vaccinated but cannot provide documentation of your vaccination course, you will need individual assessment by an experienced Occupational Vaccination clinician. After uploading your vaccination evidence to SONIA, the PEU will send to the assessor/clinician on your behalf. The clinician must be convinced that the serology result supports that you have had a complete course of vaccination. You should upload your serology result AND a paragraph which outlines why you are unable to locate the evidence of the vaccinations with your other occupational assessment screening and vaccination (OSV)
How do I know if I need to have a TB screening?
You may require TST screening or IGRA blood test if you were born in a country with a high incidence of TB or have resided for a cumulative time of 3 months or longer in a country with a high incidence of TB as listed in: https://www.health.nsw.gov.au/Infectious/tuberculosis/Pages/high-incidence-countries.aspx
You will provide this information on Attachment 7 (TB Assessment tool) which will be submitted to the occupational assessment screening and vaccination (OSV) Assessor with your other OSV documents. The OSV Assessor will then advise if and how you can arrange to be tested. Do not organise your own test – this may not be acceptable.
I cannot afford to get my vaccinations, what support does the university offer?
The University operates a Student Loan Scheme designed to provide small interest-free loans to currently enrolled students who can demonstrate genuine need and whose continued attendance at the University is in jeopardy due to financial hardship. Further details on what loans you can get and the process can be found at:
https://www.scu.edu.au/current-students/services-and-support/student-loans/
I'm allergic to some vaccinations, what should I do?
Consult your GP and email the background and details ASAP to healthOSV@scu.edu.au and we will forward these to an experienced Occupational Vaccination clinician who will advise you further.
I'm not yet 18, can I apply for a National Police Check, NSW Working With Children Check and QLD Blue card?
Students under 18 can apply for a National Police Check (NPC).
NSW Working With Children Check (WWCC) is not required if under the age of 18. You will need to apply 1 month before you turn 18.
Blue Card Services have advised that students under 18 years of age can apply for a Blue Card.
All students are required to obtain both WWCCs for NSW and QLD, as your placement may be in either state.
I have a National Police Check/First Aid/Working With Children Check through my work – can I use this?
You must obtain copies of these documents from their employer and upload to SONIA – we will advise if the documentation is sufficient. If you are unable to obtain copies, you will need to re-apply (remember expiry dates).
I am studying part time, when do I attend my first placement?
This will depend on what health course you are studying. The Course Structure tab on the course page of your degree will tell you which units of study contain placement. Please contact the Shared Services Hub directly in the first instance to discuss this if you are concerned, and to provide an individual study plan. You may then be directed to the Professional Experience Unit. Keep in mind that regardless of when your first placement is, NSW health require all students to be assessed for occupational assessment screening and vaccination (OSV) compliance in their first year of study.
Can I organise my own placement?
No, for most disciplines – you must not contact a facility unless instructed to do so by SCU. You cannot attempt to organise your own placement even if it is your current workplace. For some disciplines the student does arrange the placement however the student must submit a placement request form and have obtained Professional Experience Unit approval to proceed - contact the Professional Experience Unit for further information on this.
I currently work/my partner works away from home/I am a single parent/I have kids – how do I ensure I receive a local placement?
You should be prepared to travel for placement as due to large number of students it is not possible to place all students locally. Placements are allocated equally and you will not receive priority due to work/kids etc. Should there be an extenuating circumstance in which you feel you need a local placement, you are able to apply via an Attendance Variation Application (AVA) for consideration on where you are placed. Note that there is specific criteria which is considered and also criteria that will not be approved. Supporting documentation needs to be submitted with these applications and incomplete AVAs will not be approved.
How do I submit an Attendance Variation Application (AVA)?
You can obtain the AVA from the SONIA homepage. The AVA must be completed in full and emailed to healthplacements@scu.edu.au along with supporting documentation. Please refer to the AVA for criteria for approval and the supporting documentation required.
Is there support if I am having difficulty on my placement?
Yes, university staff can make contact with you during placement, for additional support, either by phone, email or face-to-face. As well, you will also have the support of a supervisor/clinical teacher and can always contact an SCU Lecturer Practitioner, whilst on placement.
Am I required to attend placement every day?
Yes, you are required to attend placement every day in order to meet the requirements of the placement, including the hours required. Attending placement every day also demonstrates that the student can maintain a sustained working period.
Equity and Inclusion - please go to Student Equity and Inclusion.
Student Equity and Inclusion is a free and confidential service which provides a range of support services to students with a disability (or students who are carers of a person with a disability) or medical condition to assist them in engaging in their studies on the same basis as a student without a disability in accordance with the Disability Discrimination Act 1992 (Cth) (DDA) and the Disability Standards for Education 2005 (Cth). These support services can include:
referral to internal or external support services
access to specialised educational support staff
provision of specialised equipment
assessment and provision of reasonable adjustments
provision of inclusive technology and software
pre-admission counselling and advice on inherent requirements
implementation and monitoring of the University's Disability Action Plan and the Reasonable Adjustments for Students with Disabilities policy
Is financial assistance available to cover placement costs?
The Scholarships team may be able to inform you of any scholarships or grants you may be eligible for.
---
Contact the Faculty of Health
Executive Assistant to the Executive Dean
T: +61 7 5589 3224
Associate Dean Education
T: +61 7 5589 3470
Associate Dean Research
T: +61 427 633 708
+