Health placements
Health placement is an exciting part of your degree, letting you experience what it's like to work as a health care professional in real-life situations.
These compulsory placements give you the opportunity to integrate theory with practice, further develop your skills through supportive professional environments and gain essential working knowledge of current industry practice.
Depending on your discipline, some placements occur throughout your degree while other placements happen in your final year.
Learn more about health placement hours and activities.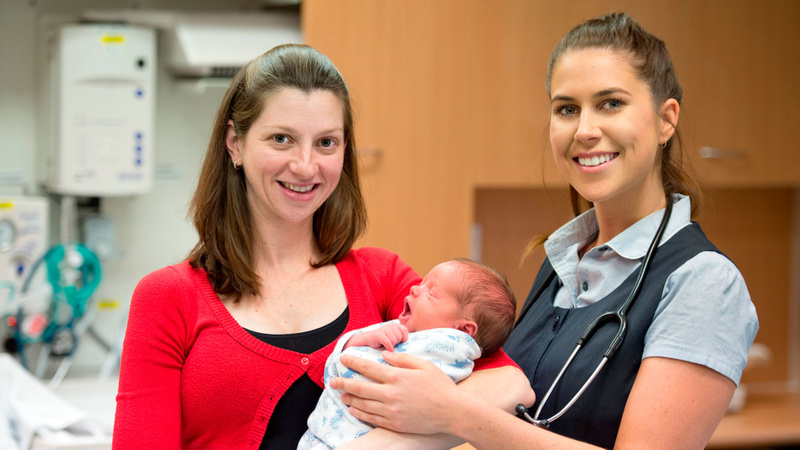 Preparing for placement
As a condition of any type of professional experience - including placement, volunteering, laboratory work, research, or community-engaged learning - you are required to provide evidence of your compliance and health protection before participating in any of these activities.
Student compliance is a mandatory, legislative and regulatory requirement.
To be able to attend placement, you must be compliant.
You must meet the requirements of both Southern Cross University and the external organisation. This will ensure the safety of yourself and others
SONIA, the professional placement database for students, is where you will upload many of your compliance documents. It is also where you can view your placement allocations.
Student-Led Clinics
Students have the opportunity to gain real-world experience and engage in clinical activities like assessment and diagnosis, treatment planning and intervention, and evaluation of patients' needs, at one of our two Health Clinics.
Southern Cross University operates a clinic each on the Gold Coast and Lismore campuses. The clinics are a core component of Southern Cross programs, ensuring students gain the knowledge and experience they need to work in the healthcare industry.
Find out more about the student-led clinics.
Professional Experience Unit
Having a successful placement is an important step in completing your degree. The Professional Experience Unit (PEU) team in the Faculty of Health is here to support you.
If you require further information or need assistance you can email the Professional Experience Unit or call them on +61 7 5589 3439.
Frequently Asked Questions – Pre-Placement
UPDATE: What's changed from 6am AEST 23 July 2021
There are no restricted Local Government Areas. You can now enter a hospital if you follow visitor requirements.
Students on clinical placement can now enter a hospital without needing a COVID-19 vaccine as there are no Restricted Local Government areas.
Clarify that you can enter a hospital if you have been residing in the New South Wales border zone for the past 14 days.
Queensland Government – Hospital Visitors
Update from the Dean of Health: Monday 19 July 2021
The COVID-19 restrictions in the healthcare sector continue to evolve, and as they do, I want to provide you with as much visibility as possible of how these changes may further impact your studies.
The actions taken by Queensland Health in the last few weeks signal a national direction towards requiring students to be fully COVID-19 vaccinated to attend clinical placements. This requirement is also increasingly being adopted by other placement providers to ensure staff safety whilst minimising the transmission risks. Discussions are taking place across government with regard to the disability and education sectors also.
As I indicated in my notification on 8 July, it is my strong recommendation that you make arrangements to complete your COVID-19 vaccination as soon as possible.
Given the indications from state and national governments on vaccination requirements, as well as individual health organisations and private health providers, the University cannot guarantee a smooth pathway through your studies if you choose not to be become vaccinated for COVID-19. There are strong signals that by the end of 2021, full COVID-19 vaccination will be a requirement to attend any clinical placement.
I am writing to share this at the earliest possible time, so to minimise the negative impacts to your course completion.
Julie Jomeen
Dean of Health
UPDATE: What's changed from 6am AEST Friday 16 July 2021
UPDATE: What's changed from 9am AEST 9 July 2021
If a student has been in a restricted local government area in the last 14 days they cannot enter a disability accommodation service anywhere in Queensland for a placement, unless they are fully vaccinated, even if the service is not located in a restricted local government area.
If a student has been in a restricted local government area in the last 14 days they cannot enter a residential aged care facility anywhere in Queensland for a placement, unless they are fully vaccinated, even if the facility is not located in a restricted local government area.
For more information:
Queensland Health – Aged Care public health directions
Queensland Health – Disability Accomodation Services public health directions
UPDATE: What's changed from 8pm AEST 7 July 2021
Students doing a placement as part of their study can only enter a restricted hospital if they have had two doses of the Pfizer or AstraZeneca COVID-19 vaccine.
If a student has been in a restricted local government area in the last 14 days they cannot enter a hospital anywhere in Queensland for a placement, unless they are fully vaccinated, even if the hospital is not located in a restricted local government area.
Students that have been in a restricted local government area in the last 14 days who are not fully vaccinated can still enter a hospital for personal reasons, for example as a patient.
Visit the Queensland Government website for more information.
COVID-19 Announcement 9:00am 8 July 2021
I thought you would appreciate an update on information we have from Queensland Health regarding the recent Chief Health Officer's student placement directive and what we hope to achieve moving forward. I recognise that this directive doesn't affect all health students, but there are mid and long term implications for all health students as there are some very strong and significant messages around COVID-19 vaccination and health placements.
There have been a number of high level meetings between university representatives and CHO executives over the last 24 hours. The feedback is the directive is unchanged and will remain in place until 6pm Friday 16 July, specific to the four placement categories in the restricted LGA areas. We will not know if that date will be pushed out until next week. Note - if your placement is NOT in a restricted LGA area it will continue as normal. Please refer to the Qld Health website for the list.
https://www.health.qld.gov.au/employment/clinical-placement/covid-19-and-clinical-placements
My faculty staff are keeping a very close eye on all Queensland Health communications and we will be emailing you regularly as we get updates.
I have heard that students are enquiring with local medical centres and Qld Health about securing a Pfizer vaccine, and are encountering difficulties with getting an appointment. We have been notified that Metro South Health will accept all students on clinical placement within the Metro South Health region as walk-ins for vaccination as follows:
Rocklea Community-Based Vaccination Centre: |47 Pegg Rd, Rocklea QLD 4109| Tuesday to Saturday 9am – 4.30pm
Logan Entertainment Centre: |170 Wembley Rd, Logan Central QLD 4114| Tuesday to Sunday 9.00am – 4.30pm
Please ensure you take your student ID with you for verification purposes.
I strongly urge all SCU health students to book in for your first COVID-19 vaccine as soon as you can, regardless of whether your placement is impacted by the current Qld Health directive. NSW Health are also highlighting that they strongly encourage students to be vaccinated and without vaccination some facilities may refuse to accept students for placement. These are state government not SCU mandates but they have the ability to impact student progression if placement options become limited.
If you have been able to secure a vaccine appointment and need written confirmation of your 1B status, the PEU can provide you with that confirmation, just contact them to arrange it. They are also managing all placement queries for students and providers, so all general queries need to be directed to the PEU team.
The situation with the COVID-19 variants and public health directives is changing hour by hour. We have word of a new variant emerging in Australia which is also highly contagious, so as health professionals we must remain vigilant and concentrate on our own safety to ensure the safety of others.
Julie Jomeen
Dean of Health
What vaccinations do I need?
Diphtheria, Tetanus, Pertussis (Whooping Cough)
Hepatitis B
Measles, Mumps and Rubella
Varicella (Chicken pox)
Influenza
What vaccination documentation do I need to submit?
Print out the Vaccination Requirements - Evidence Checklist. This document will advise what you are required to submit as evidence. Upload evidence for each vaccination to its respective check in SONIA. The Professional Experience Unit will review all documents and if anything is missing you will be contacted. Once documents look complete, these will be sent to NSW Health for a Clinical Assessment and Verification.
What is SONIA?
SONIA is the professional placement database for students. This is where you will upload your compliance documents. It's also where you can view your placement allocations.
The Professional Experience Unit website provides instructions and links to get onto Sonia. There is also a mobile app which you can use.
How long does it take to become vaccination compliant for placement?
Once you have uploaded your vaccinations evidence to SONIA the Professional Experience Unit will forward the documentation to NSW Health for a Clinical Assessment and verification. This can take 6 – 8 weeks to be assessed and verified by NSW Health.
I know I've had them but I can't find evidence of my Hep B immunisation, do I have to do it all again?
If you have a positive antiHBs serology results and you have been vaccinated but cannot provide documentation of your vaccination course, you will need individual assessment by an experienced Occupational Vaccination clinician. After uploading your vaccination evidence to SONIA, the PEU will send to the assessor/clinician on your behalf. The clinician must be convinced that the serology result supports that you have had a complete course of vaccination. You should upload your serology result AND a paragraph which outlines why you are unable to locate the evidence of the vaccinations with your other occupational assessment screening and vaccination (OSV)
How do I know if I need to have a TB screening?
You may require TST screening or IGRA blood test if you were born in a country with a high incidence of TB or have resided for a cumulative time of 3 months or longer in a country with a high incidence of TB as listed in: https://www.health.nsw.gov.au/Infectious/tuberculosis/Pages/high-incidence-countries.aspx
You will provide this information on Attachment 7 (TB Assessment tool) which will be submitted to the occupational assessment screening and vaccination (OSV) Assessor with your other OSV documents. The OSV Assessor will then advise if and how you can arrange to be tested. Do not organise your own test – this may not be acceptable.
I cannot afford to get my vaccinations, what support does the university offer?
The University operates a Student Loan Scheme designed to provide small interest-free loans to currently enrolled students who can demonstrate genuine need and whose continued attendance at the University is in jeopardy due to financial hardship. Further details on what loans you can get and the process can be found at:
https://www.scu.edu.au/current-students/services-and-support/student-loans/
I'm allergic to some vaccinations, what should I do?
Consult your GP and email the background and details ASAP to healthOSV@scu.edu.au and we will forward these to an experienced Occupational Vaccination clinician who will advise you further.
I'm not yet 18, can I apply for a National Police Check, NSW Working With Children Check and QLD Blue card?
Students under 18 can apply for a National Police Check (NPC).
NSW Working With Children Check (WWCC) is not required if under the age of 18. You will need to apply 1 month before you turn 18.
Blue Card Services have advised that students under 18 years of age can apply for a Blue Card.
All students are required to obtain both WWCCs for NSW and QLD, as your placement may be in either state.
I have a National Police Check/First Aid/Working With Children Check through my work – can I use this?
You must obtain copies of these documents from their employer and upload to SONIA – we will advise if the documentation is sufficient. If you are unable to obtain copies, you will need to re-apply (remember expiry dates).
I am studying part time, when do I attend my first placement?
This will depend on what health course you are studying. The Course Structure tab on the course page of your degree will tell you which units of study contain placement. Please contact the Shared Services Hub directly in the first instance to discuss this if you are concerned, and to provide an individual study plan. You may then be directed to the Professional Experience Unit. Keep in mind that regardless of when your first placement is, NSW health require all students to be assessed for occupational assessment screening and vaccination (OSV) compliance in their first year of study.
Can I organise my own placement?
No, for most disciplines – you must not contact a facility unless instructed to do so by SCU. You cannot attempt to organise your own placement even if it is your current workplace. For some disciplines the student does arrange the placement however the student must submit a placement request form and have obtained Professional Experience Unit approval to proceed - contact the Professional Experience Unit for further information on this.
I currently work/my partner works away from home/I am a single parent/I have kids – how do I ensure I receive a local placement?
You should be prepared to travel for placement as due to large number of students it is not possible to place all students locally. Placements are allocated equally and you will not receive priority due to work/kids etc. Should there be an extenuating circumstance in which you feel you need a local placement, you are able to apply via an Attendance Variation Application (AVA) for consideration on where you are placed. Note that there is specific criteria which is considered and also criteria that will not be approved. Supporting documentation needs to be submitted with these applications and incomplete AVAs will not be approved.
How do I submit an Attendance Variation Application (AVA)?
You can obtain the AVA from the SONIA homepage. The AVA must be completed in full and emailed to healthplacements@scu.edu.au along with supporting documentation. Please refer to the AVA for criteria for approval and the supporting documentation required.
Is there support if I am having difficulty on my placement?
Yes, university staff can make contact with you during placement, for additional support, either by phone, email or face-to-face. As well, you will also have the support of a supervisor/clinical teacher and can always contact an SCU Lecturer Practitioner, whilst on placement.
Am I required to attend placement every day?
Yes, you are required to attend placement every day in order to meet the requirements of the placement, including the hours required. Attending placement every day also demonstrates that the student can maintain a sustained working period.
Equity and Inclusion - please go to Student Equity and Inclusion.
Student Equity and Inclusion is a free and confidential service which provides a range of support services to students with a disability (or students who are carers of a person with a disability) or medical condition to assist them in engaging in their studies on the same basis as a student without a disability in accordance with the Disability Discrimination Act 1992 (Cth) (DDA) and the Disability Standards for Education 2005 (Cth). These support services can include:
referral to internal or external support services
access to specialised educational support staff
provision of specialised equipment
assessment and provision of reasonable adjustments
provision of inclusive technology and software
pre-admission counselling and advice on inherent requirements
implementation and monitoring of the University's Disability Action Plan and the Reasonable Adjustments for Students with Disabilities policy
Is financial assistance available to cover placement costs?
The Scholarships team may be able to inform you of any scholarships or grants you may be eligible for.
---
Contact the Faculty of Health
Executive Dean, Faculty of Health
T: +61 2 6620 3557
Discipline Heads and Course Coordinators
Contact us
Director of Higher Degree Research
T: +61 2 6659 3688
+