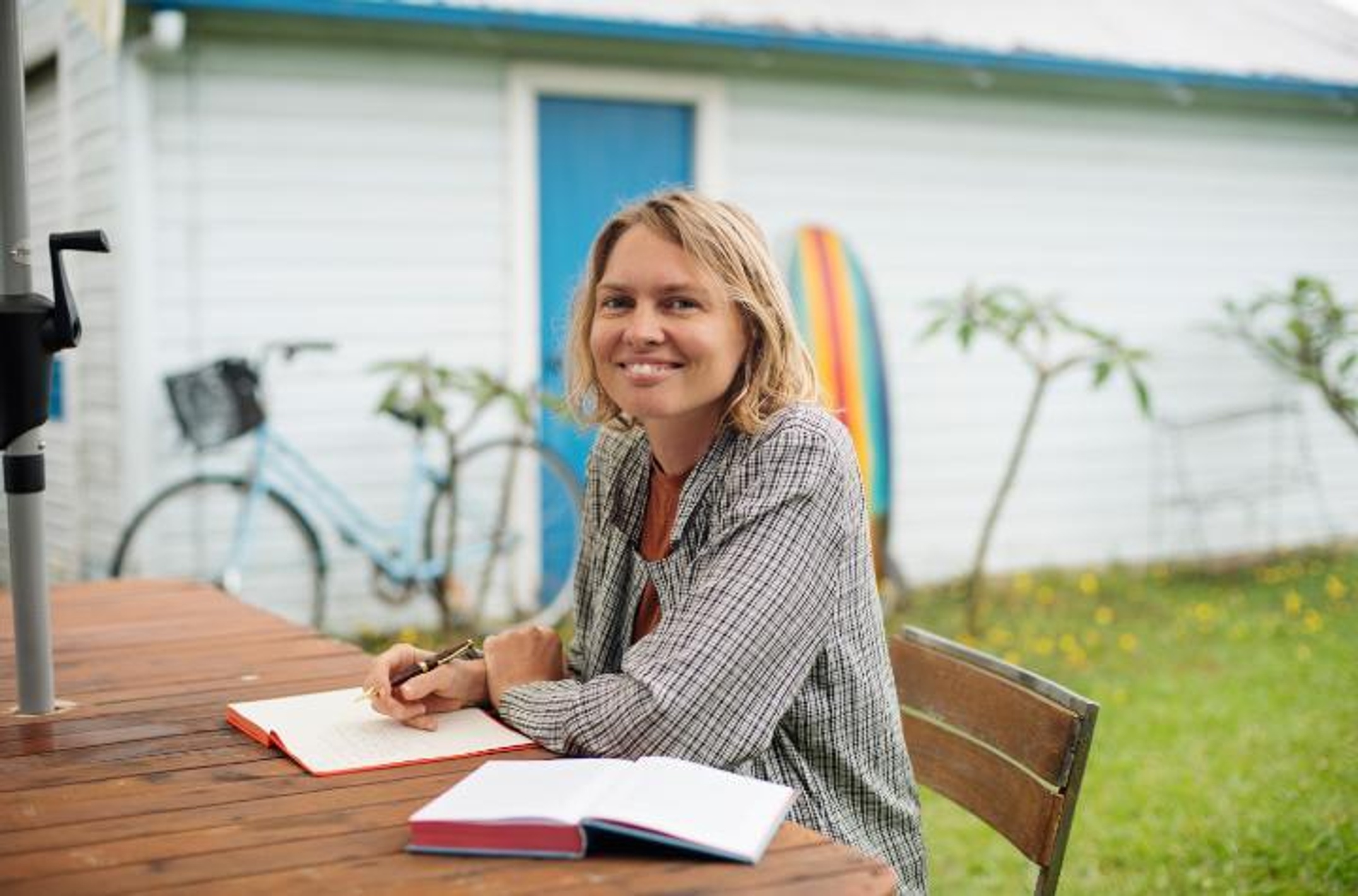 Emily Brugman's grandparents' migrant story inspired her to change the course of her own life and follow her passion to write.
Relocating from Sydney to Byron Bay in 2016, Emily enrolled in a Bachelor of Arts with Honours at Southern Cross University's Lismore campus to build her creative writing experience, confidence and immerse herself in a project close to her heart.
"The best thing about the Honours degree is spending the entire year working on one project, so you really delve deeply into it," she said.
Under the guidance of creative writing course coordinator Dr Lynda Hawryluk, Emily spent a year weaving the history of her Finnish migrant family into a series of stories. Her creative research took her to the Houtman Abrolhos archipelago, located 60km off the coast of Western Australia where her grandfather worked as a cray fisherman in the 1950s and 60s, which became the setting of her story.
"In my grandfather's time the islands were extremely remote, it took about eight hours to get there on a boat and they would live out there for months at a time. I had never been to these islands, but I had heard about that period in my family history and I had seen photos of this wild place and I had thought that looks like an interesting place to write about," Emily said.
During her Honours year Emily wrote a collection of five fiction stories based on life on the islands and the Finnish migrant experience. Since graduating, Emily has developed these stories into a novel entitled The Islands which was shortlisted for the 2020 Australian Vogel's Literary Award.
As Australia's richest prize for an unpublished manuscript by a writer under the age of 35, the literary recognition for The Islands did not go unnoticed. Emily secured a publishing deal with Allen and Unwin, who have supported her to continue working on a longer version of the novel to be published in 2022.
"It's one of the more significant awards for a writer of my age. It was something I felt was impossible and out of my league, so to have been shortlisted meant that all the years I had spent writing this one thing and not knowing whether it was ever going to be read by anyone except my friends and family, were worth it. It showed me that I was on the right track and opened up the opportunity to be published."
Aside from valuable time spent working on her creative writing project at Southern Cross University, Emily made connections with fellow creatives and gained industry insight and experience.
"I enjoyed the fact that Southern Cross was a smaller university. You don't get lost amongst the masses in terms of the attention you get from teachers and your supervisors, the people you meet and the small classes. I really liked that," Emily said.
Beginning as an intern, Emily has worked with the Byron Writers Festival since 2018, a community partner of the University for more than two decades. As Festival Administrator, she's tasked with looking after the Schools Days initiative, ticketing and assisting with programming.
Earlier this year Emily added the finishing touches to her novel during a residency at Varuna, the exclusive National Writers House located in the Blue Mountains, New South Wales.
"It gave me the time and space to spend writing, without the usual distractions of daily life. I was able to go over my novel with a fine-toothed comb, and felt comfortable when it came to submit the finished manuscript to the publisher."
The Islands is due to hit the shelves in February 2022.
Media contact: Southern Cross University Media and content team, content@scu.edu.au
---