View all news
Major Upgrade to Coffs Harbour Education Campus Theatre Complete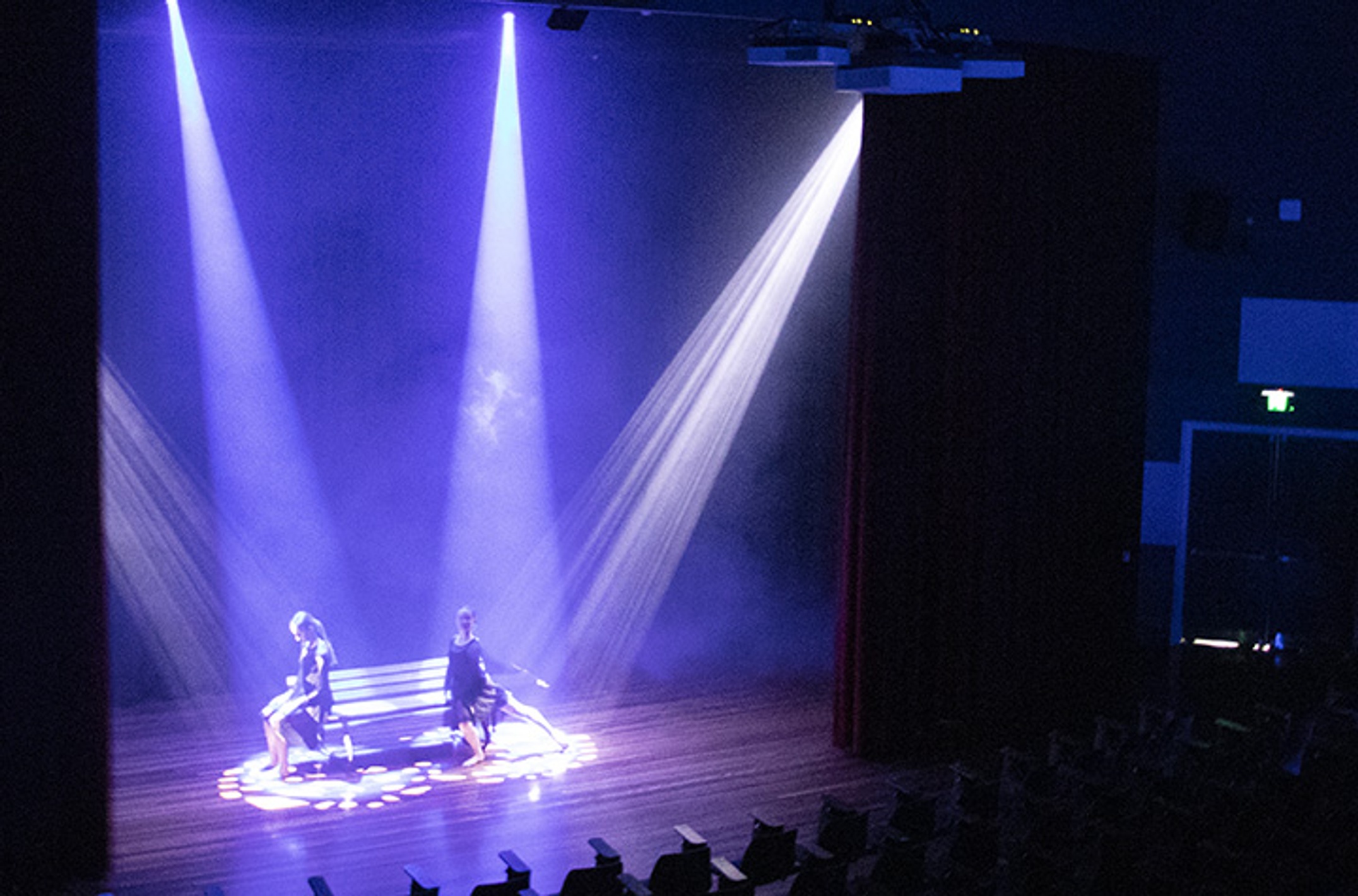 Southern Cross University, TAFE NSW, Coffs Harbour Senior College and Coffs Harbour City Council (CHCC) are delighted to announce the completion of a major upgrade and refurbishment to D Block Theatre at the Coffs Harbour Education Campus (CHEC).
As part of a grant application through the NSW Government's Stronger Country Communities Fund (SCCF), Coffs Harbour City Council (CHCC) in partnership with CHEC secured $309,856.00 (Ex. GST) for the upgrade of the theatre to enable the creation of a modern, vibrant and connected facility for the community.
Project management, design and delivery were uniquely executed internally as a collaboration between the three CHEC organisations, Southern Cross University, TAFE NSW and Coffs Harbour Senior College.
Southern Cross University Vice Chancellor Professor Tyrone Carlin, believes the outcome makes the shared campus even more versatile.
"It's rewarding to see how the cooperation between the various stakeholders and contributors can bring together a project to transform this D Block into an innovative theatrical space," Professor Carlin said.
"Not only will it be a blessing to our educational mission needs, but it will take us a step closer to the realisation of the true vision of which is the integration of this campus of Coffs and its community."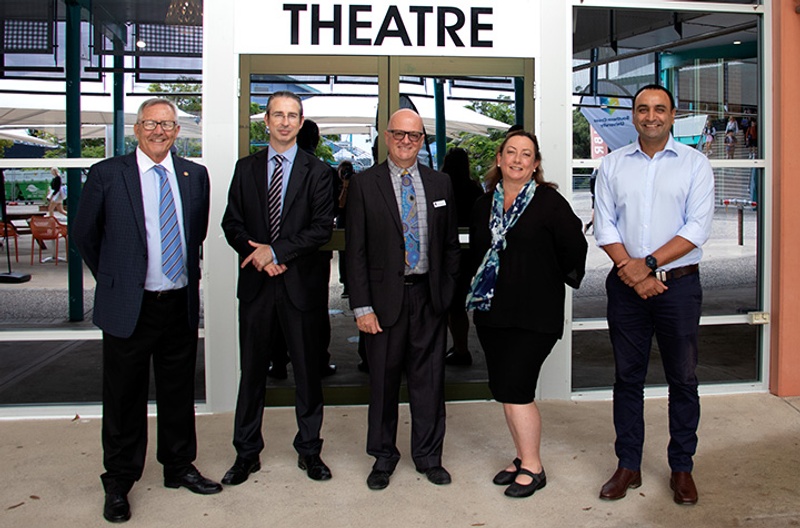 (left) Cr George Cecato – Coffs Harbour Deputy Mayor – Vice Chancellor Prof Tyrone Carlin, Coffs Harbour Senior College Relieving Principal David Bateman – Coffs-Clarence-Nambucca TAFE Services Manager Tania Williams­ – Gurmesh Singh – Member for Coffs Harbour (right).
Internal resources and skillset, unique to each CHEC organisation were yielded, delegated and deployed as a partnership throughout the project, delivering exceptional value and return for the community and all stakeholders. This involved a significant in-kind human resource contribution from each of the CHEC partners and their respective work units in addition to the dollar value of the grant.
Simon Coates, Senior Client Support Officer (Audio-visual) – CHEC Partnership, stated, "This project has enabled the Campus to deliver Coffs Harbour with unique first class technical, rigging, staging and event facilities 'In house' for the 1st time in the area. We've delivered the core foundations for a first class industry standard performing arts and events facility."
CHEC has already secured an array of both national touring and community performance art events in the theatre for 2021, whilst working actively with council and community organisations to lock in future events.
"The State Government is proud to fund such an amazing facility," said Member for Coffs Harbour Gurmesh Singh. "This venue is an asset not just for CHEC, but our entire community – especially our arts and cultural community."
An additional $9,000 (Ex. GST) was pledged by Coffs Harbour City Council in the last quarter for 2019 to extend scope of works to refurbish D Block foyer.
"It's fantastic to see such a high quality venue opening in Coffs Harbour to provide a much-needed large seat capacity live music, theatre, arts and cultural facility for the whole community and visitors to the area," Coffs Harbour Mayor, Councillor Denise Knight said.
"With progress on the proposed Coffs Harbour Entertainment Venue (CHEV) in the city centre also continuing to move forward, our cultural future is looking very bright."
Media contact: Southern Cross University Media and content team, content@scu.edu.au
---