View all news
Students join forces with NSW Police to prevent cybercrime
A team of Southern Cross University students has been crowned joint winner of the inaugural NSW Police Cybercrime Think Tank, with an idea to prevent cybercrime that will be deployed by NSW Police.
The team presented their unique solution to a review panel of senior figures within NSW Police Force and industry heavyweights at Police Headquarters in Sydney.
Coming from a mixed background of law, accounting and IT, the students' solution aims to increase resilience and awareness of everyday people who are victims of cyber attacks, by tapping into one of the most highly used services in the State, the Service NSW app.
"We wanted something simple and accessible. So, we decided to go with something that people were already using, turning to the Service NSW app. It's a great platform to provide some extra tools to help people make themselves more cyber resilient," Southern Cross University IT graduate Cindy Kennedy explained.
Their concept was described as a 'masterstroke' by former CEO of Facebook for Australia and New Zealand, Stephen Scheeler, who sat on the panel alongside NSW Deputy Police Commissioner David Hudson, and the head of the NSW Cybercrime Squad.
Following the delivery of their winning pitch, the students were invited to discuss how to put their idea into practice.
"We just thought we would do our presentation and that would be it. But with our award they said they'd like to invite us back to Cyber Command to discuss how they can implement our ideas which is really exciting," Cindy said.
Guiding the team was Southern Cross University Associate Professor in Cyber Security Ben Scott, who said that what the students had come up with was going to make a big impact.
"It actually dawned on the team that what they have come up with is going to be put into practice. You're going to be seeing it on your phones and your mobile devices and they could say, 'I actually did that.' It's quite profound that what they've come up with will make a positive impact on potentially millions of people's lives."
On this week's episode of the SCU Buzz podcast our host Suzie Fawcett chats to Southern Cross University Associate Professor Ben Scott and IT graduate Cindy Kennedy about cracking the cybercrime challenge and careers in cybersecurity.
Listen to podcast via SoundCloud, Spotify or Apple Podcasts.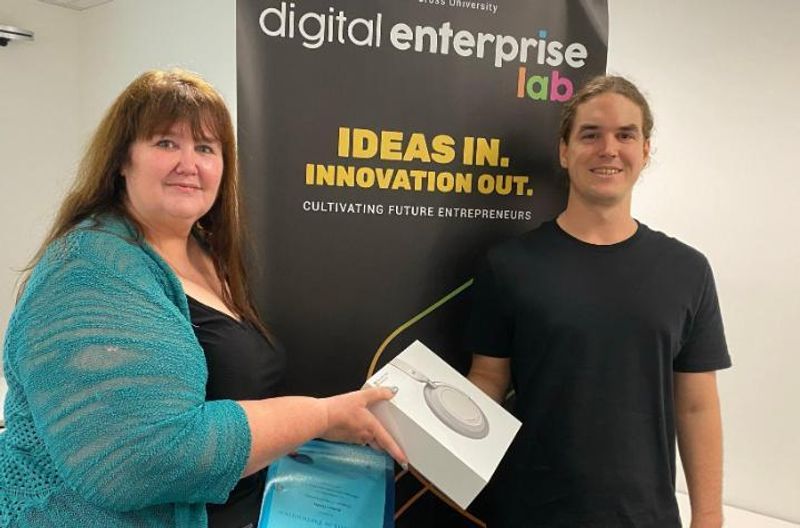 Pictured: IT student and team member Robert Hollis who was unable to attend on the day, receiving his award from Southern Cross University Head of IT, Dr Raina Mason.
---