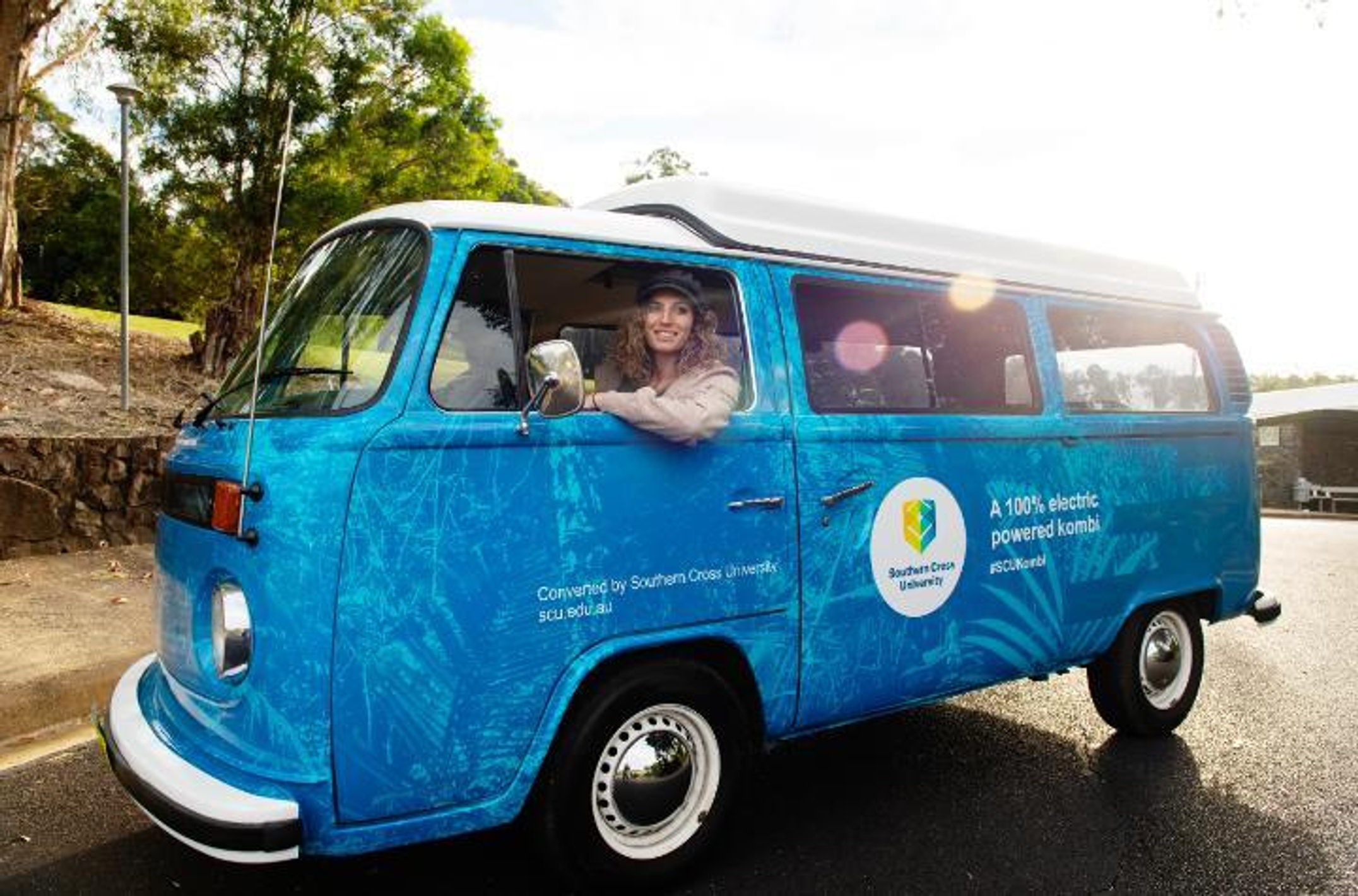 Southern Cross University has unveiled one of Australia's most ambitious electric vehicle prototypes – a long-range converted Volkswagen Kombi.
But it is more than an uber-cool, 1970s retro vehicle conversion coming out of Southern Cross's Northern Rivers campus at Lismore.
The 18-month project, jointly funded by the NSW Government, delivers on four fronts:
A retro-fitted electric vehicle with a driving range that suits regional Australia.
A tangible learning resource about renewable energy that is now available for schools around the country.
The project was led by a Southern Cross University graduate and included hands-on electrical and mechanical engineering experience for current students.
The new electric Kombi complements another existing Southern Cross renewable energy project – the solar-powered Sunflower that delivers remote power.
It's a classic car that represents a lifestyle. Freedom of movement, of thought, of ideas. As a young University, born and raised in regional Australia, these concepts are also part of our story, and they're part of our future too. With a Science and Engineering Faculty that is the pride of our regions, we had the chance to create something special. We converted a 1976 petrol engine to a state-of-the-art electric motor: a long-range electric Kombi.
MAX DEN EXTER, ENGINEERING STUDENT:It's really great to not only learn the theory at uni but actually be able to have a bit of fun implementing the concepts.
It's now a classic car with an engine for the next 40 years. Clean transport tech that meets the demands of living where distance is a part of life. A project where Uni students could learn and create, building a part of the future. That also became a hands-on mobile resource for teaching STEM.
DR MAREE LAKE, LECTURER IN ENGINEERING:We want our graduates to be constantly thinking about the future and what's coming up and be at the forefront of innovation and developing ideas like this.
It's the ultimate recycling project. The Southern Cross University Electric Kombi. Learn more at scu.edu.au/kombi
Southern Cross Vice Chancellor Professor Tyrone Carlin said the electric Kombi is now part of a narrative about a University determined to find solutions to today's challenges.
"One of our goals was to create a Kombi with a range that was practical for regional Australia and, at 200km or even more per charge, we believe we have achieved that," Professor Carlin said.
While contemporary electric vehicles, such as Tesla, are emerging with long-range capacity, most converted vehicles – especially those with the aerodynamics of a Kombi – have been limited to the 80km-160km range.
"The romance and nostalgia attached to Kombis generally, but particularly in the Northern Rivers, only adds to the story of this vehicle," the Vice Chancellor said.
Andy Naughton, of electric classic car conversion business EV Machina, is the Southern Cross University Environmental Science graduate who was commissioned to undertake the conversion, using 10 x 5.3kWh batteries to help deliver 53kWh of power to an 88kWh electric motor. The batteries are split into two encased packs, one between the front seats and the other in the rear engine bay, with both being charged simultaneously. An elaborate battery management system controls the delivery and distribution of power.
"This particular combination of the range, the power, the idiosyncrasies of a Kombi – all add up to make it one-of-a kind electric vehicle conversion. And we had to learn along the way – there was no workshop manual for this one," said Mr Naughton, who won a 2018 Clean Energy Hackathon competition through the University's Enterprise Lab.
The vehicle's EV conversion features:
Motor: 88kW AC SRIPM electric motor with custom-built aluminium transmission adapter plate attached to original transmission
Batteries: 53kWh water-cooled lithium battery pack (10 x 5.3kWh batteries)
Braking: Electric pump-boosted disc brakes with additional motor braking for regenerative braking increasing efficiency
Power steering: Speed-variable custom electric power steering system
Gears: 4-speed gearbox
Dashboard connectivity: Web-connected display with android operating system and OBD connection to motor and battery information; reverse camera
Cruising speed: 110km/h highway cruising speed
Optimum highway range: 200 - 200 kilometres
Optimum urban traffic range: 250+ kilometres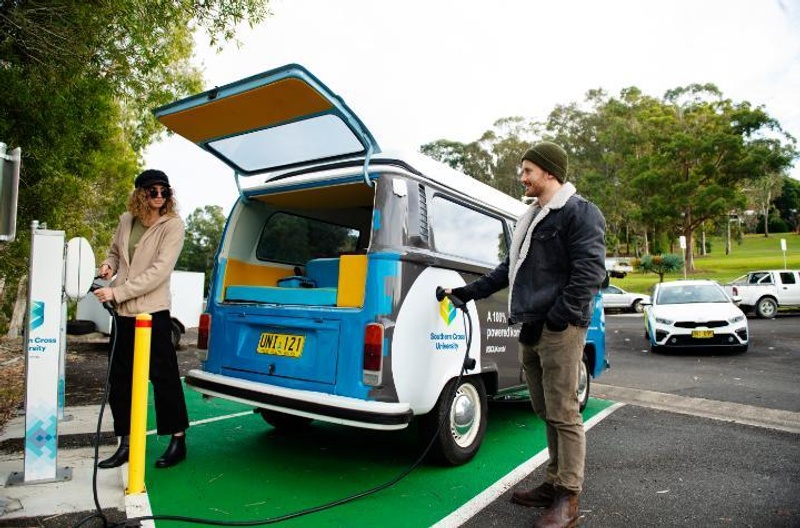 Chair of Engineering and Information Technology at Southern Cross University, Dr Ricardo Vasquez Padilla, said the Kombi was a wonderful opportunity to get students involved at the cutting-edge of technology and engineering systems.
"One of our students helped with the CAD (computer-aided design) of components and then saw them through to manufacture. It was a great hands-on experience," Dr Vasquez Padilla said.
Vice President (Engagement) Mr Ben Roche, whose portfolio managed the project, said the University had worked in partnership with the STEM Industry Schools Partnerships (SISP) program, an initiative of the NSW Department of Education's Educational Standards Directorate, to create Kombi-related digital resources for schools not just in NSW but across the country.
"We know school students are deeply engaged with ideas of sustainability and the future," said Mr Roche.
"This resource shows how universities can be a place for putting ideas and passion into actions and developing real, practical solutions to the problems we face."
The Southern Cross University Electric Kombi Conversion Curriculum Package is available now for download by teachers and educators.
The project received funding from Investment NSW's Boosting Business Innovation Program. Minister for Jobs, Investment, Tourism and Western Sydney Stuart Ayres said Southern Cross University's Electric Kombi was an example of turning ideas into innovative solutions to global challenges.
"The knowledge and expertise gained through innovations like the Electric Kombi will not only help address the need to reduce emissions but will inspire a generation of students to tackle similar challenges," Mr Ayres said.
Media contact: Sharlene King, media office at Southern Cross University, 0429 661 349 or scumedia@scu.edu.au
"Through Investment NSW, the NSW Government is fostering an innovation ecosystem to solve both present and future challenges while creating the jobs of tomorrow."
Visit www.scu.edu.au/kombi to learn more.
---