Sunflower: a solar-powered AV production system
The Faculty of Business, Law and Arts is proud to be the creators of one of Australia's first fully operational commercial mobile solar generator systems, nicknamed the Sunflower.
The design prototype shows that portable diesel generators can be replaced with solar-powered systems.
"The aim of the Sunflower project is to develop a 'think green' ethos within the Australian music industry and to promote best practice in solar and alternative power generation and efficient audio-visual technology," said Dr Barry Hill, lead of the Sunflower project and Senior Lecturer in audio technology and music in the Faculty's Contemporary Music program.
The Sunflower was designed and built at the Lismore campus by a team of audio technology and creative design researchers and technicians working together with the involvement of local Lismore-based solar energy and engineering companies.
The Sunflower is designed to be compatible with commercial music and event audio and lighting systems. It can also function as a portable solar mobile phone charging hub, as well as a mobile solar powered Wi-Fi hotspot.
Sunflower features:
A custom-engineered, high efficiency, variable azimuth portable solar panel array and a lithium battery storage bank: this produces enough electricity to safely power a festival stage entirely from solar energy.
An innovative and custom-designed Wi-Fi remote monitoring system that checks solar energy generation, storage and consumption.
High visual and educational impact: designed to be iconic and like a giant flower sculpture that can be tilted and positioned for optimum orientation to the sun with artwork specially designed to engage the community and teach event attendees about solar energy.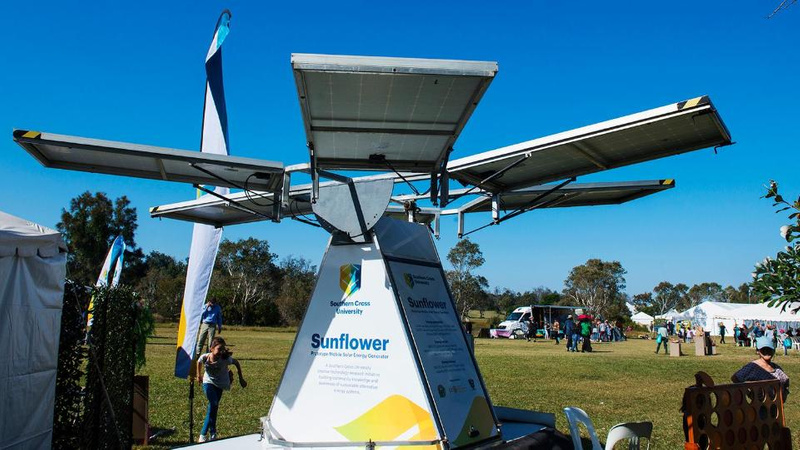 Sunflower's AAA pass
Since its official launch at the Byron Bay Bluesfest in 2013 the Sunflower has been installed at more than 50 major music, arts and community events in NSW and QLD. These include high profile festivals like Vivid Sydney, Splendour in the Grass, Woodford Folk Festival, Byron Writers Festival, and Island Vibes Music Festival.
At each of these installations, the Sunflower powers various sound and lighting infrastructure in performance stages and venues. It is also used as a creative art and music installation.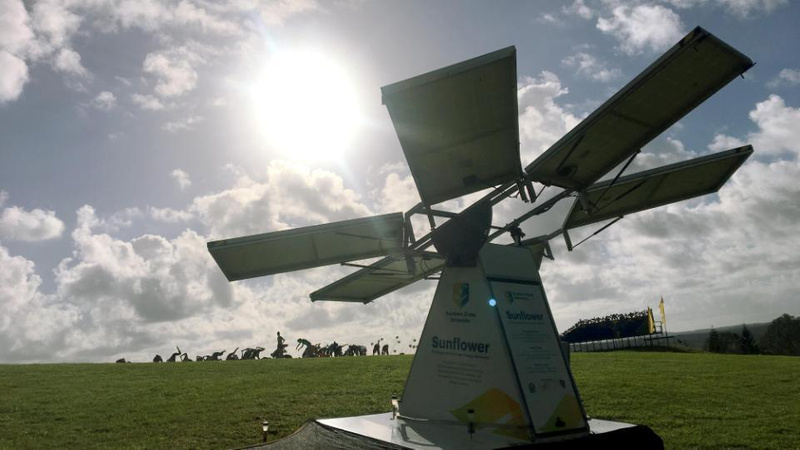 Using solar to reduce our footprint
The Sunflower Project was initially launched as an interdisciplinary community engagement and arts-led research project that uses creative technology design, interactive social media and multimedia art to investigate community understanding of energy use.
"More than 80 percent of people we surveyed at festivals say the Sunflower project has increased their knowledge of electricity and sustainable energy systems," says Dr Hill.
The Sunflower's captivating sculptural visual design and unique open-source power management software has given it the capacity to function simultaneously as:
A solar technology prototype
A research data-collection tool for understanding energy use at festivals and community events
A mobile soundscape art installation incorporating a unique open source autonomous solar data sonification system
A community engagement project/activation point that engages festival and event participants around the integration of environmentally sustainable energy systems into the event industry and the broader community.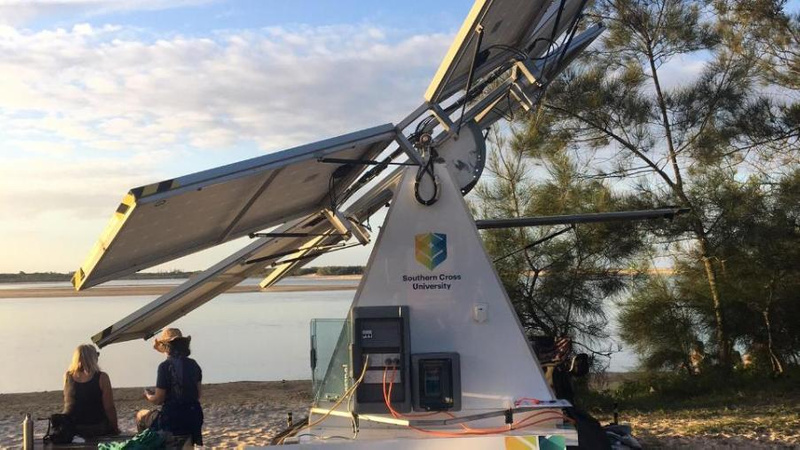 A pioneering creative design prototype
Dr Hill has led workshops and discussions about the basics of electricity and sustainable energy integration. His presentations often involve performance and conversation, where the data generated by the Sunflower produces sound used in musical performance, and visual graphs of energy data (see image at right) form the basis for discussions about the nature of solar power and storage.
The Sunflower project has been featured on the ABC Science Show, was the winner of the 2014 Southern Cross University 5-Minute Research Pitch (5RP) competition, and a finalist in the 2014 national 5-Minute Research Pitch (5RP) competition.
The project has received seed funding through the Southern Cross University Sustainability Fund and is now a commercially-funded research project.
Dr Hill is now publishing the historical data of the project as part of an ongoing research project that is investigating innovative sustainable power solutions for outdoor events as well as creating sound compositions using data-sonification techniques that capture the 'Sound of Sunlight'.
Want the Sunflower to power your event?
The Sunflower is available for events and community groups. Contact Barry Hill for more information.
---
Contact the Faculty of Business, Law and Arts
Executive Dean of Faculty
T: T: +61 7 5589 3054
Associate Dean (Education)
T: T: +61 7 5589 3209
Associate Dean (Research)
T: T: +61 7 5589 3036
+