View all news
Rolling Stone Scholarship presents the opportunity of a lifetime for indie-pop artist Kaliya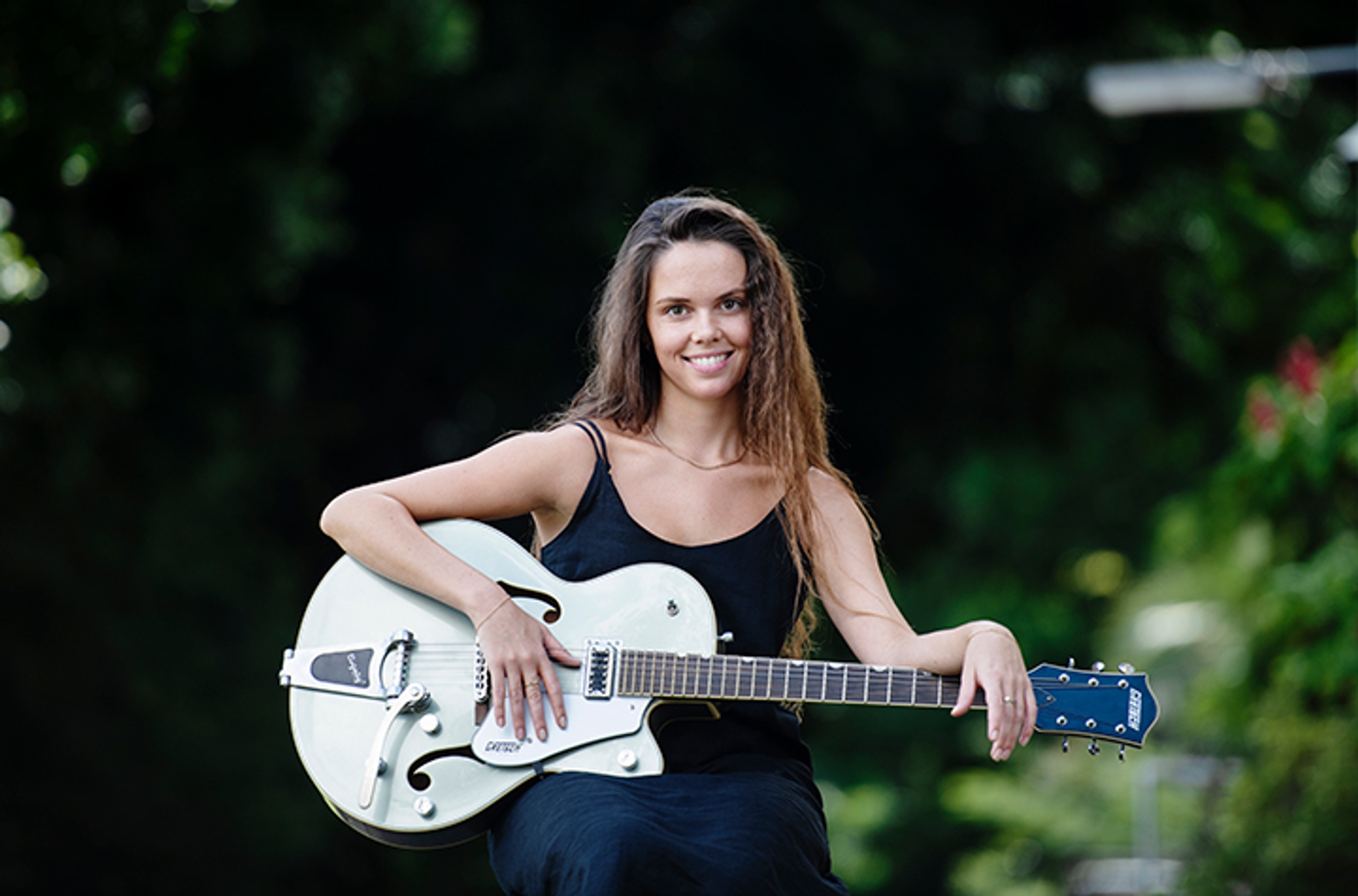 Kaliya Alldridge feels most alive when she's performing to a crowd. The indie-pop singer songwriter dreams of one day playing her music to packed stadiums and music festivals around the world.
She took one big step closer to achieving her dream when she received the Rolling Stone Scholarship which offers $15,000 over three years to study Southern Cross University's Bachelor of Contemporary Music degree.
We chat to her about her inspiration to pursue music, her style as an artist, and how studying music at Southern Cross University with the support of a Rolling Stone scholarship will help her pave her way into the music industry.
When did you first realise you wanted to be a musician?
My realisation of deciding to become a musician was a gradual process. It was always acting that I believed to be my aspiration. While I was travelling home from an audition one day, I had an epiphany that my ability with music was more natural, it had remained consistent throughout my life, I started to then see how much easier it was for me to connect with people with my guitar and voice and not through a character and costume. I never looked back.
How would you describe your style as an artist?
My style is best described as a fusion of indie-pop and singer-songwriter, I hope to explore more electronic and synth avenues in my contemporary music degree.
What inspired you to study music at Southern Cross Uni?
It became clear that if I want to become a great artist I need to commit my energy to music daily. The state-of-the-art facilities at Southern Cross Uni and culture surrounding the Northern Rivers is unparalleled. I knew that I would be creating alongside industry experienced teachers and other creative individuals to inspire me and become the best artist I can be.
What was the feeling like when you found out you'd been awarded the Rolling Stone Scholarship?
Truly phenomenal. I broke down in tears! I thought it was another interview but I was so happy when Poppy Reid from Rolling Stone said that I had been selected. It felt like a green light from the universe! I am extremely grateful that these doors have opened for me so I can take a leap and pursue a career as a musician.
You talk to a lot of artists and some of them are like I just really want to be playlisted on Triple J and then other artists like I would love to sell out Madison Square Garden in New York but I wondered whether you had any you know career goals that you're aiming for?
Definitely to be a musician full time and sell out stadiums. It's never been it's never been a question for me to do music teaching or anything. It's a musician full time reaching as many people as I can with my work.
There is just one more thing I'd like to add. Um Kalia you're our Rolling Stone Scholarship recipient. Congratulations.
Oh my god. Ahh you going to make me cry.
Oh. Thank you. Oh my God and I don't know what to say!
Congratulations Kalia.
You made me want to cry. Yeah thank you so much. This is this is amazing. Oh my God. Oh my God. Thank you. Thank you. I'm yeah I'm yeah thank you. This is amazing.
This is this I was just thinking about it last night. I was like this opportunity is such it's such a gateway if anything like this is it. This feels really this feels really good. Thank you. Thank you so much. Yeah. All of you guys. Thank you for meeting with me this morning. And all of this. Beautiful. Perfect.
Of course. Congrats. Yeah. Did you suspect that this might be what you were coming on online for this morning Kaliya?
No I had I thought you guys were asking me about like uni like I written like a full thing yesterday and I was so nervous I was like what are they going to ask me so I had no idea. Thank you.
How will the scholarship impact your studies and your music career?
This scholarship offers more than financial ease, I am afforded the confidence now to pursue my craft whilst feeling recognised for my sound as an artist. Rolling Stone is a nationally recognised company with such a vast network within the music industry, so I have this amazingly unique opportunity to network and seek guidance. Being awarded this scholarship is extremely special and my elation won't be fading any time soon.
What do you hope to achieve as a musician?
I am eager to create music that propels me on stages globally. I want to reach as many people as I can. I believe that success comes from producing authentic tracks and there is power in vulnerability. There is such an incredible gift a musician can offer strangers, the feeling of belonging and understanding through lyrics and a melody.
What are you looking forward to most about the degree and the uni experience?
I am looking forward to recording my music with the equipment and gifted mentors that are available to me in the University's space. I have already learnt so many things in my first week about music and myself as an individual. There have been productive challenges and insights that I could have only gained from starting this degree.
I am extremely grateful to Southern Cross and Rolling Stone for collaborating and offering a scholarship for the arts. There is so much appreciation in my heart for this valuable gift and I aim to work extremely hard. Thank you!
---