The past two years have been a stunning musical apprenticeship for Southern Cross University graduate Kyra Cumming.
After making the transition from aspiring music teacher to sound engineering and event management, Kyra is now working with some of Australia's and the world's biggest names on the dance, electronic and alternative music scene. They include Fisher, Dope Lemon, G Flip, Bob Moses, Matt Corby and many more.
She is also winning her own fans as DJ Kira Sunday, performing regularly in the Byron Bay region and capped by two sessions at the recent Splendour in the Grass music festival.
While recent times have been a whirlwind, Kyra remains impressively calm at its centre. She credits her time at Southern Cross University with giving her the confidence to embrace opportunity, change direction and keep a cool head.
Gold Coast-born Kyra began her Bachelor of Contemporary Music on the Lismore campus in 2018 and graduated in 2021. A talented vocalist, her initial goal was to become a music teacher.
"I loved the idea of sharing my passion for music with young students and I thought teaching was the ideal way for me to do that," says Kyra.
"At the same time, I began to develop an interest in sound engineering and received a lot of support from the production team at Southern Cross. I helped out at events like Bluesfest, the Mullumbimby Music Festival, Lismore Lantern Parade and Byron Music Festival.
"Then in 2021, I started doing the sound for the Beach Hotel in Byron Bay and joined their admin team doing bookings, rosters and liaison. I was making really good connections in the industry and knew I had really found my niche; that this was the direction I wanted to take."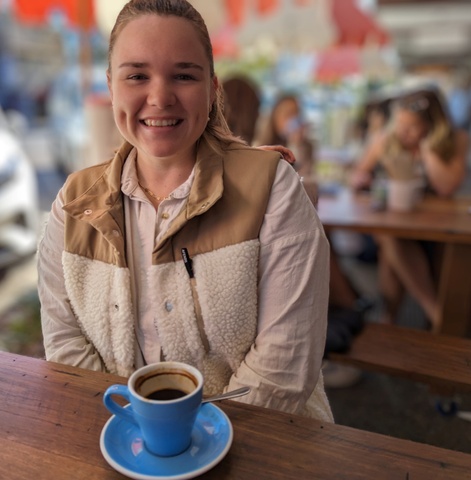 Two of those connections were Fraser Walker, sound engineer for Australian DJ and music producer Flume and other major artists, and Walker's wife Sophie Kirov, who owns Byron-based tour management and logistics company Lost Motel. When Sophie asked Kyra to join the company, she jumped at the opportunity.
"It's a fantastic team and we are incredibly busy. We have advanced more than 150 shows in the past six months and the next six months will be full on as well," says Kyra.
"One of the biggest was DJ Fisher's 2022 Australian tour. I helped out at the Brisbane show and kept in contact with his people. When Fisher was announced for a three-day festival in Malta, I was asked to take on a logistical and liaison role. It was an amazing experience, with 50 artists over three days. Talk about incredible work experience."
Even better was to follow. After Malta, Kyra was flown to Ibiza where she rejoined the Fisher crew for his performances at Hi Ibiza, regarded as the world's best nightclub and electronic music venue.
"Just incredible," says Kyra. "I met Fatboy Slim, who was lovely and so encouraging, and huge names like Fred Again and Four Tet popped by while even bigger names like David Guetta and Calvin Harris were also in town. I danced the night away with Fisher and the crew while celebrating my 24th birthday."
It's heady stuff. Yet as excited as Kyra may be when she talks about her experiences, she is not one to get carried away.
"I've always had a strong work ethic, always worked two jobs and sometimes three, and I'm also very independent. I am learning a lot and taking nothing for granted," she says.
"I am just at the start of my career and know how fortunate I have been so far. Yes, I am loving every minute – who wouldn't? – but I also know this is a tough industry, one that takes hard work to find your way and to maintain success," she says.
---