Turn-around times and reporting
2022 end-of-year reporting dates
To enable reporting before the end of the year, please observe the December cut-off dates: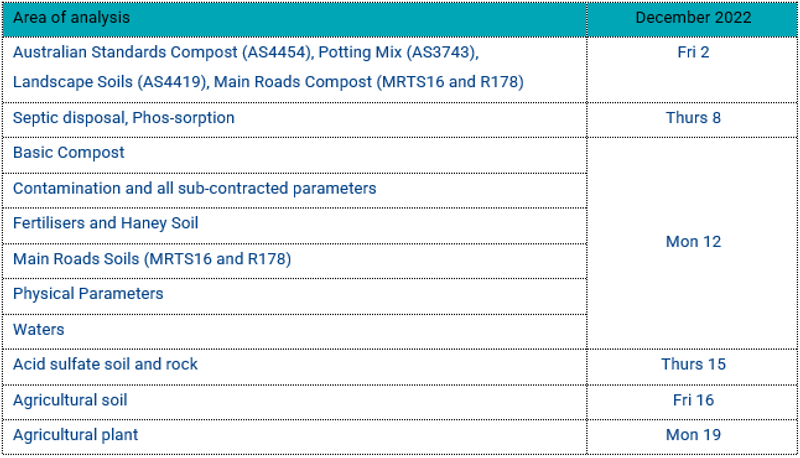 COVID-19 response and its effect on Turn-around Times
EAL is currently effected by a COVID wave passing through the Northern Rivers. To combat this ongoing challenge we have increased staff numbers. However, our turnaround times have been impacted. Our agricultural testing is currently sitting at around one to two weeks from arrival. We striving to bring this back to standard turnaround times over the next couple of weeks.
Standard Turn-around Times
Turn-around times for individual projects will vary depending on the size and complexity of the task. However, most jobs will be completed within a standard turn-around time of 5-10 working days. For some tests this can be reduced through the application of an urgency surcharge.
The following outlines the expected turn-around times for most jobs:
Sample type:

Arrival:
Reporting Day:

Plants (2 batches/week)

Monday - Tuesday

Wednesday - Friday

Thursday

Tuesday

Soil, agricultural

Weekly batch cut-off Friday afternoon
Friday next week
| Sample type: | Results reported in working days from arrival: |
| --- | --- |
| Acid sulfate soil and rock | 3-5 |
| Compost, basic | 5-10 |
| Compost, mulch and landscape soils by Australian Standards | 10-15 |
| Fertilisers, solid and liquid | 5-10 |
| Potting mix by Australian Standards | 5-10 |
| Physical soil parameters | 7-10 |
| Soil | 5-10 |
| Water, waste water and effluent | 2-7 |
Reporting
Sample receipt notices, results and invoices are supplied by email. They may be posted or faxed on request.
Reports are supplied in excel and pdf format. Analytical results are reported relative to standard guidelines, where available.