Research in Earth Sciences has never been more crucial than now.
In a world of climate change and ecological crisis, it is important that we understand our natural world and all of its species, ecosystems, elements and environment. As world leaders in Earth Sciences, Southern Cross University is passionate about helping individuals and teams from our research centres and specialised groups enter the field and start their journeys as researchers.
Explore:
Excellence in Research (ERA) 2018 national report results
'Well above world standard'
ERA Rating 5 in Earth Sciences (04)
'Well above world standard'
ERA Rating 5 in Oceanography (0405)
'Above world standard'
ERA Rating 5 in Environmental Science and Management (0502)
Research topics and projects
Discover the research topics and projects that our engineering students and academics have been conducting in several key areas. These research topics are broadly related to the built and natural environments. Specific areas include, but are not limited to, the following:
Area

Academic

Palaeobiogeochemistry - Unlocking the history of Nitrogen cycling in coral reef systems
Understanding the pathways and fluxes of greenhouse gases in natural and engineered environments
Quantifying the pathways of nitrogen cycling in the environment
Waste energy and nutrient recovery.

Dr Dirk Erler
Project management of transportation and rail infrastructure projects. Estimation, risk evaluation and project governance.
Robert Rollin
Secrets of a natural wonder
Kati Thanda-Lake Eyre inspires modern explorers
When Kati Thanda-Lake Eyre filled with floodwaters in April, 2019, modern-day explorers Professor Bradley Eyre and Associate Professor Dirk Erler went to central Australia for a scientific first – to measure its greenhouse gas emissions.
Among their questions were: Are emissions from inland-draining dryland lakes and river systems different to other lakes and rivers? And could these systems – already suspected as sources of greenhouse gases – also act as a 'sponge' for greenhouse gases?
The two researchers from Southern Cross University's Centre for Coastal Biogeochemistry took water samples at points along the catchment and shore of Kati Thanda-Lake Eyre and its associated river systems.
"Natural greenhouse gas emissions from lakes and rivers make a significant contribution to the global greenhouse gas budget," says Professor Eyre – who is no relation to European explorer Edward Eyre for whom Lake Eyre was named by Europeans.
"However, every other major river drainage basin on this continent goes out to sea, except the Lake Eyre Basin, which drains inland."
Associate Professor Erler said that aquatic systems are the largest source of methane and that increasing methane concentrations in the atmosphere accounted for around 20 per cent of global warming to date.
"These inland systems are so vast that even small changes in greenhouse gas flux can have an enormous impact," he says.
The research forms part of the Centre for Coastal Biogeochemistry's greenhouse gas work, including estuary research in Queensland funded by the Australian Research Council.
More inspiring work
Firefighters' health in focus

Research highlights:

Discovery of cancer-causing chromium as bushfires burn
Research findings to support the health of brave firefighters
Vice Chancellor's Excellence in Research Award recipient.

Macadamias on the map

Research highlights:

Global macadamia industry born in Queensland
Future vision from the genetic diversity of trees
Knowledge feeds breeding and conservation programs.

Optimising beekeeping in the Indo-Pacific

Research highlights:

Beekeeping is the ideal way to boost livelihoods of individuals and communities
Improved access to income streams for women and young people
Extensive development experience in Australia and the Indo-Pacific.

Vanuatu initiative is the ultimate tree change

Research highlights:

Economic benefits flow from Vanuatu native-tree-planting project
Diversity is a key to success
Years of experience in tree planting and ecosystem restoration.

Koalas on the move: Going the distance for habitat

Research highlights:

DNA profiles used to identify parent-offspring pairs and locations
Search for habitat awakens urgency on species survival
Movement data changes thinking on 'sedentary' koalas.

The lay of the land: Australian farmers tell their stories

Research highlights:

Research where science, society, environment and industry intersect
Surveys about succession, strategies and management for farming and resources
Allowing farmers to tell their stories about life on the land, now and in the future.

Mountain frogs go on the record

Research highlights:

Focus on conservation, ecology and managing forest fauna
Ramifications for recovery of frogs and other species
Frogs are at the forefront of global extinction rates.

Bridging the knowledge gap on hemp

Research highlights:

Research responds to global demand for hemp
Crop ideal for cultivation in Australia
Potential to establish a national gene bank.

Pacific program changes lives for rural women

Research highlights:

Engagement, empowerment for rural women in the Pacific
Helped develop the Vanuatu Sustainable Tourism Policy (2019-30)
Leadership skills and pathways towards equity and wellbeing.

Connecting industrial waste to food security

Research highlights:

Science at work to ensure food security in Australia and the world
Search for affordable, reliable ways to recover resources, nutrients
Driving strategies around management of industrial waste.

Coastal care: Carbon project is working for our wetlands

Research highlights:

Exploring how coastal wetlands mediate climate change
Applying data to quantify carbon stored in the ocean
Exciting opportunity for restoration of natural ecosystems.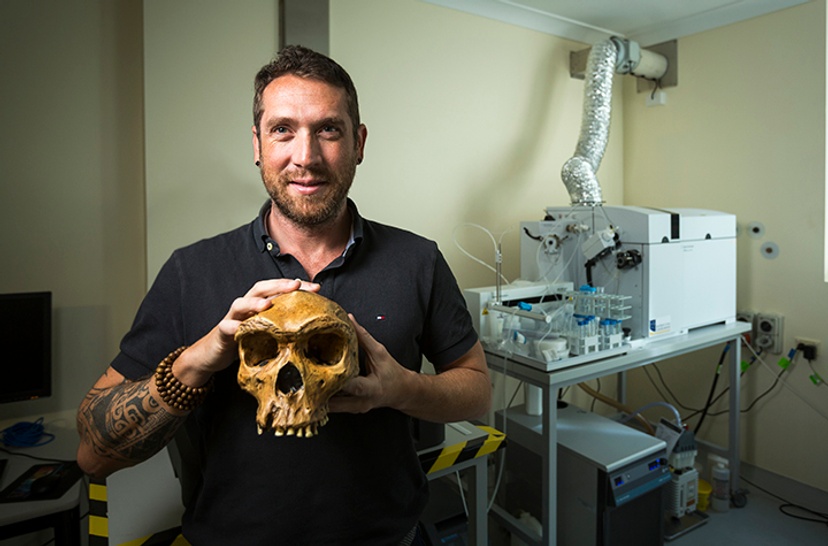 Human nature
Rethinking our evolutionary history
A scientific project led by Southern Cross University is forcing a rethink on our understanding of human evolution.
In 2019, analysis of teeth from Australopithecus africanus fossils found in South Africa and dating back more than two million years revealed that infants were breast-fed continuously from birth to about one year of age.
"For the first time, we have gained new insight into the way our ancestors raised their young and how mothers had to supplement solid food intake with breast milk when resources were scarce," says Dr Renaud Joannes-Boyau, from the Geoarchaeology and Archaeometry Research Group.
The team – which also included Monash University's Dr Luca Fiorenza and Dr Justin W Adams – used specialised laser sampling techniques to vapourise microscopic portions on the tooth surface.
As well as providing the first direct proof of maternal roles among Australopithecus africanus, their findings are expanding knowledge on the history of family dynamics, childhood, social organisation and the mother infant bond among one of humankind's earliest ancestors.
Australopithecus africanus lived from about two-to-three million years ago during a period of major climatic and ecological change. The species was characterised by a combination of human-like and retained ape-like traits For decades there has been speculation about how they raised their young.
The team will now work on species that have evolved since, to develop the first comprehensive record of how infants were raised throughout history.
---