Marine Science research
We are driven by the future and a belief in possibilities. Our marine scientific research at Southern Cross University is a prime example of what is possible with hard work, passion and dedication. Find more about our breadth of marine science research projects that are not just informing the world, but are helping to change it for the better.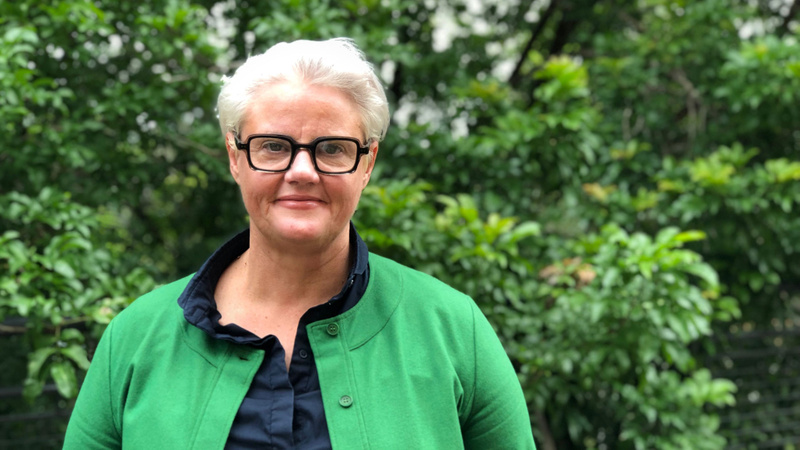 Research topics and projects
The below is more than a list of projects, it explains why we research what we do. The reason is simple: For the future. Protection of our marine ecosystems is a mighty challenge.
In the era of climate change, rising water temperatures and threatened species and ecosystems, the health of our oceans is fundamental to a sustainable future.
We embrace these challenges through research that is advancing knowledge, changing perceptions and informing strategies, locally, nationally and globally.
Professor Mary Spongberg
Deputy Vice Chancellor (Research)
---
Professor Peter Harrison seen handling coral at Heron Island.
Corals in crisis
Partnerships at work to avoid grief on the reefs
In the 1980s, Professor Peter Harrison was a young scientist who co-discovered the spectacle of mass coral spawning on the Great Barrier Reef. It earned the team a prestigious Eureka Prize.
Today the Founding Director of Southern Cross University's Marine Ecology Research Centre (MERC) is as passionate and purposeful as ever, and for good reason.
"Coral reefs may be one of the first ecosystems at risk of global collapse – an ecological and economic disaster that will put the livelihood of at least 300 million people at risk," he says.
"Our reefs are magical. To witness the tenuous nature of their existence is an insight into what will occur if action is not taken. It is critically important to rapidly restore corals that create the foundations of reefs. The challenge is to achieve this on a much larger scale."
In 2018, Professor Harrison and Queensland University of Technology's Professor Matthew Dunbabin won the prestigious Tiffany & Co Foundation/Great Barrier Reef Foundation Out of the Blue Box Reef Innovation Challenge.
It was awarded for a concept to mass produce coral larvae and deliver new coral 'babies' on a grand scale to the Great Barrier Reef.
Professor Harrison and the MERC team have successfully developed innovative methods for large-scale collection of coral spawn and the settlement of millions of larvae directly on to damaged reef areas. This has resulted in restoration of breeding coral populations within two to three years.
With partnerships expanding to include international coral restoration groups, Professor Harrison acknowledges past and ongoing collaborations with researchers and students.
Essential funding has come from the Great Barrier Reef Foundation, the Great Barrier Reef Marine Park Authority, the Queensland and Commonwealth governments and the Australian Centre for International Agricultural Research.
Two dolphins in the water as seen from above
Sentinel species
Dual dilemma for dolphins
The head that pops above the surface of the water is that of an Australian snubfin dolphin. It's a gorgeous image. Little wonder people love dolphins so much.
Yet the image doesn't tell the full story. At Southern Cross University, conservation biologist Dr Daniele Cagnazzi says snubfin and humpback dolphins are 'sentinel species' for the environment, increasing the importance of their protection and sustainability.
"While both are listed as vulnerable species, their situation is exacerbated by the fact that we are only just beginning to learn about them," he says.
Southern Cross University is leading research about these wonderful mammals, and is collaborating with government agencies on protection strategies.
"These dolphins live in small populations, have slow rates of reproduction and low genetic diversity, so they are more readily affected by such issues as flood events, climate change and the environmental impact of urban and agricultural development," says Dr Cagnazzi.
"They are also highly intelligent and they express feelings. In many ways, their social behaviour is similar to that of humans.
"If we can protect their habitat, ensure their food sources and continue building our knowledge to affirm just how important they are, then we have positives these species - and beyond."
Nemo fish in a sea anemone
Finding Nemo's future
Response, reliance and strategy
Finding Nemo isn't an issue for Southern Cross University marine biologist Dr Anna Scott.
Dr Scott is based at the National Marine Science Centre (NMSC) in Coffs Harbour and the marine park nearby has the world's highest density of sea anemones and anemonefish, just like Nemo.
As she examines their response to changing environmental conditions, Dr Scott's data is informing broader strategies around ecosystem health, species abundance and sustainable aquaculture for regional economies in the Indo-Pacific.
"Of a thousand species of sea anemone, only 10 provide a habitat for anemonefish like Nemo and his cousins," says Dr Scott.
"These animals tend to be rare on reefs, but here at the NMSC, I can study a population on my doorstep.
"As research uncovers the secrets of our reefs, we learn more about how species behave and survive individually. We also see how heavily reliant they are on each other.
"This raises questions around issues such as climate change, ocean warming/acidification and temperature tolerance.
"There is also an economic imperative to support the regional people whose livelihoods depend on farming the sea."
Captive breeding is one strategy working to mitigate the pressures caused by large numbers of anemone and anemonefish being taken from the wild for the aquarium trade.
Techniques are helping to ease those pressures while still meeting market demand without causing further stress to marine species and their environment.
Are you inspired by what our researchers are achieving? Contacts us to find out more information or find a supervisor to start your research journey.
Community science provides vital sea slug data
Research highlights:
Census capitalises on sea slugs as good indicators of ocean health
A collaborative stocktake of marine diversity in our own backyard
Species distribution patterns most likely related to climate change.
---
Taking stock of prawns and oysters
Research highlights:
Need to monitor and measure the effect of pesticides
Populations are showing stress, so protection is required
Ensuring quality of Australian prawns and oysters.
---
Coastal wetlands: The ultimate flow-on effect
Research highlights:
Reconstructing environmental history for the environmental future
Latest technology offers greater access to findings on carbon sequestration
Monitoring pollutants, sediments and other materials flowing into the ocean.
---
Marine and mining riches clash in the Coral Triangle
Research highlights:
Urgent need to protect the marine marvel of the Coral Triangle
Small-scale gold mining versus environmental preservation
Culture, economy, industry and environment are all factors in the future.
Getting to the root of multi-faceted mangroves
Research highlights:
How do estuary systems respond after mangroves are removed?
Aim is to restore these environments and bring people back
Shared sense of purpose with partners and communities.
---
Taking to the sky to observe the sea
Research highlights:
Drones are boosting marine knowledge and strategies
Footage changing perceptions on species numbers and locations
Information translated into strategies for beach safety and conservation.
---
Enhancing lives and livelihoods in the Pacific
Research highlights:
Improved methods drive economic, environmental benefits
Training resources show positive outcomes in Pacific communities
Working with national fishery organisations in the region.
---
Aquaculture: Commercial growth for regional neighbours
Research highlights:
Aquaculture-based employment alternatives for the Indo-Pacific
Ongoing development of alternatives to wild harvesting
Projects include seaweed farming and sea urchin culture.
Keeping an eye on nutrient supply in costal systems
Research highlights:
Ensuring water quality, species diversity and habitat health in coastal systems
Projects enabling positive change, as demonstrated in the Cook Islands and Great Barrier Reef
Improved treatment systems benefit the natural environment and local economies.
---
Bleach patrol: Learning from the 'super corals'
Research highlights:
Findings have potential for reef conservation and restoration
Opportunity to create stronger, more resistant coral offspring
Resistant 'super corals' provide clues on bleaching.
---
Oceanic acid test
Research highlights:
Coral reef erosion pinpointed as imminent environmental threat
Benthic chambers used to measure future impact of seawater acidity
Inaction to affect ecosystems, tourism, fisheries and other activities.
Read more about these inspiring projects in the booklet below or download the Marine Science research booklet.
---
Contact the Faculty of Science and Engineering
National Marine Science Centre
T: +61 2 6659 8100
+