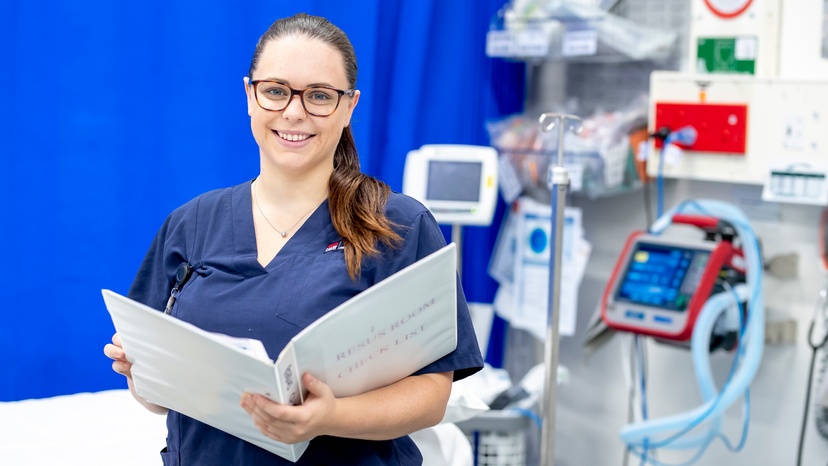 Ashleigh Woods, RN
Nurse and Midwife, Tweed Hospital
Bachelor of Nursing graduate
Ashleigh Woods will never forget the first time she had to help a doctor insert an endotracheal tube into a patient's lungs so they could breathe.
"It's pretty intense. We got through it. I stepped outside and just burst into tears because I was so overwhelmed," she said.
"You have to concentrate the whole time and you're in the zone and you block all of your feelings, and then you walk out and go 'oh my god that was so intense'. That's why debriefing is so important."
These days it's all par for the course for the 25-year-old. Accredited in Advanced Life Support, Ashleigh has just begun working in an airway role in the resuscitation room in the Emergency Department. The resuscitation teams include a doctor, nurse, someone dedicated to the patient's airway, someone looking after their circulation and a team leader.
"It's my responsibility to make sure the person's breathing is maintained and if they need oxygen to administer it, to make sure they don't have any blockages, then monitor their breathing," she said.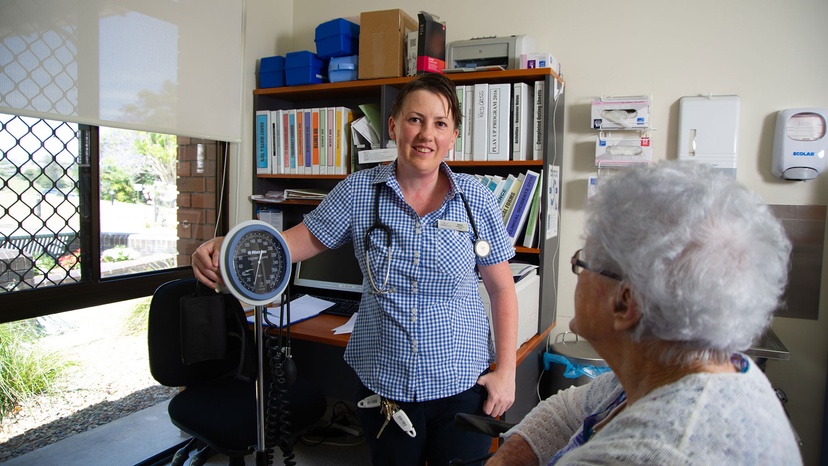 Kearra Lord, RN
Deputy Director Care Services, The Whiddon Group Kyogle
Bachelor of Nursing graduate
"I have a passion for aged care and the work I do. Our residents have diverse care needs. We make a huge difference to the lives of others, at what can be quite a vulnerable time in their lives. Residents and clients put their trust in us to provide the care they need, in a way that suits them.
"In a hospital you may care for a patient for a few days, but in an aged care home you have the privilege of caring for them for months or years. They become like family and you care for them in many ways, including through support and friendship."
Kearra has been at Whiddon Kyogle for more than a decade, starting as an assistant nurse after high school.
"I cared for my grandmother before she made Whiddon Kyogle her home while I was at high school, so this facility was familiar and comfortable to me. Whiddon have been extremely supportive during my journey with them. From assistant nurse (AIN), to enrolled nurse (EEN) and to registered nurse (RN), I have been given fantastic learning and professional development opportunities, and wonderful support to become a more confident nurse."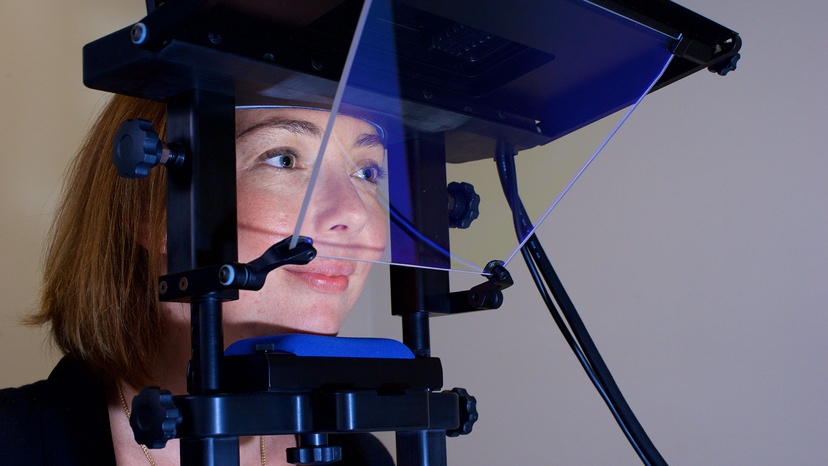 Jodi Wittenberg
Psychologist, Coffs Harbour Women's Health Centre and Headspace
Bachelor of Psychological Science with Honours graduate
Psychologist Jodi Wittenberg helps young people navigate the often-challenging transition through to adulthood at Coffs Harbour Women's Health Centre and Headspace.
"I grew up in a rural area myself and wasn't really aware of my options as a teenager—I thought that university was just for the wealthy families that could support their kids; I didn't see it as an option for me. I went straight into the workforce after school and didn't start my university degree until I was in my late 20s.
"One of the key things I pass on to the young people I work with is that there are so many incredible opportunities to study and work locally. You don't need to move away when we have an amazing, high quality university right here."
Jodi says she thoroughly enjoyed studying at the Coffs Harbour campus.
"It was really inspiring studying here at Coffs. I felt so supported; I think because it's a smaller university we got the chance to know all of the academic staff and they got to know each and every student, so it was extremely supportive."
She's pictured here in the University's psychology lab, using the eye tracker equipment, when she was a student.
Kristy Harris
Founder and Occupational Therapist, Empowered Kids
Bachelor of Occupational Therapy graduate
When Kristy Harris found the occupational therapy (OT) degree at Southern Cross, she knew she had found her calling. She loved the idea of supporting people to do the things they want and need to do with their lives.
In one of her first jobs as a graduate, she met her business partner, Bonnie. With their common passion for paediatric OT, it was a logical, if daunting, step to open their own business. That business is now a successful Gold Coast-based mobile service called Empowered Kids, providing specialised paediatric occupational therapy.
"The first step is working with parents and families," Kristy said.
"They can be quite stressed. They have come to see us because they can't find answers elsewhere. We need to develop a strong relationship with trust and work as a team so they can implement the therapy strategies we put in place."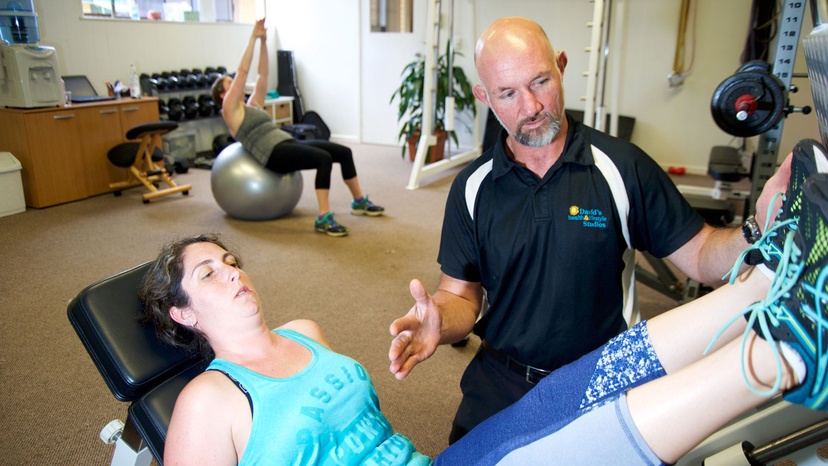 David Hoffmann
Owner and personal trainer, David's Health and Lifestyle Studios
Winner of Business of the Year at the 2016 Lismore Business Excellence Awards
Bachelor of Sport and Exercise Science graduate
David Hoffmann, a former Australian Army infantryman, re-trained as a personal trainer 20 years ago after acquiring a workplace hearing impairment during active service.
"At my studio, we work with people who are legally blind, have mental health issues, right through to serious physical impairments, like cerebral palsy. I've built a reputation through word-of-mouth. We work one-on-one in really small groups and build trust and confidence."
While maintaining his mandatory fitness industry qualifications, seven years ago David decided to pursue a part-time Sport and Exercise Science degree to expand his knowledge and learn new skills. He has since graduated.
"A lot of doctors and physiotherapists and a brain injury clinic refer people with special needs to us. When it comes to my clients, I bounced ideas off my lecturers and used the library resources to access research papers. It was fantastic."
---