View all news
Keep calm Year 12s, Southern Cross has got you covered with early entry
Southern Cross University is going all out to give Year 12 students certainty about starting a degree in 2022.
After enduring 18 months of the COVID-19 pandemic coupled with the stress and uncertainty of online learning, social distancing, lockdowns and border closures – and a situation in NSW now compounded by a delayed start to the HSC – school leavers can breathe a sigh of relief.
The STAR Early Offer program, which allows high school students to secure a place in a Southern Cross degree of choice before Year 12 results are even released, is accepting applications until September 30.
Entry to STAR takes into account a student's grades throughout senior school as well as a principal's recommendation, and even applies to non-ATAR students who would like to pursue university study.
"STAR is a guaranteed pathway directly into university study that is not based solely on your Year 12 results," said Vice Chancellor Professor Tyrone Carlin.
"Our award-winning program is designed to remove some of the pressure from Year 12. Given the ever-evolving situation in NSW and the real depth of concern for the current cohort, their families and supporters, we strongly encourage school leavers to lock in a place at Southern Cross through STAR."
The University has already registered record demand for STAR as Year 12s seek certainty.
"I want to underscore our commitment as a University to ensure the 2021 Year 12 cohort has the opportunity to proceed smoothly to undergraduate study in 2022," Professor Carlin said.
"Irrespective of what unfolds in NSW with HSC examinations, the associated assessment mix and ATAR calculations, we will take the necessary steps to provide appropriate access to a University education at Southern Cross, including through our sector-leading transitions and preparation programs."
All year Southern Cross University has been working closely with schools across its campus regions in both NSW and Queensland.
"We'll continue to work together with principals, careers advisors and fellow educators to ensure the current Year 12 cohort can realise the results of their hard work and determination," Professor Carlin added.
Additionally, Year 12 students who would like to pursue a degree – including those who miss the September 30 deadline for STAR Early Offers – can secure their place at Southern Cross University through the free six-week online Transition to Uni course. Transition to Uni runs from January 2022 and wraps up in time for students to transition into their degree for the March intake. Successful completion of Transition to Uni gives students direct entry into any degree at Southern Cross University (except midwifery which requires an additional interview).
Learn more about STAR Early Offer at scu.edu.au/star or by calling the Future Students Team on 1800 626 481.
Entry pathways to a University education at Southern Cross
For those who finished school in 2020 or earlier and didn't achieve the marks they wanted, Southern Cross University offers a range of preparation and pathway programs. These courses improve readiness for the rigours of undergraduate study by focusing on developing students' discipline knowledge, study skills, academic writing, research skills, communication and confidence regardless of previous educational background.
Chelsea Rixon has applied for STAR Early Entry (supplied).

Year 12 students endorse STAR
Chelsea Rixon from Bellingen High on the NSW Mid North Coast says applying for STAR Early Entry has given her confidence and certainty in tackling the final year of school.
"It certainly takes the weight off your shoulders," she said.
"Because you've already applied, STAR allows you to know that you may have an offer sooner than when the big ATAR marks are released. I applied at the start of this year, as I wanted to take up the opportunity as fast as I could.
"Although the pressure may feel like it's off, I still keep striving to do my best for my desired mark.
"My career plan is in education because I want to become a high school art teacher. I find young adults and their capabilities within creativity very interesting and exciting."
Chelsea's art practice is mostly focussed on drawing, however she's keen to explore all techniques.
"My passion for art drives me to want to share it with others. I feel that everyone should have the chance to express themselves within art freely and I am excited to bring a new modern approach of art to the younger generations.
The 18-year-old is viewing the delayed start to the final year exams in a positive light.
"The way I look at lockdowns and exam cancellations is actually in a beneficial way, as it should be for most students; I've got more time to prepare and self-reflect for the HSC. It's also built my independence and resilience as a student as well as a young adult overall. I know not all senior students may think like me in these situations, but we have got to all stay positive as we ultimately have more time for everyone to slowly start seeing the finish line.
"My final say is the STAR entry program is an open door that all upcoming students should consider going through for their future careers."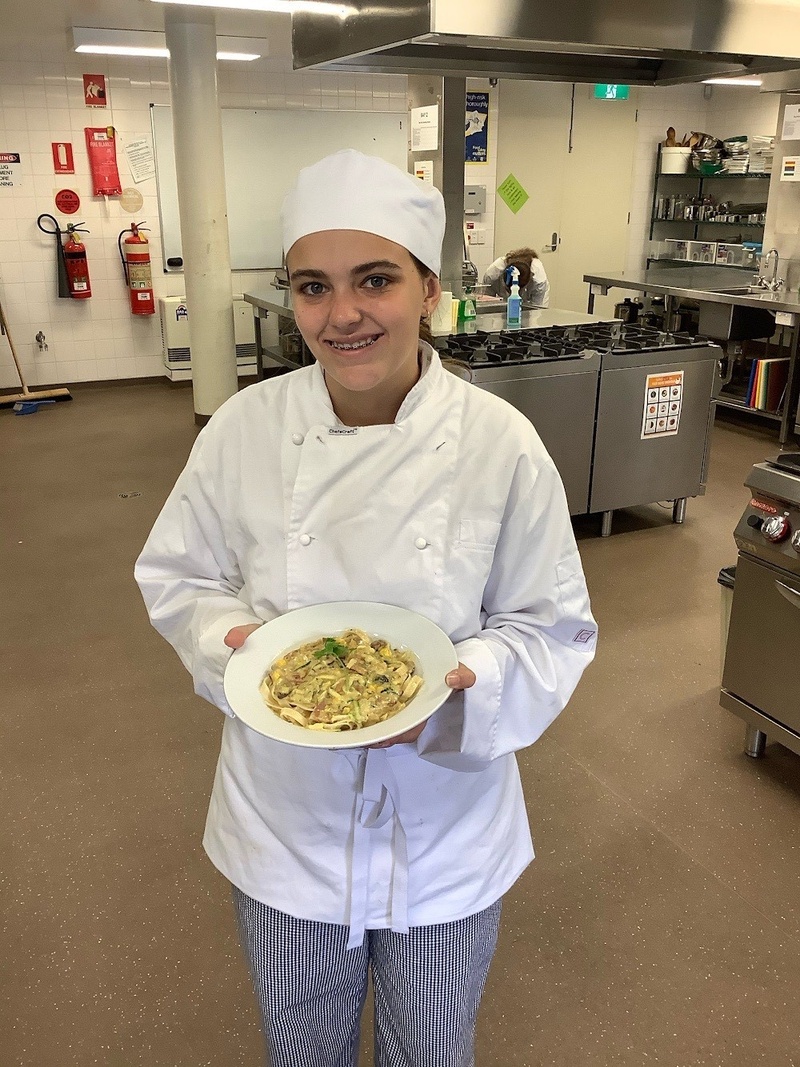 Tayla Blackwell makes her family's famous and favourite carbonara dish in hospitality class (supplied).
Tayla Blackwell applied for STAR just a few weeks ago after weighing up information provided by her teachers and Southern Cross University.
"It's good to have this support for Year 12s from Southern Cross Uni with an early entry scheme," she said.
The 17-year-old Bellingen High student will base herself in Queensland to pursue her studies.
"My father lives in Queensland so I've always wanted to move there. My plan is to relocate from the NSW Mid North Coast to the Gold Coast and be closer to my dad while I study. I want to study biomedical science or toxicology or another health degree."
Tayla said it's been a rocky road getting through the final two years of school.
"Being in Year 12 we'd just started our trial exams and it was put on pause, so the teacher used our previous assessment task mark on the exam mark.
"I don't know what's going to happen next. It's a challenge. There'll be relief once this year is over.
"The good news is with STAR I'm guaranteed a spot at university, it gives me peace of mind."
Media contact: Sharlene King, media office at Southern Cross University, 0429 661 349 or scumedia@scu.edu.au
---