Professional experience during your degree
Professional experience is essential to an education degree. It is often referred to as the core of teacher education as it assists students gain vital experience applying their university learning in real world contexts such as schools and/or early childhood centres.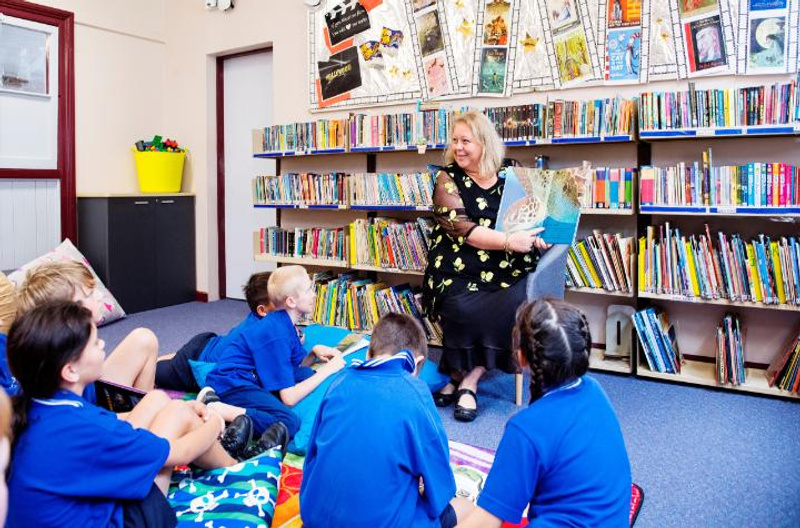 Students studying an education degree will complete a number of professional experience placements in a range of situations. During these experiences, students will develop skills including planning and lesson implementation, creating resources, assessing and analysing student learning, classroom management and reflection on practice. Experienced mentor teachers will guide the development of student teachers, who will also be supported by a university adviser to ensure they reach their maximum potential as an education professional.
To ensure professional experience programs are of a high quality, the Faculty of Education works closely with school staff and teacher accreditation bodies including the NSW Education Standards Authority (NESA), the Queensland Collge of Teachers (QCT) and the Australian Children's Education and Care Quality Authority (ACECQA). By working closely with such accreditation bodies, SCU teacher education students are ready to gain employment after graduation.
Professional experience at Southern Cross University is accredited as a full-time block in a school or early childhood centre. By teaching full-time under the guidance of an experienced mentor teacher, students can demonstrate sustained teaching that will prepare them for the profession. Full-time professional experience placements means students may need to consider their work and/or childcare commitments.
Professional experience support staff are based the Lismore, Coffs Harbour and Gold Coast campuses. Below are the contact details of staff and their location. All professional experience enquiries can be directed to educationplacements@scu.edu.au.
Professional Experience Requirements
Professional experience staff contacts
Professional experience documents
You can access documents, forms and reports for professional experience for Southern Cross University Faculty of Education below:
We have assembled Faculty of Education FAQs to provide clarity and guidance on Education-specific matters in these unprecedented times. We will update this page on a regular basis.
Teaching Placements
Q. Why has SCU's Faculty of Education made the decision to postpone Session 1 placements?
Many schools and early childhood centres have made the difficult decision to not accept pre-service teacher education students in school Term 2. They have advised that they are unable to accept pre-service teacher education students at this time because:
Non-essential staff (such as pre-service teacher education students) are at risk or pose risks in contracting/spreading the COVID-19 virus at their school/centre;
Schools/centres may close as directed by the state/territory or federal government; and/or
Schools/centres are in the process of making significant arrangements to transition learning to online or distance if/when needed.
Many other universities have also made the hard decision to postpone placements in Session 1, including the Queensland University of Technology (QUT), James Cook University, the Royal Melbourne Institute of Technology (RMIT), Federation University and Central Queensland University.
Q. I am in my final year and scheduled to complete my final placement in 2020. Will I still complete my course in 2020?
Our highest priority is those students completing their final placement in 2020. We are working closely with schools, early childhood centres, our accreditation bodies and state Departments of Education to ensure that you will complete your placement and course in 2020.
Q. What grade will I receive for my Professional Experience Placement Unit in Session 1?
All students in Professional Experience Placement Units in Session 1 will receive a grade of 'Incomplete'. It will remain Incomplete until the placement for that unit has been satisfactorily completed. Once your placement has been satisfactorily completed your Unit Assessor will then update your grade accordingly.
Q. Will I still be eligible for conditional or provisional teacher accreditation/registration and work in 2020?
In New South Wales, final year students are eligible for Conditional Teacher Accreditation, and most students apply for, and are granted this. Changes to your Session 1 final year placement will not impede you from gaining employment in schools and early childhood centres.
See educationstandards.nsw.edu.au proficient teacher how it works.
In Queensland, Provisional Teacher Registration is granted to pre-service teachers who have completed all elements of their ITE program, with the exception of the final professional experience. Those students could apply for provisional registration, with the understanding that if approved, they would be granted provisional registration with a condition. Under the condition, individuals would be required to successfully complete the remaining professional experience component of their ITE program within one year of being granted provisional registration.
See www.qct.edu.au/registration/provisional-registration.
Q. What if schools or early childhood centres close in Term 3 and/or Term 4?
We are working on the advice that schools and early childhood centres will be open in Term 3 and 4 and will permit pre-service teachers into their classrooms to continue with the professional experience component of their studies. We are also exploring simulated and online professional experience opportunities. We will continue to monitor the COVID-19 situation and its impact on Term 3 and 4, and keep you updated if/when required.
Q. What are the exact changes to my Professional Experience Placement?
For the revised 2020 Placement Calendar, download: Professional Experience Calendar Contingency Plan 2020
Q. I have further concerns and/or questions about my placement. Who should I contact?
Please email the Professional Experience Team at educationplacements@scu.edu.au.
LANITE
Q. Do I still have to sit the LANTITE before the commencement of my first professional experience placement unit?
On a temporary basis only, the Faculty of Education are relaxing this requirement given that test windows have now become limited. However, it is still a requirement to sit LANTITE before the commencement of your second Professional Experience unit. Please note that this is a temporary arrangement for 2020 only. From 2021, students will be required to sit LANTITE before the commencement of their first professional experience placement. In the meantime, check out dates for the LANTITE testing windows on the ACER website.
Higher Degree Research Coursework, Supervision meetings and Fieldwork
Q. I am an on-campus Doctor of Education (1447190) student. Will my coursework be face-to-face?
Unfortunately, coursework units cannot be undertaken face-to-face in Session One, 2020. All scheduled intensive weekends will be entirely delivered online. Please refer to your Unit site on MySCU and/or contact your Unit Assessor directly.
Q. How will I meet with my supervisors? Honours, Masters, EdD and PhD Supervision Meetings
For the remainder of Session One, all Honours and HDR supervision meetings be conducted via Zoom for all students. These meetings will tend to take place at your pre-arranged scheduled time. Please note the minimum expectation is that full-time candidates meet with their supervisors once per fortnight, and part-time students meet with their supervisors once per month.
Q. I have an Honours or HDR milestone due in the coming months? How will this now take place?
As per supervision meetings, these activities will take place via Zoom – e.g. in progress roundtable, confirmation of candidature and in candidature review. The HDR milestone requirements are available at the Graduate School's current higher degree research students webpage.
If you have any concerns and/or questions please email hdrsupport@scu.edu.au.
Q. I now have full ethics approval and had planned to commence data collection. What are my options?
Human Research that involves interviews and questionnaires can proceed using technology instead of face-to-face. Where there is fieldwork in schools, early childhood centres and/or other community sites, these activities must be postponed as we need to protect both our researchers and their participants.
If you need to change the methodology for your already-approved research (e.g., if you change from face-to-face interviews to phone interviews or from face-to-face focus groups to an on-line format), you will need to lodge a Change of Protocol application, which must be approved before you conduct the revised methodology. The Ethics office is still processing applications etc, so if you have a question about ethics, please email the Ethics Office as usual. If you need to talk to someone about your ethics application, please email and provide your best contact number.
Change of Protocols can now be processed through SCU's online research management system ('IRMA').
Access IRMA here. View the user manual via the Human Ethics Knowledge Base.
---
Contact the Faculty of Education
Professional Experience Team
T: 02 6620 3138
E: educationplacements@scu.edu.au
Our People
Education Research Team
T: 07 5589 3123
E: educationresearch@scu.edu.au
spacer
+