Back to Directory
Amina Khatun
PhD(SCU)
Technical Officer
Southern Cross Analytical Research Services
Email

Location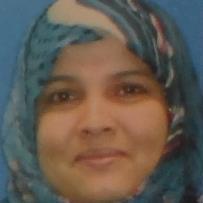 Biography
Dr Amina Khatun is currently working as an Analytical Officer at Analytical Research Laboratory, the TGA certified testing lab for Pharmaceutical products and Australia's largest herbal product testing lab. Besides, she completed her PhD study in 2019 on the effect of rice lipid and protein on rice starch digestibility which has an impact on diabetes and other metabolic disorders. She was awarded prestigious International Postgraduate Research Scholarship (IPRS) and Australian postgraduate Award (APA) (Currently known as RTP) by Australian Government, Department of Education. Her thesis was recommended the highest recommendation awards from the external examiners. Before that, she was engaged in teaching and research for more than eight in Pharmacy at University level.
Research
Dr. Amina's research interests are natural product chemistry, cereal chemistry and pharmacology. Her research investigates the molecular chemistry and pharmacology of natural products employing the techniques and assays including HPLC; LC-MS; TLC; spectrophotometry; in vitro digestion, anti-oxidant, thrombolytic, anti-microbial, in vivo analgesic, anti-inflammatory, cytotoxic and psychoactive assays. She has published 31 high-quality refereed academic journal articles from her own research, undergraduate, Masters and PhD studies, on peer collaboration and the supervision of undergraduate Pharmacy students.
Community engagement
At Southern Cross University, Amina participated in different postgraduate activities and conferences. She volunteered during 2017-flood, 2019-bushfire recoveries and COVID-19 mass awareness activities at Lismore. During Amina's University teaching, she served as member of academic committees and other directives such as professorial boards, recruitment panel and Pharmacy club which engaged the students to different social and volunteer works besides their curricular activities. She was also involved with students counselling which deals with the socioeconomic difficulties students generally face during their study period. This gives her a good experience on the psychology of the students of a certain age group.
Supervision
Amina worked as an academic at the Department of Pharmacy at two different Universities in Bangladesh namely Gono Bishwabidyalay and Manarat International University from August 2006 to March 2015 while she was working as an Assistant professor. She researched, led and supervised 19 undergraduate project (thesis) students with upmost caring to get quality outputs from the work from research students. As a result, eight research has been published from their work in peer reviewed, high-quality journals.
Teaching
During her teaching, Amina taught different subjects related to Pharmaceutical Science such as Pharmacology, Pharmacognosy, Biochemistry, Clinical Pharmacy and Physical Chemistry at different undergraduate levels.
Other
Amina passed the A Grade Registration examination under Pharmacy Council of Bangladesh in 2007. She reviewed for several high impact journals namely PLOS One, Natural Product Research, BMC Complementary and Alternative Medicine, International Journal of Biological Macromolecules and Journal of King Saud University-Science. She is a member of Australasian Grain Science Association.
---
---