Back to Directory
Elaine Jefford
BSci(Hons), MSci, PhD(SCU)
Adjunct Associate Professor
Telephone

Email

Location

Education Campus, Lismore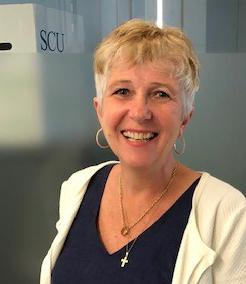 Biography
Dr Elaine Jefford. Midwifery author, academic, and researcher at Southern Cross University, Australia.
Research
Her research focus is within the field of midwifery decision-making and abdicating one's professional accountability, the impacts of this in relation to risk, safety and quality of care provision and the potential to achieve and realise the ambitions of Sustainable Development Goal Three of good health and well-being. Other research interests include continence and perinatal mental well-being.
Community engagement
I work within my discipline to value add by connections collaborations and creativity and developing expertise across different professional groups and create wider interdisciplinary networks nationally and internationally to enhance midwifery
Supervision
Please see Academic Research Profiles youtube.
Teaching
A feminist appreciative lens has guided my teaching philosophy, aiming to inspire students learn, connect with my research and to raise their midwifery voice to speak about midwifery and the work we do and take their place within the national and international midwifery community
---
---