Back to Directory
Jackie Wolstenholme
BBiolSc, BSc(Hons), GCEd, MInfoMgnt, PhD
Team Leader, Library Education and Research
Telephone

Email

Location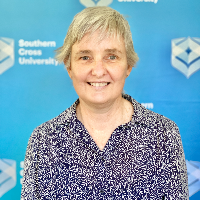 Biography
The central theme of my career is classification, organisation and management of information.
Research
As a marine biologist, my research focused on the classification of reef corals. I used molecular, morphological and breeding criteria to investigate the classification, biogeographic variation and evolutionary relationships of staghorn corals (genus Acropora).
As a Digital Repository Librarian, I was responsible for developing and managing institutional repository metadata. As a Research Liaison Librarian, I supported researchers by advising on strategic publishing, and creation and promotion of their research profiles.
Now, as the Librarian supporting the School of Environment, Science and Engineering at Southern Cross University, I draw on both my discipline and research experience.
My current research interests include bibliometric analysis of research publications and the development of instructional strategies and resources for providing library support for students and researchers.
---
---